The 3 Best Xbox One Bundles
It wasn't that long ago that Microsoft revealed its Xbox One console to the world. With a 500GB hard drive, powerful 8-core processor and television integration, it was revolutionary. It was also incredibly expensive. Today, it's a little less expensive thanks to Xbox One bundles.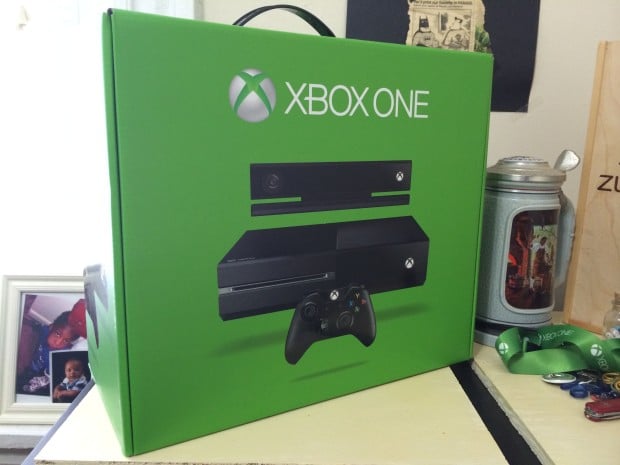 Many retailers are offering complete Xbox One bundles. These bundles don't just include the Xbox One, the Kinect 2 sensor, a single controller and all the necessary cables to get started. Many of them also include games and the Xbox Live subscriptions users will find themselves purchasing down the road. They're great because they give new users an opportunity to pick up what they need without having to purchase separately.
We've found three of the best Xbox One bundles available. Each offers users a chance to pick up things essential to their gaming experience.
Xbox One + Kinect Console with Forza 5 & Another Free Game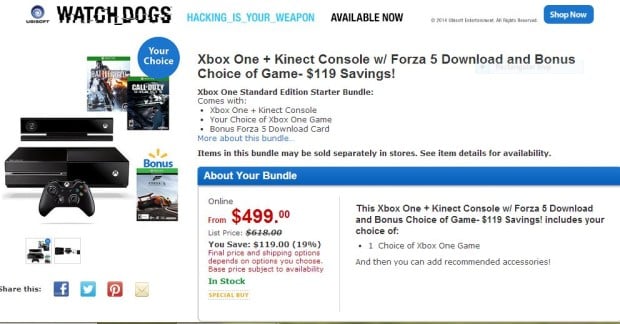 At $499, Walmart's best Xbox One isn't cheaper than the high-end Xbox One. It's the same price as the model that includes a Kinect 2 sensor. Still, users save $119 thanks to the games that are included with the bundle. In addition to a digital download of Forza 5, users can choose from one of 19 different Xbox One titles to add to the bundle. Buyers of this bundle still get the Kinect 2 sensor too.
Users will need to order this bundle online – it's not available in any Wal-Mart stores. Wal-Mart is shipping the console bundle absolutely free, though buyers might want to pay for expedited shipping if they're in a hurry because they want to gift the console to someone soon.
[ Buy the Xbox One + Kinect Console Bundle from Wal-Mart for $499 ]
Refurbished Xbox One with a Year of Xbox Live
Xbox Live, recently received a feature update. Going forward Xbox One users won't be required to have Xbox Live to use apps like Netflix and Hulu Plus. For gamers it's still important because Xbox Live is essentially a gaming service again, as Microsoft is letting users download two free games a month with a subscription.
That's where GameStop's bundle comes in. It includes an entire year of Xbox Live: that's 24 games that users can download from Xbox Live completely free of charge. The bundle also includes a Kinect 2 sensor and a single controller. Really, the only catch is that it's a refurbished unit. That means GameStop purchased it from someone who'd already opened it, but examined the console to make sure it is still in fine working order. This bundle costs users $489, and that's roughly $70 less than if they purchased a brand new Xbox One with Kinect 2 sensor and a year subscription to Xbox Live  at $60.
GameStop also sells an Xbox One that comes with Xbox Live and doesn't include a Kinect 2 sensor. It costs $439.
[ Buy the Refurbished Xbox One with 1 Year of Xbox Live Bundle from GameStop ]
Xbox One + Kinect + Titanfall & Kinect Sports Rivals Bundle
Microsoft has spent the better part of the last six months backing away from the idea that the Xbox One is meant to offer entertainment for the entire family. Despite this, a bundle available at Microsoft's own retail stores absolutely nails that original mantra.
Xbox One + Kinect + Titanfall & Kinect Sports Rivals Bundle includes a Kinect 2 sensor and a month of Xbox Live. It also packs in two free games. There's Titanfall, the first-person shooter and action game that released exclusively on Microsoft's consoles earlier this year and Kinect Sports Rivals. Kinect Sports Rivals is  a relatively new game that lets user jet ski, bowl and play other sports without needing a controller.
The key here is that Microsoft is bundling both of these games for the same cost as an Xbox One with Kinect 2 sensor and no games.
[ Buy the Xbox One + Kinect + Titanfall & Kinect Sports Rivals Bundle from Microsoft for $499.99 ]
Are Bundles Right For You
Before you buy these bundles it's important to understand that whether these bundles – or any bundles – are right for you comes down to your specific use case. Users who are never going to use the Xbox One to watch television might not need an Xbox One bundled with a Kinect 2 sensor. Likewise, if those who have young children at home will definitely want to consider purchasing an Xbox One with a Kinect 2 sensor so their children can enjoy titles like Kinect: Sports Rivals.
Only bundles that save you money are worth your time. If a specific bundle comes with different items potential buyers are better off adding up the cost of each item to see how much they're saving. Bundles that throw in a lot might not be not worth it. For example, Microsoft sells an ultimate Xbox One bundle that costs $799.99 and includes two controllers, three games, a protection plan and a year of Xbox Live. Some users wouldn't need all of that if they're only planning to game a few hours each weekend or just with friends.
Buy what's best for your needs.

As an Amazon Associate I earn from qualifying purchases.