The 5 Best AirPlay Speakers Under $500
Finding a good speaker that works with Apple's wireless AirPlay standard can be pretty frustrating. We've put together a list of some of our favorite AirPlay speakers under $500 to help you out.
Apple has a habit of introducing standards and sometimes neglecting them for several years, and it feels like AirPlay has been getting the cold shoulder lately. It hasn't received much if any attention at the most recent Apple announcements, and many of the best AirPlay speakers are a couple of years old or discontinued.
That doesn't mean you shouldn't look for a good AirPlay-compatible product for your house, of course: the protocol is still given first class support by Apple's own products, and the lossless audio quality can often make a huge difference in listening when compared to the smaller Bluetooth speakers that are available.
Harmon Kardon Aura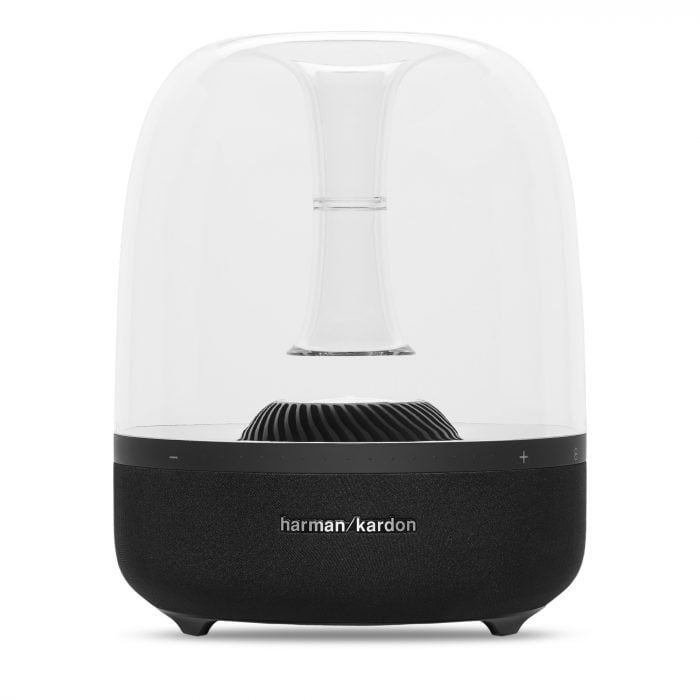 You pretty much have to enjoy the sort of futuristic designs that wouldn't be out of place on a sci-fi show to appreciate the Harmon Kardon Aura; it's a beautiful, clean design, but it definitely isn't traditional. Like many of the AirPlay speakers, the Aura uses a circular build with an array of speakers to deliver the kind of sound that fills a room. That means you can place it pretty much anywhere and not worry about whether you can hear it from one side or the other.
In total there are seven individual drivers, including a 4.5-inch, down-firing subwoofer, which means you can definitely expect some bass from this unit (bass is often an issue with single speaker setups, especially those designed to work with a wireless connection). In addition to AirPlay, you can connect via DLNA and Bluetooth, which means it'll work with just about any device in your stable. There's also a Harmon Kardon app you can throw on your iPhone for further customizability.
Price: $215 | Buy
Polk Audio Woodbourne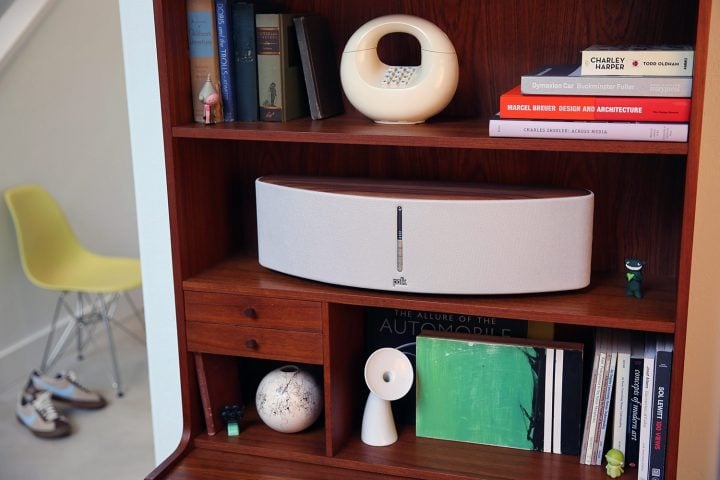 The Polk Audio Woodbourne gets its name from the wood panelling covering the top. Much more traditional than the Aura, it retains sufficient modernity that it would look nice in just about any kind of room. A gently curving front will throw your music across a wide angle – so if you place it against the middle of a wall, you can probably expect good sound almost anywhere in the room.
On the back is optical and analog inputs, as well as a USB port for plugging in and charging your mobile device. In addition to AirPlay, the Woodbourne also features Bluetooth connectivity and the Bluetooth aptX codec, which means it'll play nicely with Android devices, too.
Libratone Zipp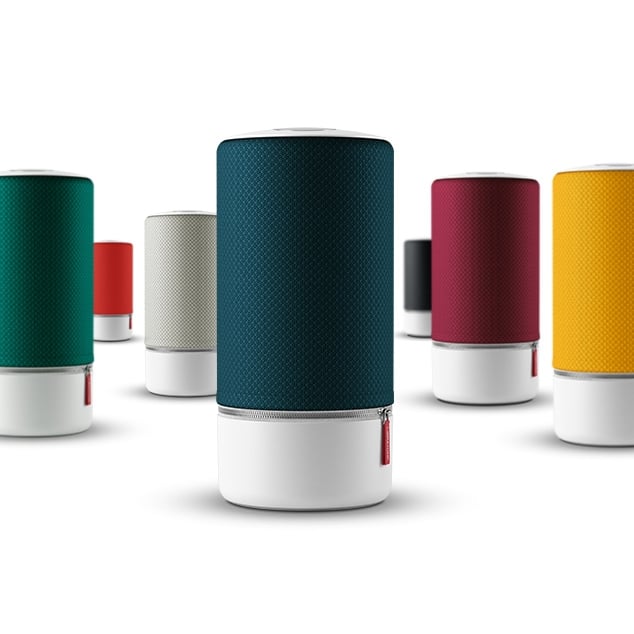 It's rare to find a portable speaker that supports AirPlay; instead of offering Wi-Fi, most of those kinds of devices only connect via Bluetooth or a 3.5mm cable. Libratone happily bucks that trend with a promised eight to ten hour battery life – and it looks great, besides. Every Zipp comes wrapped in a slick mesh cover that can be unzipped and removed, with more covers available ($29 each) for purchase if you want to switch things up later on.
One of the fun things that really differentiates the Zipp are its multi-speaker configurations. Libratone has developed something called SoundSpace Link that lets you combine multiple Zipps into various configurations. You can put up to 16 of these speakers on the same network, arranged in up to eight groups, with up to six speakers per group.
The Zipp also supports DLNA and Bluetooth 4.0 with aptX, so like some of the other speakers, it'll place nicely with just about anything in your house. A USB port on the speaker can be used to play wired music in and/or charge whatever device you're currently using. Finally, Libratone has added support for both Spotify and Apple Music (the latter of which can be hard to find on portable speakers), as well as QPlay, if you happen to live in South Africa.
Price: $299 | Buy
Libratone Zipp Mini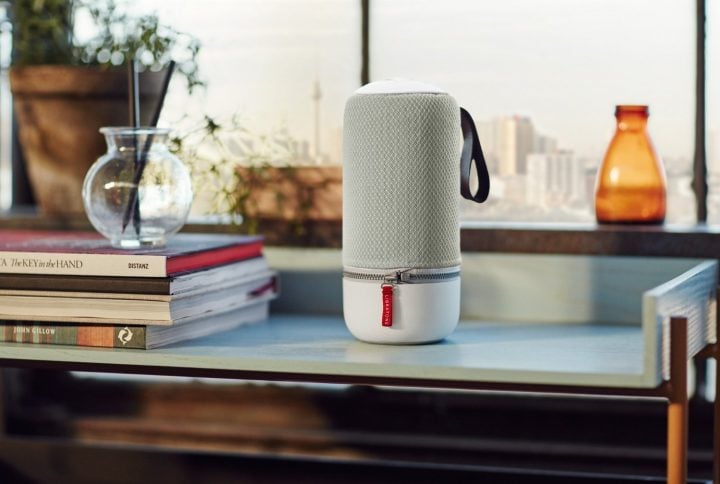 You might be thinking that the Libratone Zipp Mini looks a lot like the regular Zipp – and you'd be right. For all intents and purposes, the Zipp Mini is simply the Zipp, just wrapped up in a slightly smaller, slightly lighter package. One of the few criticisms about the newer version of the Zipp is its size; despite being a portable speaker, it's a whopping ten inches high and five inches in diameter, and it weighs 3.3 pounds. The Zipp Mini shaves an inch or two off of both dimensions, and cuts the weight down to 2.4 pounds, making it noticeable more backpack friendly.
Despite the fact that it's smaller and cheaper, the Zipp Mini offers almost all the same features as its bigger brother. You can expect a big less bass, but the audio still sounds good. Libratone promises up to 10 hours of battery life, depending on your playback volume, and like the Zipp, you can use the Zipp Mini with Apple Music, Spotify, AirPlay, DLNA, Bluetooth; the list goes on. It even keeps the USB and 3.5mm ports from the larger model.
Price: $249 | Buy
Moshi Spatia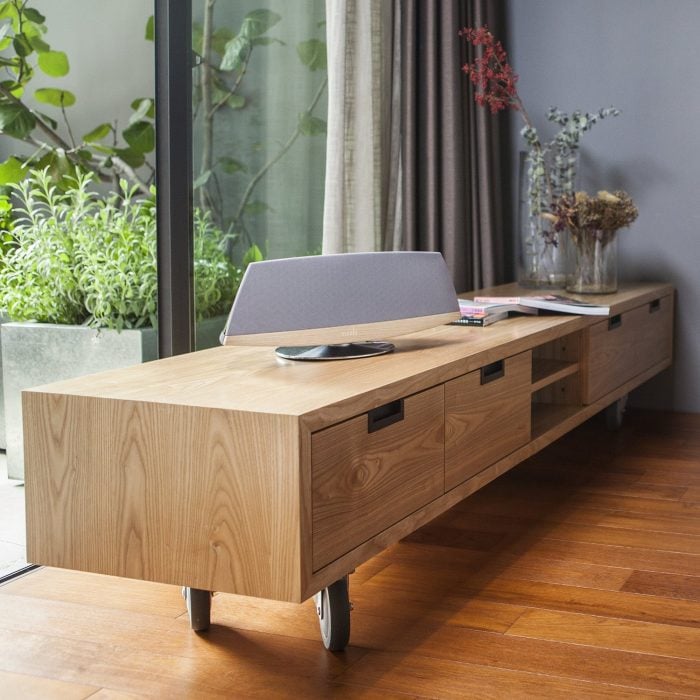 The Moshi Spatia looks like something from the original Star Trek series: vaguely futuristic, but it wouldn't be out of place in any mid-century modern home. Much like the Polk, the Spatia is designed to be placed on a shelf or other piece of furniture and broadcast out into a room, with its back facing the wall. Since it's a stationary device, it packs in an array of drivers without worrying about power consumption.
It supports both AirPlay for Apple's devices and applications, but it also supports Wi-Fi Direct. The latter is nice, because it means you can allow friends and acquaintances to fling audio to the Moshi without giving them access to your Wi-Fi network (DLNA requires two devices to be on the same Wi-Fi network, while Wi-Fi Direct is just that – a direct connection between two devices with no larger network required). There's a 3.5mm jack on the back should you need to connect a device that doesn't support either standard, and a Spatia Speaker App for the iPhone that lets you fiddle with an equalizer; it also features an ambient sound suite, which is a neat addition.
Price: $399 | Buy