The 5 Best Android Smartphones [October, 2012]
In the weeks ahead, the Android smartphone market will see the launches of several new and exciting devices including the Samsung Galaxy Note 2, Motorola RAZR HD and RAZR MAXX HD and the HTC One X+. However, those phones have yet to receive official release dates leaving those looking for an Android smartphone now with a few less options. Fortunately, there are enough good options out there that buying a smartphone in October should still be fairly easy.
The Galaxy Note 2 and the Droid RAZR HD won't be out until later this year, but those who can't wait for those high-end options will find a fantastic selection of Android smartphones on the market right now.
At this point though, consumers who are able to wait for devices like the Galaxy Note 2 and Droid RAZR HD should but not because they'll want to buy them. Instead, we advise those that can wait to wait because these will be great options to have in the search for right smartphone.
Of course, we realize that some people need to buy a phone right now and for those that can't wait until the end of October, here are the five Android devices that we consider to be the absolute best on the market right now for the month of October, 2012.
Samsung Galaxy S III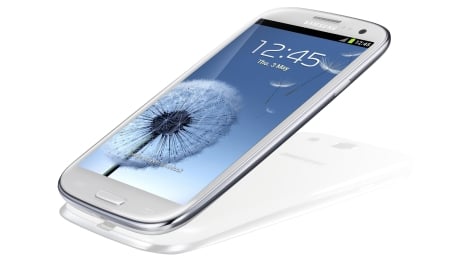 The Samsung Galaxy S III, with its high-definition 4.8-inch display, speedy dual-core processor, 4G LTE data speeds and upcoming upgrade to Android 4.1 Jelly Bean makes it a force to be reckoned with.
Read: Samsung Galaxy S III Review: Editors' Choice.
It's a device that will last the full two years of a contract and it's also available on AT&T, Sprint, T-Mobile, Verizon and U.S. Cellular giving customers a choice.
The device is currently available from prices ranging from $100 to $150 at Amazon.

As an Amazon Associate I earn from qualifying purchases.