The 5 Best AT&T Smartphones [February, 2013]
The new year has been fairly kind to those looking to get a new smartphone on AT&T as the carrier has expanded its 4G LTE network, we've seen several potential AT&T flagships emerge and the carrier has maintained a fantastic crop of devices for consumers to choose from.
Read: 8 Exciting Smartphones for 2013.
Last year was a big year for AT&T. We saw the company expand its 4G LTE network, which now is home in well over 100 networks across the United States. We also saw it launch some big name smartphones including the Galaxy S3, HTC One X, iPhone 5, Lumia 920 and more.
2013 is looking like it should be even brighter for the company too.
Already, we've see AT&T 4G LTE crop up in several new markets and while it still is far behind Verizon in terms of size, the carrier is indeed making strides towards its completed roll out, expected to take place sometime this year. We've also seen a number of big name devices emerge that will more than likely be headed to AT&T.
Those devices include the HTC M7, Samsung Galaxy S4, and the iPhone 5S. They will be some of the biggest names that launch in the United States this year but problem is, they won't be arriving until later this year. And not everyone has the time, money or patience to wait the many weeks it's going to take for their arrivals in the U.S.
Fortunately, even with January being silent, AT&T still has a menacing smartphone lineup which includes a host of iOS, Android and Windows Phone 8 powered devices. Due to its size though, those who are trying to decide which phone to pick out are likely going to have some trouble. That's where we come in.
Here, we want to take a look at what we consider to be the five best AT&T smartphones available for the month of February, 2013.
iPhone 5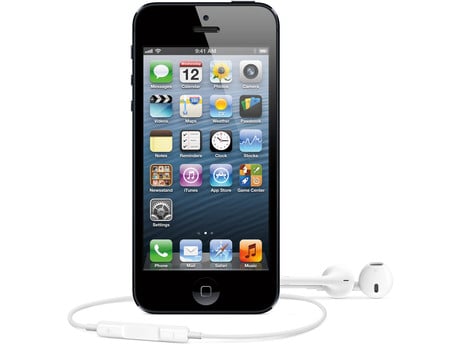 The iPhone 5 remains one of the most attractive options for AT&T's 4G LTE network combing a sleek industrial design with efficient hardware and useful software.
Read: iPhone 5 Review.
iOS 6, a 4-inch Retina Display, a speedy processor and one of the best rear cameras on a smartphone make up the bulk of the iPhone 5's features but consumers should also note that Apple keeps its devices software upgradable for years which means it should last the duration of a contract.
While it remains one of the more expensive 2012 smartphones, and likely will remain that way until the iPhone 5S arrive later on this year, the iPhone 5 remains a phone that should be at the top of any shoppers list.