The 5 Best Games from E3 2014 So Far
It wasn't that long ago that the gaming community stood at a giant fork in the road as far as next generation consoles are concerned.
First there was the early launch of the Wii U. For sure, the $299 Wii U is a current generation console with a next generation controller, and to say that customers didn't respond to it that way would be laughable. They did, mostly by not buying it. The console has seen extremely soft sales, especially when compared to its direct predecessor the Wii.
Last year Microsoft and Sony's next generation consoles arrived to do battle. Like the Wii U, on the surface there wasn't much to celebrate about the $399 PS4. How wrong we were, the PS4 doesn't just have a great controller, but its maker also has a brand new swagger; an attitude that's continually upping its game and hammering Microsoft for not catering to gamers more.
A week later came the Xbox One, Microsoft's next-generation console as the most expensive of the bunch. At $499, it included a Kinect 2 sensor and many of the same hardware upgrades as the PS4. Unfortunately, Microsoft failed to articulate its vision early on. It still delivered a console that millions of users picked up, but there are a lot of differences between the console they initially announced and what they finally delivered.
Each of these consoles had separate ways of doing things, different price points and distinct disadvantages. As each one of the company's press conferences this week proved that much. Each of this week's E3 2014 press conferences also proved that they each share one distinct advantage: games that are every bit as interesting and dynamic as gamers all collectively hoped they would be.
Destiny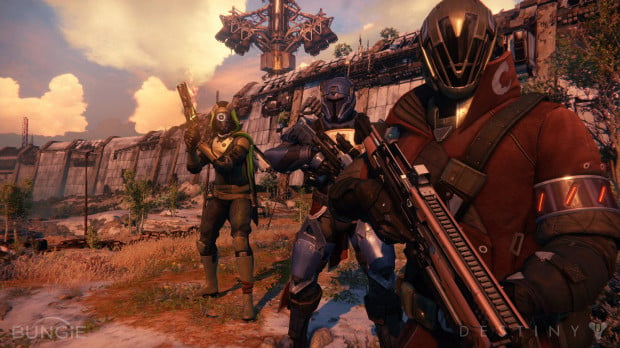 It wasn't that long ago that Bungie was still the studio known most for bringing Halo to the masses. In that game it turned playing with others via the internet into a pass time that everyone could learn and enjoy.
Now the company is back with Destiny. And from what it showed at E3 2014, its daring to attempt the same thing again. Like Halo, Destiny is a shooter, but unlike Halo, Destiny is also a role playing game. That means users will traverse the worlds of Destiny with customized characters made to their specifications and built around their play style. What Destiny is trying has never been attempted before in a first-person shooter on a console.
PS4 users don't have to take Bungie's word for it though. As of noon on Thursday, June 12th PS4 owners will get the opportunity to try out the game for themselves at home by submitting their PlayStation Network ID here.
Splatoon
Color us shocked, but with Splatoon, Nintendo may have managed to pull off a feat we thought unthinkable just a few months ago. It looks like we can actually expect a fun third-person shooter on its console.
How Nintendo, a company known for adventure and puzzles games and not necessarily creating characters who's sole mission is to shoot at other characters, got here is interesting. Splatoon will put users in an arena as a squid with other team mates from around the world.
Players will be tasked with covering as much as the level as they can with ink for their team. Only through areas covered with their ink will players be able to move freely. Shooting ink will require users to morph into people, but moving around quickly will require them to transform back into a squid.  As players cover more of the level they'll get access to more weapons.
Nintendo has only confirmed that the game will arrive sometime in 2015, so its unlikely folks will run out and buy a console just for this today. Still, it's caught a lot of console owner's attention.
Halo: The Master Chief Collection
With Destiny firmly in the hands of Sony's promotional tour for the PS4, Microsoft had to deliver something to battle Bungie's game this holiday season. Well, they didn't have to since Destiny is also coming to the Xbox One; it's just that it's getting exclusive content on Sony's console.
What do you send to fight a new Bungie game? Bungie's own creation? You send Halo. To mark the 10th anniversary of Halo 2, Microsoft didn't just remake that game alone. Instead it's remade every Halo game that ever featured The Master Chief, polished up the graphics to 1080p, mixed in their original multiplayer elements and threw in access to the Halo 5: Guardians beta for extra flavor.
It's even added a playlist creator so that users can relieve their favorite moments from the Halo series. Halo: The Master Chief Collection will hit store shelves November 11th for the Xbox One.
Read: Halo: The Master Chief Collection Includes Halo 5 Beta This Fall
At first the Xbox One had no Halo game, now it has four coming all in one package. That escalated quickly.
Call of Duty: Advance Warfare
Call of Duty: Advanced Warfare looks an awful like someone walked into a conference room and asked everyone around the table what was popular. Apparently, what that executive heard from those seated around the table was, Kevin Spacey, giant robots, futuristic weapons and amazing graphics.
Like it or not, that's exactly what Activision is delivering with Call of Duty: Advanced Warefare. The list of weapons in this game even include giant red lasers and self-guiding grenades. Someone what call it a rip-off of Titanfall, the Xbox only game that debuted this past March to much fanfare. I'd say that's not completely fair. It at least has better graphics.
Read: Call of Duty: Advanced Warfare Gameplay Video: 7 Exciting Features
Super Smash Bros Wii U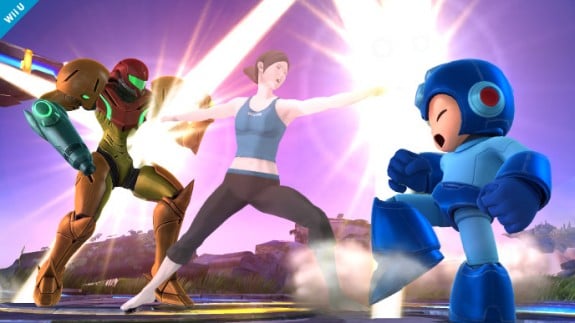 Finally, there's Super Smash Bros Wii U. It's not that this game fundamentally changes much. It's still the same video game that lets users play as their favorite Nintendo characters and beat the stuffing out of each other.
The key to this game is that there are enough new things to make it exciting. There are new graphics updated to match the capabilities of the Wii U and six different characters for users to choose from. Today at E3 2014 Nintendo announced that it's adding the ability or users to customize their Mii character with a fighting class and style to compete against other characters. There are a ton of different levels to battle in  too.
Super Smash Bros Wii U is scheduled for release in North America on October 3rd.
Of course, as the E3 2014 continues there'll be more new games with new fighting styles and upgraded graphics that'll surly make this list grow. GottaBeMobile will revisit E3 2014 games that Wii U, PS4 and Xbox One owners will want to buy when the show concludes later this week.