The 5 Best T-Mobile Smartphones [January, 2013]
T-Mobile is in a transition period as it switches to not only unsubsidized data plans but also to a 4G LTE network, up from its HSPA+ 42 network which has supported all of its high-end devices over the last year. Still, that doesn't mean that the carrier doesn't have some fantastic smartphones available to those looking to snag one on the Magenta carrier during the month of January.
Read: 8 Exciting Smartphones for 2013.
Last year, T-Mobile had a tough time competing against the 4G LTE networks of its rivals. It also had to withstand the arrival of the iPhone 5, a phone that it still does not carry, and a phone that finally runs on LTE. T-Mobile's 2013 is shaping up to be a much different year than 2012 was as the carrier looks to launch its 4G LTE network and also, carry the iPhone for the first time.
Both prospects are exciting ones and surely have those currently on T-Mobile and those potentially looking to get a T-Mobile smartphone in the future, excited as can be. Unfortunately, both launches still haven't arrived. The iPhone won't arrive for a few months at least, and the carrier's 4G LTE network still isn't live though it will be lit up in Las Vegas starting this month.
While that is a bit discouraging, those looking to find a smartphone on T-Mobile right now will still find that the carrier has some fantastic devices available including one that already is 4G LTE ready.
Of course, we advise those who are keen on fast data speeds to wait for T-Mobile to roll out its 4G LTE network and devices for that network, but for those that either can't wait or don't care about 4G LTE data speeds, there are certainly some options available right now that should work out well.
Here now are what we consider to be the five best smartphones on T-Mobile for the month of January, 2013.
Nexus 4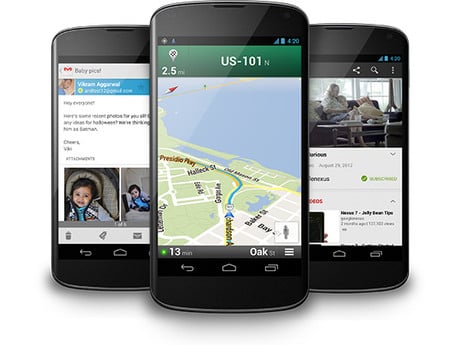 The Nexus 4, while hard to find, is one of the best options available on T-Mobile's network at the moment. Google's latest Nexus smartphone combines a low price with fantastic software and high-end hardware, making it an attractive option.
What's more, the Nexus 4 is available either unlocked - for cheap, or directly through T-Mobile on-contract. Both prices are very reasonable. The carrier-locked Nexus 4 and the unlocked model both run on T-Mobile's HSPA+ 42 network though there is no word on whether or not it will get unlocked for LTE. We doubt it at this point.
Still, it's a phone worth looking it.

As an Amazon Associate I earn from qualifying purchases.