The 7 Deadly Health Care Worries about Cell Phones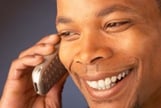 The headline here has a dose of hyperbole so don't work yourself into a phobia. ABC News has put out a report on Seven Surprising Ways that Cell Phones Can Affect Your Health. No, the on again/off again fear of radiation next to your brain is not one of them. But the seven things listed here can pretty much fall under the heading of common sense.
They include everything from bacteria on doctor's cell phones in hospitals, driving while talking on a phone, walking while talking on a phone, texting thumb (you know repetitive stress), an allergic reaction to nickel, loud music, and something called phantom vibrations.
Like I said, most of these are common sense.

This article may contain affiliate links. Click here for more details.