The Asus R2H and the New Vista Drivers: Closer to Full Success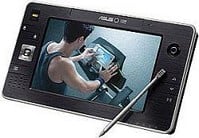 Good things come to those who wait. Or those that don't give up. Or at least those who use System Restore and can find the time to shuffle the install order of the new Vista Drivers on the Asus R2H. After receiving a number of comments in the posts here on GBM and emails from other users I did some rethinking of the install order of the drivers I listed in this post. David Maiden has been particularly helpful in this by the way.
I did not install the ATK_Hotkey_Vista_20070309 (it controls the buttons) until later in the sequence. Since this seemed to David and myself to be the culprit for the system crashing, I thought I would try shuffling the order. First, I moved the Hotkey utility up in the order to number 3. That didn't work. I got no use of the buttons and I had at least one system crash after a series of reboots. On the assumption that it needed the settings page to work (that was merely a hunch) I then moved it to number 6 in the order and guess what? I've got working buttons and I can easily change the screen resolution and take advantage of pixel doubling. No more pan and scan. Now not only does the Bluetooth LED light up to indicate that it is working, the WiFi LED now lights up as well and the hardware button to turn radios on and off now works. Interestingly enough the left hardware button now brings up Media Center. I wonder what happens there for those with Vista Business?
So, does that mean I have a fully working Vista Asus R2H? Very close, but not quite. The camera is still not working. (That is a real puzzler.) The digitizer has continued to randomly turn itself off. And there is an annoying bug that appears if you right click on an item in the Start Menu to pin it to Quick Launch or the Start Menu. That said, I'm much closer than I have been and quite pleased. Would I call the R2H now completely Vista Capable? I won't go that far until all the bugs have been worked out. The lack of the web camera (an advertised feature) is still an issue, regardless of its image quality.
Below is an updated order of drivers and utilities.
INFUpdate Vista 061122 (still listed as a beta?)

ATKDrv_vista32_070315 (required before installing wireless console and drivers)

ATKMedia_Vista32bit_070125 (not sure what this does)

ATKOSD2_Vista32bit_070126 (speculation from others is that this enables hardware buttons)

ASUS_Setting_Center_vista_070315 (I have no idea what this is)

ATK_Hotkey_Vista_20070309 (Button utility)

Wireless_Console_Vista_070307 (Asus site says this should be installed before wireless lan drivers)

WLAN_Asus_WL_159G_vista_070315 (wireless drivers)

VGA_Vista 070315 (graphics drivers)

TouchPad_Vista 32_64_ 070125 (for the joystick)

Audio_Vista_070315 (audio drivers)

Bluetooth_vista_070212 (bluetooth drivers)
I also concur with Dave's findings that the Splendid Utility is not needed to change the screen resolution in Vista. With the buttons now working I can access the settings via the right button to change resolution, brightness, and volume and all works as designed. Without the Splendid Utility you don't have the options to adjust the screen to a different profile that you did under XP but I don't think that is a real loss in my situation. Your mileage may vary.
Two morals of the story here. First, this has been a very fun (albeit trying) community effort with folks like David tossing their experiences into the mix as we have all struggled through this together.
Second, the install order apparently does have an impact on how things play together under the hood. While the install order I have listed above has worked in my case, note that I have opted not to install all of the utilities. (No Power4Gear for example.) Again, my recommendation is to do a clean install with Vista and these drivers, especially if you've been experimenting along the way. And remember, System Restore is your friend!
One other note here before I go experimenting some more. If you can, update your memory in the Asus R2H by swapping out the 512meg stick with a 1gig stick. The difference is tremendous.
Here are links to the first two posts:
(Note I've updated Part I to refer to this post for the install order)

As an Amazon Associate I earn from qualifying purchases.