The Asus R2H and the New Vista Drivers: Not Quite a Success Story Part II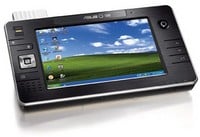 In the race to create the Ultra-Mobile PC that everyone wants, each OEM is including different features and functionality. The Asus R2H comes with a nice array of these features including a built-in GPS, a 1.3 megapixel camera, an interesting application that allows for pixel doubling so that you don't have to use pan and scan to see the entire screen at higher resolutions, and a good selection of buttons for navigation and control. It also includes a feature that is becoming standard on most UMPCs: a fingerprint scanner. In addition, it comes pre-loaded with software utilities that can get you up an Inking right away, and indeed it comes with a load of CRAPWARE. The nice thing about doing a clean reinstall allowed me to dispense with the CRAPWARE and the utilities I don't need. More on that later.
Here's what I have experienced so far in loading these utilities and drivers. Again, keep in mind this is my experience combined with reports from other users.
The first utility I installed was the FingerPrint scanner. This was working well in Vista with the XP driver. After installing the new Vista driver and software it continues to do so. Not an issue. It works. Great. (Files used: Fingerprints_vista_070315.zip)
Next up was the built in GPS. At the moment there is no Vista GPS software or driver for the R2H. The good news is that the XP drivers work well. Intriguingly, I cannot find the XP GPS software on the Asus site, but if you have the Drivers and Utilities Disk that came with your R2H, you can copy the Tools folder to your hard drive and you use it from there. Well, almost. You'll need some sort of mapping program to take advantage of the GPS. I'm using Microsoft Streets and Trips 2007, which is not an ideal solution (I'm looking for others) but it does work. To take advantage of the GPS, you will also need to manually "flip the GPS switch" by going to the Tools folder and running the GPS_Switch.exe file. (You can assign a shortcut to this and place it anywhere.) After activating the GPS and configuring the device in Streets and Trips, you're off and running. Although acquiring an initial signal is still a very slow process, as it has been since the device was released.
The third leg of the utility bundle is the included camera. First, let me say that before jettisoning XP, I never though the camera was such a great addition. Even for a 1.3 megapixel camera this one only yields poor quality video and stills in my experience. The included XP LifeFrame software to operate the camera is one of the worst excuses for an application I have ever come across. Vista editions of the drivers and software don't change my impressions here. Vista drivers for the camera are available, but there is no installer or setup file in the zipped package. Nor is there any documentation to help guide you. LifeFrame has been updated for Vista, but will not launch after installation and hangs, requiring a reboot to kill it. Windows update for the Bison camera driver reports an update available and installs it. That said, after installation applications that take advantage of the camera (Skype, Messenger and others) report it as being there, but will not work beyond that. This is a total failure in my experience. (Files used: CMOS_Camera_Bison_Vista_070315.zip and LifeFrame2_vista_070314.zip)
Splendid is the name of the utility that creates the pixel doubling magic. In XP it worked splendidly, allowing the screen to scale accordingly, avoiding a pan and scan. There is no Vista version that has been released at this point. The XP version will install but doesn't work as designed. Part of this is because of not being able to access it via the control button on the R2H. (Files used: Splendid_XP_060831.zip)
Buttons. Ah, yes, the buttons. All of the navigation buttons work as designed making navigation easy whether that be scrolling or using the page up or page down keys. But there are three buttons that I have not been able to configure. These include the buttons that bring up the controls for screen resolution switching, and turn on and off the wireless radios. There is an ATK_Hotkey_Vista_20070309 utility, but like David Maiden, this seems to be the cause of crashes once it is installed in my case. I'd rate this one as a failure as well.
There are other utilities and applets included that I have not tried to install as of yet. They include:
NB_Probe_vista_070122.zip. (I have no idea what this file does.)

P4GIIX_Vista32bit_070125.zip Power4Gear Extreme (This is Asus's power management utility. Even though there is a Vista file, at the moment I have not installed this and am using Windows to control power management. I will be giving this a once over soon.) (Thanks David Maiden for figuring this one out.)

RICOH_Vista32bit_070125.zip (SD card driver, My SD device is reading and running ReadyBoost just fine, so I have not installed this yet.)

The InFoPen Utility (This utility allows you to ink in several different programs including Outlook Express, and also on the screen. Given my usage it is of little use to me, so I'm skipping it.)

Several of the other utilities that came pre-installed with Vista (Mobile Theatre-a media playing app and MultiFrame, do not have Vista editions. I didn't use these under XP so at the moment I'm giving these a pass.)
Today's Conclusion
At the moment, I have a working Asus R2H with Vista installed and partial functionality. The degree of functionality is not far from what I had prior to the Vista drivers being released and that is a disappointment. The items missing at the moment are:
the HotKey utility (there is a crash prone Vista release) which enables button control
a resolution of the camera issues as I have outlined
the digitizer will occasionally stop working for no apparent reason
screen resolution switching issues
So we are getting closer. Again, these are mostly my impressions and others may have had more success or less. I'd love to hear those comments either way, as would the community.
Is the Asus R2H Vista Capable yet? I think with what we see today, the answer is no. Given that the drivers don't allow fully functionality and there are still issues with the digitizer it would be a stretch to apply that label at this point. Here's hoping Asus will continue to work on these drivers.
A side note here. I was very impressed with Asus' attention to detail with the R2H. Here is an example. Not only did they include a recovery partition on the hard drive but a recovery disk as well. That doesn't happen often. In addition they also included a Drivers and Utilities disk, that allowed you to leave some of the pre-loaded CRAPWARE and utilities off of a rebuild if you chose to. That doesn't happen often and it got my attention. It is shame that they haven't been as detail oriented during what, I am sure, is as trying a time for them as it is for their users. Everyone could have benefited.
Some resources that may be of assistance to you:
Thanks to DanDar, WNewquay, CTitanic, Josh Einstein, David Maiden, and J.C for comments and suggestions along the way. Keep 'em coming.
UPDATE: Thanks to David Maiden who figured out what one of the files above was. I've updated the post.

As an Amazon Associate I earn from qualifying purchases.