The Asus R2H with Vista Now Complete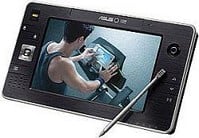 Well, whadda ya know. I've now got complete Asus R2H functionality with Vista. The last piece of kit that wasn't working is the webcam and now, that is indeed working. I followed the instructions in this post on the Asus forums from Jay. That said, it is not the most intuitive install of a utility or driver I've ever seen. Far from it.
Here's he quick wrapup. First I installed the driver at this link (the one dated 6.32.0.2) and guess what it has an install file. That's a good first step. But then the fun starts. In the original Vista driver package I downloaded from the very flaky Asus site there is a registry tweak included. You have to install this registry tweak in order to get the camera working. (A click on the file does this, but make sure you back up your registry first.) After a reboot, the camera works as advertised, as does the included really poor camera application, LifeFrame. Again, I'm not a fan of the camera Asus has included and think it is a weak addition the way it performs, but I've been hammering away at getting it working for the principal of the thing. Heck, the LifeFrame utility doesn't even scale appropriately to the native 800×480 resolution of the device. What a hideous piece of software that is. I hope no one purchases the R2H because of the camera. It isn't worth it for that.
So, there you have it. The R2H with complete functionality under Vista. Easy? No way. You have to jump through too many hoops to make this happen, and I can only hope that when Asus finally begins shipping disks with Vista on it to those who took advantage of the upgrade offer, things will go much more smoothly. Asus also really needs to address their support site issues. The fact that the drivers appear and disappear from log in to log in is just not acceptable. Talk about random.
As I said in this post, for one of my principal uses for this device (note taking) it was a delight to be able to use this device again. It was nothing close to a delight to get the device to that point. In fact, if it weren't for my stubborn streak and personal curiosity in trying to help others solve this puzzle, I would have long ago just gone back to XP and called it a day.
One other point that bears mentioning. I have not installed the Power4Gear application which is the Asus software that allows you to set up different battery profiles. In my opinion it isn't needed for the overhead it places on system resources. As I mentioned yesterday, I got great battery life using the 4 cell battery, and I'm able to set up what I need to do for various situations with Vista's power managment features. Those who have an Asus know that it is loaded with CRAPWARE and some useful apps when you first boot it up. My personal recommendation is that you don't need this application and can save yourself some overhead by not installing it given the options already included with Vista.

As an Amazon Associate I earn from qualifying purchases.