The Asus X205TA is a Stunningly Cheap iPad Rival with Windows  
The Asus X205TA is and isn't a Windows laptop in the traditional sense. Looking at a picture of it would give you the impression that it's just a Windows 8 laptop. Looking at it is ridiculously low $179.99 price tag at the Microsoft Store shows you just how unconventional of an iPad and Chromebook killer it really is.
Microsoft quietly began selling the Asus X205TA for just $179.99 earlier today. That's just hours after Amazon made the Asus X205TA available to shoppers on its site for $199.
The Asus X205TA is a laptop in most ways. The device has an 11.6-inch high-definition display. Inside is an Intel Atom processor, 2GB of RAM and 32GB of on-board storage. A pretty basic web camera is embedded in the screen bezel and embedded on the sides are a microHDMI port, a headphone jack and two USB 2.0 ports. Wireless network support and Bluetooth are also supported.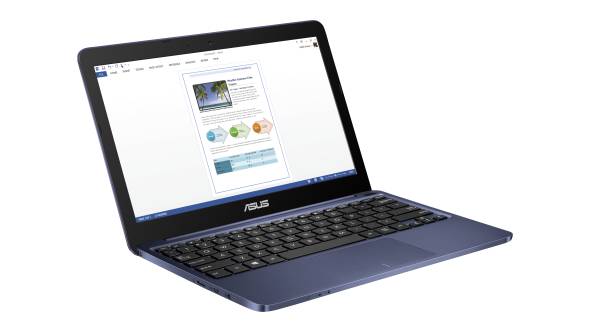 That 32GB of storage isn't going to sound like much but Asus X205TA buyers can rest easy, they'll be able to add more storage using a built-in MicroSD card slot.
The Asus X205TA isn't a tablet or a convertible and that problem has a lot of people wondering how it could ever be considered an iPad rival at all. At a basic level the iPad is intended to be a low cost way of getting light computing tasks done with ease. It's touchscreen and well-stocked iTunes App Store make it the cheapest way yet for people with basic needs to be modestly productive and enjoy some entertainment on the side. The Asus X205TA delivers all of this in a cheaper package without all the issues that hampers Microsoft's own Surface 2 tablet.
The Asus is promising users 12 hours of battery life out of the Asus X205TA. People who buy it are getting two more hours of battery life than they do with the iPad Air 2. What's haunted Windows tablets like the Surface 2 is their processor. Until recently, very few of them included a way for users to run apps in the Desktop interface. They did offer Windows Store access, but Windows Store apps just aren't as capable as those downloaded through a browser. The Asus X205TA can run desktop apps like iTunes, at least putting it on an even footing with productivity minded iPad buyers. There's more storage to be had here too. The iPad Air starts at $499 for model with 16GB of storage.
Naturally, it's a $179 PC and that's going to come with some caveats. It'll be able to install apps like Photoshop, but there's no way the Asus X205TA will be able to reliably run it. It's hard to imagine that Asus didn't sacrifice a little build-quality to get the device to its uber cheap price. Still, its devices like the Asus X205TA that'll likely save Windows from the iPad and even the Chromebook.
Since launching Windows 8.1 last fall, Microsoft has been on a crusade to expand Windows into places where it usually lags. Having taken over the cheap netbook market last decade with Windows XP, Microsoft was able to pick up a few users. Now its trying that again. It's slashed the cost of Windows for small computers as it battles the iPad and the Chromebook for control of low-end. The company doesn't expect to make money on these devices. It simply hopes that those who buy cheap Windows devices will use and pay for services like the Office 365 productivity suite it rents to users for $6.99 a month.
Read: What is Office 365 – 3 Things You Need to Know
Microsoft is offering the base Asus X205TA and the Asus X205TA with Office 365 Home for a single year for $258.99. The later version is the one buyers want  if they're already planning to load apps like Word, Excel and PowerPoint on the notebook.

As an Amazon Associate I earn from qualifying purchases.