The Best Fitbit: Zip vs One vs Flex vs Charge vs Surge
If you've decided on Fitbit for your activity tracking needs, you might be having a hard time figuring out exactly which one to buy. We've put together an article showing what sets each Fitbit apart, so you can pick the right one for your activity level — and your wallet.
If you're new to the idea of fitness and activity tracking, you're not alone. Fitness band sales are up – way up this year, and that doesn't even include devices like the Apple Watch, which some estimates have pegged at moving more than seven million units so far.
Not counting these smartwatches, however, leaves Fitbit sitting on top as the number one activity tracker – probably because they manage to offer so many products at various price points.
This is how the Fitbit models compare to each other, including the important differences that come with each bump in price and change in style.
The Fitbit Zip
The Fitbit Zip is the company's most affordable fitness tracker, designed to clip to your shirt pocket or jeans. Unlike the vast majority of activity trackers, this isn't one to wrap around your wrist. If your activity tracking is something that you feel skittish getting questions about, the Zip can discreetly slip inside of a pocket, rendering it invisible if you like.
In addition to being the most affordable tracker, it's also one of Fitbit's smallest models. Despite that, it still packs a low-resolution display that lets you keep track of your daily step count and other activity information, and syncs with almost any recent smartphone (an included dongle lets you sync with computers). The Zip has a replaceable battery, but it isn't rechargeable – it's a watch-style cell that's good for somewhere between three and six months of use, depending on level.
It has limited waterproofing, what Fitbit calls "sweat, rain, and splash proof." They explicitly warn you not to swim with one. It's able to track steps and distance traveled, as well as your "active minutes" for the day – fitbit likes to claim that all of their devices track calories, but that isn't really true (you have to manually put your calories into the app or website, which will then display a total on the Zip).
The Fitbit Zip is $59.95 from Fitbit, or as little as $54 from Amazon.com.
The Fitbit One
The Fitbit One is Fitbit's second clip-on fitness or activity tracker. If the Zip could be called an introductory activity tracker, the One might be the mainstream version for someone who knows what they're looking for in this category. It's nearly twice as expensive as the Zip, but it's also a lot more capable.
With a slim design reminiscent of a clip-on bookmark, the Fitbit One has a a vertical OLED screen with a clever means of showing your step goals – the closer you get to your daily goal, the higher a flower grows (with an eventual bloom once you meet your target).  The One supports sleep tracking, unlike the Zip, but it requires you to remember and engage the special tracking mode – though it does have an alarm setting that can wake you without disturbing a partner. You'll also need to slip it into a wristband, which can be tough to remember at the end of a long day.
Pressing the single button can cycle through your step counts, stairs, and other data. If you don't need to clip it to something, like when wearing it in a pocket, the One can be removed from the clip entirely – though Fitbit cautions against wearing it without the silicone holder if it's going to contact the skin.
Inside are a vibration motor and altimeter, both missing from the Fitbit Zip. The altimeter allows for relatively subtle elevation tracking – it's how Fitbit can calculate how many flights of stairs you might ascend or descend in a given day. The other big difference over the Zip is the One's li-poly battery: it's both integrated and rechargeable via an included USB cable, and Fitbit claims a 10-14 battery life.
The Fitbit One is $99.95 from Fitbit, or a little less than $96 from Amazon.com.
The Fitbit Flex
The Fitbit Flex is perhaps the most iconic of the Fitbit lineup, as it offers users a traditional wrist-mounted tracker – aside from the display, it's easy to mistake for a very slim wristwatch. Priced like the One, the Fitbit Flex offers fewer features than the One, but they're found in a more convenient package.
Once you slip the Flex onto your wrist, the first thing you'll notice is the super slim LED display. A narrow band across the front of the Flex, this simple display will only show you up to five white lights; you can tap it twice to see how you're faring with respect to meeting your Main Goal for the day.
While the Flex lacks the altimeter found in the One, it does offer sleep tracking – just tap it repeatedly for a couple of seconds for it to enter sleep tracking mode. That's a lot easier than with the other model. Given that it's meant to be worn on the wrist, and thus exposed, you might expect more robust waterproofing, though Fitbit maintains its sweat, rain, and splash proof line, warning against swimming. The company says that the Fitbit Flex is tested at working up to 1 ATM under the water, but suggest taking it off for the shower (not because it's bad for the device so much as bad to keep wet plastic against your skin).
As people are all different sizes, so does Fitbit include two different bands to wear with every Flex: while both are 0.6 inches (15.2mm), the small band fits wrists between 5.5 and 6.5 inches (13.97 – 16.51 cm) in circumference, and the large band fits wrists between 6.5 and 7.9 inches (16.51 – 20.07 cm) in circumference. The Flex module is a bit smaller than the One's, with correspondingly lower battery life: just five days of average use, with a one to two hour charge time.
The Fitbit Flex is $99.95 from Fitbit, or as little as $79.95 from Amazon.com (depending on color).
The Fitbit Charge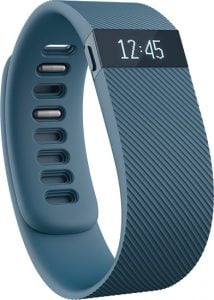 The Fitbit Charge looks a lot like a fatter Fitbit Flex, but there's more to it than that. While the display has increased slightly in size, it now offers a clock – so your wrist-worn fitness tracker can also act as an actual watch. The display is also used to cycle between your goals, so you can see just how many steps you've taken that day, how many floors you've climbed – you get the idea. Once connected to a smartphone, however, your Fitbit Charge gains a few more smartwatch powers, like vibrating when you get a call and showing the caller's name or number on the display.
Aside from the display, the Charge functions largely like the Flex, including the way it keeps track of your quality of sleep. Unlike the Flex, however, the Charge can determine when you go to sleep automatically; no more tap-tap-tapping right before bed. Fitbit still admonishes against showering in the tracker, noting that you should "give your wrist a rest" by periodically taking the band off and cleaning with Cetaphil or Aquanil when you get it sweaty.
Since the Charge is a little wider at 0.83in (21.08mm), it manages noticeably better battery life rated at 7 – 10 days depending on activity. It can also fit a slightly larger wrist, with the large band fitting between 6.5- and 7.7-inch (16.51 and 19.56cm), and an x-large band fitting 7.7- to 8.9-inch (19.56 – 22.61cm) wrists.
You can snag a Fitbit Charge directly from Fitbit for $129.95, or as little as $114 from Amazon.com (depending on color).
The Fitbit Charge HR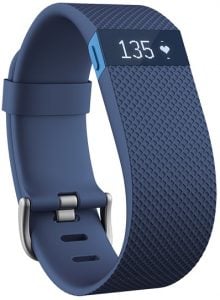 There's not a lot to say about the Charge HR that can't be said about the regular Fitbit Charge. The biggest change can be deduced from the name: the Fitbit Charge HR adds continuous heart rate tracking to your fitness tracking bonanza (it'll record your heart rate once per second while exercising, and once every five seconds at all other times).
The means that in addition to the accelerometer, altimeter, and vibration motor found in the other Fitbits, the Charge HR also has an optical heart rate monitor, like the one you might find on wearables like the Apple Watch. It offers vastly improved battery life, however, with Fitbit quoting up to five days of use (HR monitoring takes a lot out of your battery).
The bands for the Charge HR are also slightly different than those found on the Charge, with a tradition stainless steel watch closure replacing the button clasp used by other models (likely to keep a tighter fit against the wrist for improved heart monitoring). The sizing is also slightly different, with a small band fitting 5.4- to 6.2-inch (13.72 – 15.75cm) wrists, the large band fitting 6.2- to 7.6-inch (15.75 – 19.3cm) wrists, and the x-large band fitting 7.6- to 8.7-inch (19.3 – 22.1cm) wrists.
You can expect to pay a bit of a surcharge for that heart monitor; the Fitbit Charge HR costs $149.95 direct from Fitbit, or as little as $135 purchased from Amazon.com.
The Fitbit Surge
Occupying the pinnacle of the Fitbit product lineup, the Fitbit Surge can be thought of as a full-on smartwatch with several fitness-focused features. The device is substantially bigger than any other Fitbit model; while the bands are sized similar to those for the Fitbit Charge HR, the device offers a big square face (big for Fitbits, not bit for smartwatches) and is a little more than fifty percent wider, at 1.34 inches (3.4cm).
That size is put to good use, however, as the Fitbit Surge is packed with sensors. Like the Charge HR, it has a 3-axis accelerometer, altimeter, vibration motor, and optical heart rate monitor. The Surge takes things a big step further by adding a digital compass, 3-axis gyroscope, and even a GPS module.
The big screen is good for visualizing your performance in the middle of a workout without needing to pause and concentrate on what you're looking at. Runners can take advantage of the built-in GPS to track your running path or see how much more they've got to run. You can even see real-time updates like your split time and pacing. If you noticed the gyroscope getting a mention, it's used to help the Fitbit determine just what you're doing – the Surge can offers multi-sport tracking, letting you see the difference between cycling, running, cross training, and other sports.
Generally speaking, the Fitbit Surge has better battery life than the Charge HR – up to 7 days of average use. This is despite the extra smartwatch features connected to your phone, like caller ID, text message notifications, and even music control. If you're a runner who likes the GPS tracking, however, take heed: the Surge only gets up to 10 hours of battery life while the GPS is turned on (it samples it once every second).
The Fitbit Surge is priced more like regular smartwatches, coming in at $249.95 directly from Fitbit; you can find it for as little as $223 from Amazon.com, depending on wrist size (it's available in all your favorite colors, as long as your favorite color is black).
Which is the best Fitbit for me?
Are you're new to activity tracking, and want to see how you like it? Get the Fitbit Zip, with its low cost to entry. If you're new, but prefer the idea of a wrist-worn tracker, then the Fitbit Flex is for you.
If you want more features, but something that can slip into a pocket, or clip to your waistband or bra, then you should be looking at the Fitbit One.
If you want a tracker that can replace your watch with a time display, you'll want the Fitbit Charge.
If you're a fitness enthusiast, you'll probably want the Fitbit Charge HR, which comes with continuous heart rate monitoring.
Finally, if you're a serious athlete, or want a few smartwatch features without the limited battery life of a traditional smartwatch, you should buy the Fitbit Surge: you can't install any apps on it, but you do get up to a full week of multi-sport tracking.

As an Amazon Associate I earn from qualifying purchases.