The Best Game Controllers for iPhone, iPad, and Apple TV
We've gone through and picked out some of the best game controllers for iPhone, iPad, and Apple TV.
A few years ago, Apple finally admitted that perhaps the touchscreen was not always the best way to play video games, even on a device that is, well, mostly touchscreen. To that end, they updated iOS to support third-party controllers, similar to the kind you might find packaged with Xbox One or PlayStation 4.
Generally speaking, iOS game controllers tend to come in one of two camps – phone focused, which usually include a large wrap-around case to cover your phone, and standalone controllers, which don't physically connect to your phone at all. Pros of the case-style of mobile game controller include not needing to worry about Bluetooth connections, which can be flaky at the best of times, and oftentimes a small battery that helps mitigate the battery drain you can expect after playing a graphically intensive game on your iPhone for a couple of hours.
Where the wireless controllers tend to win out is freedom of use – you're not encumbering your phone with a plug-in case that might be difficult to remove, and you get to use it with multiple devices: the controllers' Bluetooth connections tend to lend themselves well to playing on the iPad or, now that it has its own app store, the new Apple TV.
SteelSeries Stratus Wireless Game Controller
The SteelSeries Stratus wireless game controller actually premiered at CES a couple of years ago, so it's by no means a new entry into the world of iOS game controllers. We still like it, however, mostly because of how obscenely portable it is. Similar in size (albeit thicker) than an iPhone 5 / iPhone 5S, the SteelSeries Stratus is easily pocketable for gaming on the go, no matter where you might end up. One of the best features is its protective case – a small plastic tray sits on top of the controller to protect the buttons while it's in your pocket or bag, and you can flip it around to the back of the controller to make it more comfortable to hold. It's a clever design.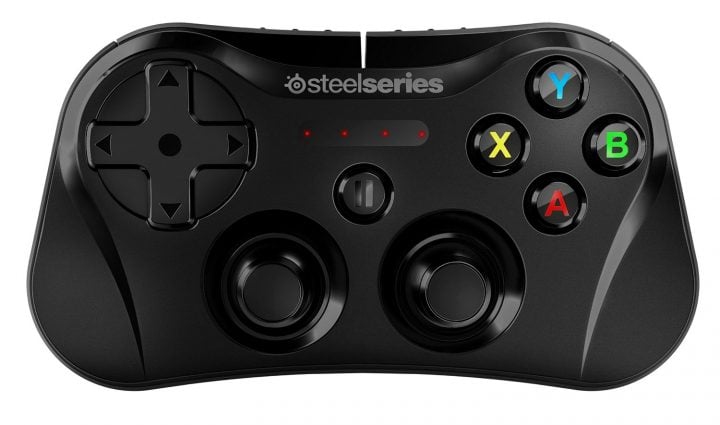 When it first launched, the Stratus was crippled by a bad case of button lag, but this was cleared up in a subsequent firmware update, and now the controller is pretty responsive, despite the use of Bluetooth v2.1. The rechargeable battery is good for about ten hours, which is enough to get you through just about any gaming session, especially on a mobile device, but you'll want to charge it regularly else you find yourself stranded with a dead controller. You can get the SteelSeries Stratus from Amazon.com for $45.
PXN Speedy Wireless Gaming Controller
The PXN-6603, or 'Speedy' game controller will look familiar to any gamer who's picked up an Xbox 360 – the manufacturer has essentially cloned the design. That's in no way a strike against them, however, as the Xbox 360 has extremely comfortable controllers, and so too does PXN. Despite coming from a generally unknown company, the Speedy has pretty good build quality; one thing I particularly like is the soft-touch rubberized plastic on the back of the controller. It lets you keep a tight grip on the controller even if your hands get a little bit sweaty.
Aside from being 'full-size', the other obvious difference over the Stratus controller comes in the form of the screw-on clip. Designed to hold your iPhone on the go, the Speedy's clip is sufficiently versatile to hold both iPhone 6/6s and iPhone 6 Plus/6s Plus models, even with a case attached. It has a rechargeable lithium battery, which takes a micro-USB cord – so you won't have any issues finding a cable to charge it for you. Additionally, it's the only controller to come in both black and white, so you can match whichever iPhone frontplate you've got. It's available on Amazon.com in both black as well as white, for $59.99.
HORI HORIPAD ULTIMATE Wireless Gaming Controller
The HORIPAD ULTIMATE comes from the Japanese company HORI, a well-known maker of high-quality gaming peripherals, and it brings a lot to the iOS controller line that isn't present in other offerings. Firstly, the build quality is top of the line – everything feels well constructed, with good analog joysticks as well as a good d-pad, the latter of which is a well-known issue in the MFi controller sphere.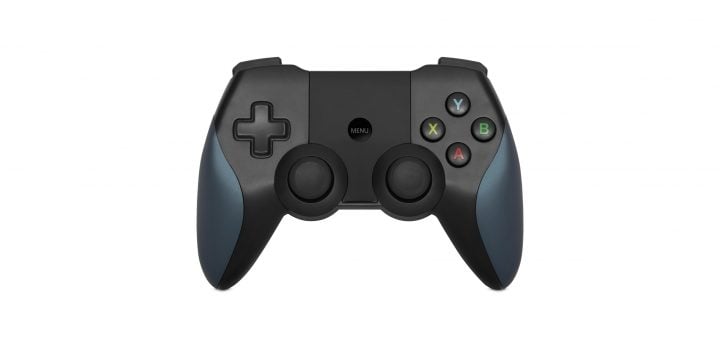 Like the Speedy, it features a built-in rechargeable battery, but unlike the Speedy, it can be easily recharged using a Lightning cable – which is, perhaps ridiculously, sold separately. HORI claims Mac compatibility as well as iOS, and the battery inside of the HORIPAD ULTIMATE promises an astonishing 80 hours of gameplay. The quality on this controller is just extremely good, despite the lack of phone clip or stand, and it's an easy recommendation at $50.
Mad Catz C.T.R.L.i and Micro C.T.R.L.i Mobile Gamepads
These two offerings from Mad Catz are more similar than they are different, so they get to share an entry. While Mad Catz was originally known for making cheap third party controllers, memory cards, and the like in the the 90s. Over the 2000s and especially the last five years, the company has really stepped up their game and produces some pretty nice equipment. Happily, the C.T.R.L.i. controllers tend to fall in the latter category.  Similar to the Speedy, both of Mad Catz' controllers come with a handy clip for your mobile device, and they'll both fit any iPhone, even if it's in a (reasonably size) case. The C.T.R.L.i is the larger and heavier of the two, and has a higher-quality phone clip. Its size and weight are a negative for gamers on the go, however, so the slightly smaller and lighter (but still full-sized) Micro C.T.R.L.i steps in to fill the gap.
The biggest departure from the other controllers on our list comes in form of charging them – unlike the rest, these controllers do not use rechargeable batteries; they rely instead on AAAs, like your TV's remote control. Generally I find that to be a negative, but it does mean that if you're out and about, you can pop in and pick up some extra batteries to play a game without trying to find a place to charge your game controller. It also means that these controllers are more affordable than some of the others: the C.T.R.L.i is available in black, blue, orange, red, or white for between $45 and $60, while the Micro C.T.R.L.i is available in the same colors for just $50.
SteelSeries Nimbus Wireless Gaming Controller
Capping our list is another SteelSeries controller, this time produced explicitly to go with the new Apple TV – but it will work with any of the rest of your iPhones and iPads, as well. The Nimbus replaces the Stratus XL in SteelSeries iOS lineup; the addition of Bluetooth 4.0 means it uses less power, and, the company says, less lag. The subtle, matte black color scheme makes it less garish than some controllers, and a series of LEDs embedded in the center let you know what player you're controlling in the middle of heated multiplayer bouts.
The Nimbus includes a rechargeable battery which SteelSeries says is good for up to 40 hours of gameplay. When you're ready to recharge, just pull out a Lightning cable and you'll soon be back up and running – like the HORIPAD, there's no included Lightning cable in the box, and with Apple's notoriously poor cable reputation, it would be a cheap thing to add. Still, it's a high-quality controller with a number of attractive features, and you can snag one for just $50.