The Best iPhone Alternatives Running Windows Phone – April
Windows Phone, the software that Microsoft users to power its own iPhone alternatives and the iPhone alternatives of others, is in the middle of a transition. At some point later this year Microsoft has plans to finally reveal a new flagship that many hope will give high-end Android phones and the iPhone 6 the competition they need. Until then, Windows Phones hardware makers are playing it low-key, releasing low cost iPhone alternatives where it makes sense and leaving the rest of their mobile ecosystem in stasis.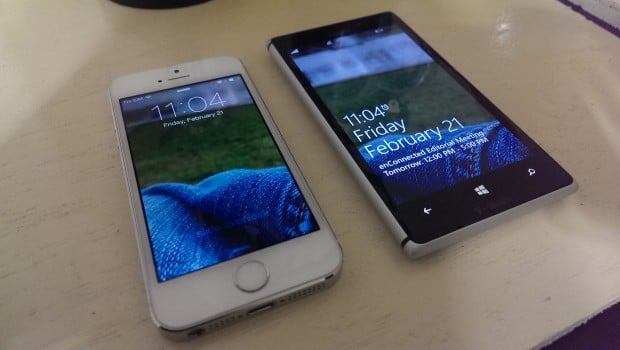 Even still, Windows Phones offer a stellar companion experience for anyone who already owns a PC running Microsoft's Windows 8.1 operating system and are looking for their next smartphone. That makes phones running the operating system worthy of considering over Apple's iPhone. Here are 5 best iPhone alternatives running Windows Phone for April.
HTC One M8 for Windows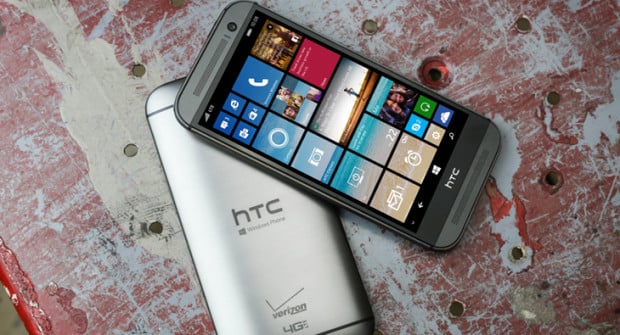 Announced at the end of last year, the HTC One M8 for Windows is the same celebrated device that debuted even earlier in 2014. It used the same chassis as the original Android HTC One M8, but came with Windows Phone 8.1 installed.
The HTC One M8 for Windows is practically the only  iPhone 6 alternative running Windows Phone that you can purchase on contract in the United States still. Inside the HTC One M8 for Windows is 32GB of storage, 2GB of RAM a built-in SD card expansion slot, a quad-core Snapdragon 801 processor and 4G LTE connectivity. Dominating the HTC One M8 for Windows' front is a 5-inch full HD display and two enormous speakers capable of filling a room with sound. There's also a Duo Camera on its rear and a 5 megapixel front-facing camera.
AT&T offers the HTC One M8 for Windows for $199 with a two-year contract. Verizon offers the device for $99 with a two-year contract.
Microsoft Lumia 640
There are those people who need a very high-end phone to get through their day. For others a smartphone is a tool, a thing that helps them get things done and nothing else. For those people there's the upcoming Lumia 640. Unveiled recently, the Lumia 640 sports a spacious 5-inch display, 8 megapixel rear-facing camera and support for faster LTE connections on wireless carriers in the United States. Built in there's 1GB of RAM, a quad-core processor and 8GB of storage. More storage can be added using a MicroSD card slot. The Lumia 640 comes in a number of different colors, including a bright blue.
T-Mobile's version of the Lumia 640 will include support for Wi-Fi calling and offer a stunning 36 days of standby time. There's an AT&T Lumia 640 in the works too.
Nokia Lumia 830
The Lumia 830 is a product of Microsoft's focus on mid-range and low-end smartphones. Again, that focus is about providing those who don't need every feature, a phone they can use for a reasonable price.
Exclusive to AT&T in the United States, the Lumia 830 has a 5-inch high-definition display and a Snapdragon 400 quad-core processor. There's 1GB of RAM and 16GB of storage, and there is an option to add more storage to the Lumia 830 with a MicroSD card slot. Its internals make it a worthy iPhone alternative, but its rear-facing camera gives it a key advantage. The Lumia 830 features a 10 megapixel rear-facing camera with Microsoft's PureView imaging technology. It takes amazing pictures and has wireless charging.
Read: Nokia Lumia 830 Review
AT&T sells the Nokia Lumia 830 with a Fitbit Flex wearable fitness band for $69.99 with a two-year contract.
BLU Win HD LTE Unlocked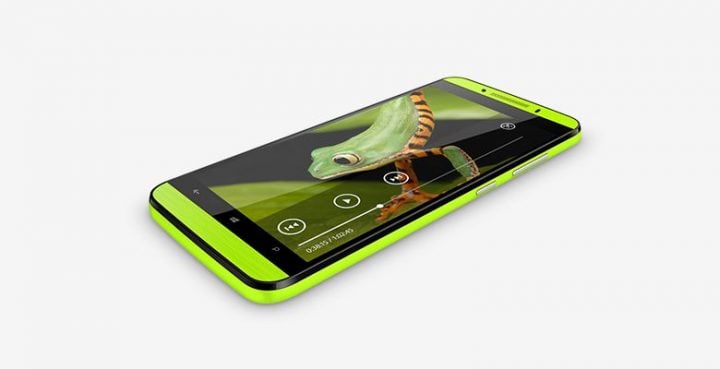 Just as important as the devices you can buy on a two-year contract are the devices you can buy with just your credit card. Smartphone buyers and those in search of a legitimate iPhone alternative are getting smarter. Not everyone wants to sign a contract and stay with their carrier. For those people there's the Blu Win HD LTE.
Unlocked and sold online at the Microsoft Store, the Blu Win HD LTE hits all of the mainstream requirements for an iPhone alternative. There's a very spacious 5-inch IPS HD display, an 8 megapixel rear-facing camera, 8GB of storage and the option to add more. Inside is a Snapdragon 410 quad-core processor, which is impressive, but not high-end.
The Blu Win HD LTE comes in four different bright colors and costs just $199 – no contract required. It works on both T-Mobile and AT&T. What's more, it's one of the few Windows Phones in the United States that comes equipped with two SIM card slots. This allows users to switch between two different networks whenever they want.
Read: Huge Windows 10 for Phones Update Shocks & Amazes
If you're in the market for an iPhone alternative running Windows Phone know that you're not necessarily making a bad decision buy purchasing a device ahead of the impending launch of Windows 10 for Phones. Microsoft plans to upgrade all eligible Windows Phones to that new operating system for free. It's very hard to imagine that any of the devices included in this round up won't get the software update. Good luck.

As an Amazon Associate I earn from qualifying purchases.