The Best iPhone Alternatives Running Windows Phone
In the United States these days, devices running Microsoft's Windows Phone 8.1 operating system don't get much credit as iPhone alternatives. That's a shame, because some of them really are capable of replacing either Apple's iPhone 5s or iPhone 5c smartphones.
In the past year Microsoft has finally began to catch up to Apple's mobile offerings in most ways that count. The iPhone 5s is a high-end smartphone with glass and metal everywhere. It's an art piece and so are Windows Phone devices like the Lumia Icon, which matches the iPhone 5s' sharp sides and clean lines. Cheaper Windows Phones offer some of the same colorful options as the iPhone 5c, with out the two-year contract that purchase the iPhone 5c or other smartphones require. More importantly, they do so without the hefty price tag associated with being an iPhone user.
This isn't just an advancement in hardware though, the Windows Phone 8.1 update Microsoft showed off earlier this year adds tons of crucial features too. Here are 4 of the best iPhone alternatives running Windows Phone 8.1. Three of them are available on most four of the nation's largest carriers. The last one is available from Amazon for use on two different carriers.
The Unlocked HTC 8X for T-Mobile & AT&T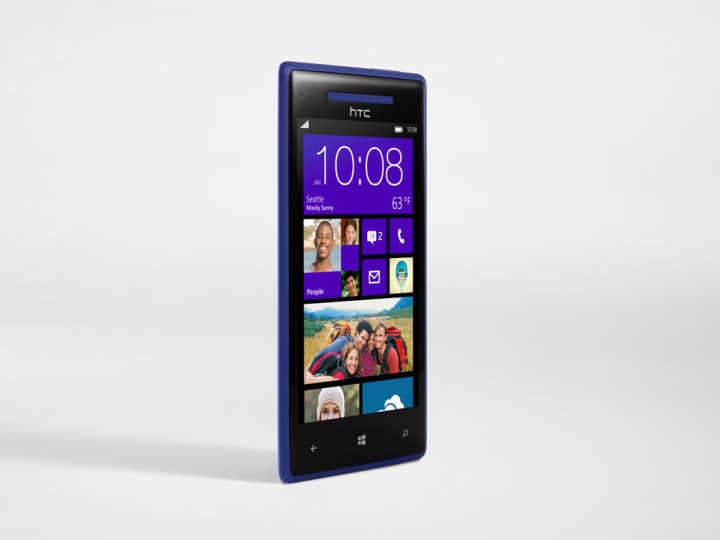 It's not that often that you can pick up a decent iPhone alternative without signing a two-year service agreement. That's what makes the HTC 8X so great.
The device originally launched back in 2012 and included all the key features of the day. It has a dual-core processor, a 4.3-inch display, front-facing camera, 8 megapixel rear-facing camera and 16GB of storage space all for the very, very low price of $159.99. There is a gotcha, of course – the smartphone only comes in blue and buyers need to have a smartphone plan on T-Mobile or AT&T to use it.

[ Buy the HTC 8X for AT&T or T-Mobile for $159.99 From Amazon Without A Two-Year Contract ]

This article may contain affiliate links. Click here for more details.