The Best iPhone Games At E3 2015: Siegefall & More
For almost an entire week every year, all eyes are on the Los Angeles Convention Center and video games. E3 2015 was no different, with people around the world tuning in for conferences concerning videos games on the Xbox One and PS4 gaming consoles. Blink and you might have missed that there were iPhones games and titles for Google's Android operating system at the event too.
Among the few mobile games that we came across were some gems, truly interesting titles that you can play on your Android smartphone or iPad tablet. Some don't require that users purchase a thing. Others have a sense of humor that even rivals what's available on television and in movies that share their name.
The Best iPhone Games At E3 2015 – Minions Paradise
Hands down, one of the most impressive games at this year's E3 2015 trade show didn't involve a wired controller or even a Kinect sensor. All players need is their finger and a terrific sense of humor. The game is called Minions Paradise and it's really an offshoot of the Despicable Me movies.
In Minions Paradise you play the role of creator. It's your job to use crafting and upgrades to create new homes and habitats for your minions to live peacefully. As your island grows you can explore other islands and add even more extras. The title is littered with different buildings you can unlock and mini games for you to explore beyond just the core building and caretaking mechanic.
Minions Paradise isn't terrific because it only loops into a movie franchise, but the ties-ins don't hurt either. The same director that worked on the movie created the intro for it. A lot of the writing and scripting are just as funny as their movie counterparts. Everything from the animation that happens when you try to craft something to harvesting resources to getting those craft items has a joke in it. I placed my finger on the display and all the minions looked back up at me. These small jokes happen randomly and you can zoom in pretty close so that you don't miss them. There are 11 different resources to craft in all.
The game will is free and includes in-app purchases on iPhones, iPads and Android devices. Minion Paradise does require an internet connection to play and it'll hide more expensive transactions from children.
The Best iPhone Games At E3 2015 – NFL Mobile
Sometimes all you need is to throw a football around for a few hours and feel better about your day. That's not always possible, but if you like iPhone games getting in some sports action isn't such a chore. EA's Madden NFL Mobile includes some pretty hefty gameplay.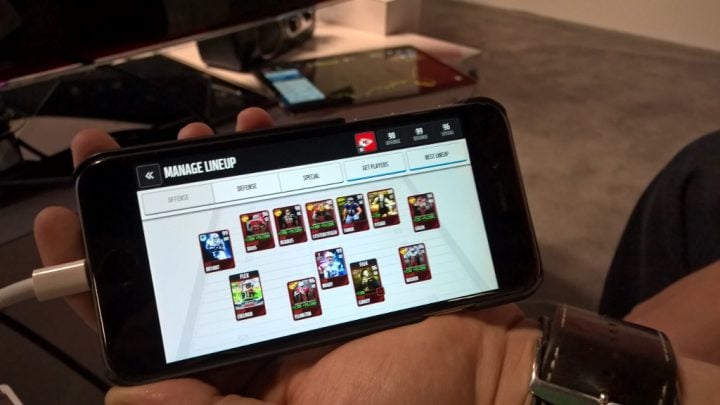 To be clear, you're not getting a full Madden NFL experience on this iPhone game, but that's because EA has designed Madden NFL Mobile to be something that you can hop into and out of. In the game's multiplayer you're competing against someone else for the most yardage. League to League tournaments, cut-scenes and a Defensive Strategy system that even lets you breakdown what plays are most effective against you are present. Season 2 of Madden NFL Mobile will add swappable wide receivers, a new interface, and spontaneous team changes.
The current and free version of Madden NFL Mobile is available in the iTunes Store and Google Play right now.
The Best iPhone Games At E3 2015 – Siegefall
For whatever reason, strategy games haven't turned out to be as big a category of iPhone games as endless runners, which is a shame. Besides offering up some in-depth mobile gameplay, strategy games are perfect for winding down after a long day and settling in front of the television.
Siegefall, an upcoming iPhone game from developer Gameloft is pretty fun. Coming to iPhone, iPad, Windows and Android on June 24th, it's the perfect way to spend some extra gaming time. In the game you're a hero; at least you'll feel like one as the game progresses.
A pretty extensive tutorial shows users how they can command troops into battle. The point of the game is to conquer enemy territory and that territory just happens to include a varying array of castles with fortified walls, archers and dangerous foes. You may start out with a small army and no power-ups, but you quickly level up, getting more knights and regular soldiers to take with you into battle. You need to feed these soldiers and you'll need in-game currency to build your assault team into a credible force. To give them orders you simply drag the across the screen.
Once dispatched, soldiers in Siegefall can't be given orders again without an extra power-up. Other power ups include chain lightning that moves through the keep and a giant dragon that'll destroy half an enemy keep in one swoop. My favorite were the trolls, who'd destroy just about anything you put in front of them.
Chests and in-game currency are awarded pretty regularly and the gameplay itself is easy to pick up on. The real-world currency that you drop into the game can be used to fast forward things a bit and skip some of the crafting cool-down timers. Besides the default story mode, players can also build keeps and try to destroy the keeps of others. Like Minion's Paradise, Siegefall will require that your phone has a stable internet connection to play.
The Best iPhone Games At E3 2015 – FIFA Mobile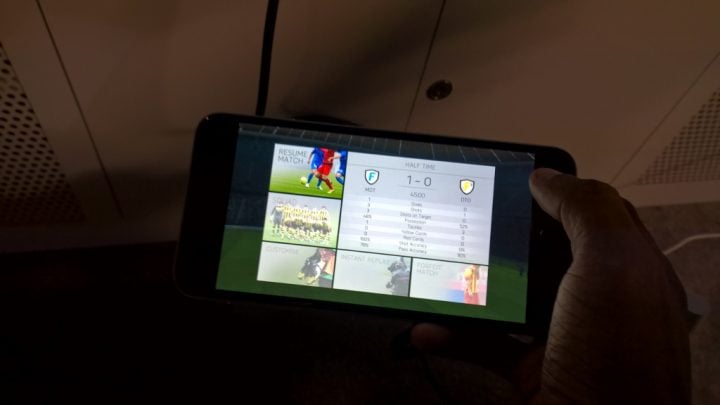 Launching along with FIFA 16 in September, FIFA Mobile allows you to quickly and easily pass the ball with taps and gestures. FIFA Ultimate Team is baked right into the game, and EA has added celebrations so that players feel like they just earned something every time they land a goal. FIFA Mobile was one of the few games shown at E3 2015 that we could find with support for native iPhone and iPad controllers.
Clear space on your device and ready your thumbs.

As an Amazon Associate I earn from qualifying purchases.