The Best Smart Home Products
An array of Smart Home products are trickling into homes, making life a little more convenient. Smart Home products are still on the pricey side, but some are well worth the investment, especially for homeowners looking to solve specific headaches around their homes.
While Smart Home products are getting better and less frustrating to use, they are still much more expensive than the dumb (standard) products they replace. While there are countless cheap smart home products, the best way to turn your house into a  Smart Home is to invest in high-quality products that you're confident will be supported for years to come. An amazing Smart Home product isn't so smart if you're not sure the company you're buying it from will be around in a year or two.
It's also important to consider how each Smart Home product you buy will fit into your smart home puzzle. The last thing you want to do is end up with a bunch of incompatible devices that are difficult to set up and manage.
Here's a list of the best Smart Home products we've bought, reviewed and used ourselves:
Ring Video Doorbell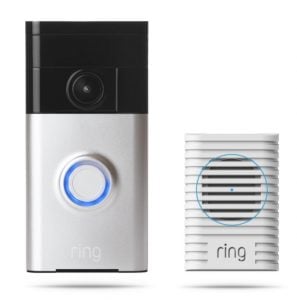 Spending $199 on a doorbell might sound excessive, but it's much more than a doorbell. Besides allowing you to see who's at your front door from anywhere in the world and communicate with them, the Ring Video Doorbell doubles as a home security device that can anyone who rings the doorbell or even approaches it.
The Ring Video Doorbell is easy to install and doesn't require any wiring at all. A $29 accessory called Chime plugs into any power outlet and sounds whenever someone rings.
Ring is so confident that its video doorbell will deter burglars that it will pay your insurance deductible if your home is ever broken into.
Read our full Ring Video Doorbell review here. The Ring Video Doorbell is available for $199 at Amazon.com.
Chamberlain WiFi Garage Door Opener
The Chamberlain WiFi garage door opener allows you to control your garage door from any iPhone or Android phone. That means you can check to make sure your garage door is closed from the Chamberlain MyQ app. The $238 unit (Amazon.com) isn't that much more expensive than standard garage door openers and it's compatible with some of our favorite Smart Home products. For example, the Chamberlain WiFi garage door opener can tell a Nest thermostat when you're away.  This is another Wink compatible device. Read our full Chamberlain WiFi garage door opener review here.
Schlage Sense Lock
There are several gadgets that can convert existing locks into smart locks, but we prefer the latest Schlage lock designed for Smart Homes. The lock can be programmed with up to 30 access codes, each of which can be restricted to specific days and times. That means you can allow a housekeeper or guest to have access to your home only when they need it without giving them permanent virtual keys.
The lock even allows homeowners to unlock their doors with their iPhones if using the keypad is too cumbersome. The Schlage Sense lock has Bluetooth to sense when you're unlocking the door with your iPhone. That means you don't have to link this lock up with any sort of hub. If you do want to integrate the Schlage Sense into a Smart Home setup, it is compatible with Wink and Apple's HomeKit. If you have an Apple TV you can setup and operate the Schlage Sense right from your TV.
The Schlage Sense lock is available for $229 at Amazon.com.
Nest Thermostats
Nest recently released its third generation thermostat, offering a sleeker design. This thermostat is designed to save energy by heating and cooling homes efficiently, in part by saving energy when nobody's home. Homeowners can turn on the heat or AC from their smartphones with the Nest Learning Thermostat.
The Nest Learning Thermostat works in conjunction with Nest cameras and Nest Protect smoke and CO2 detectors to make your home smarter. For example,  when the thermostat knows you're away, it can start recording on Nest cameras.
While the Nest app won't take care of all of your smart home needs, having these three functions in one app is a fantastic start.
The Nest thermostat is available at Amazon.com for $249.
Ecobee3 Thermostat
One problem with most thermostats, including the Nest thermostats, is that they are typically placed in hallways rather than the rooms people are actually living and sleeping in.  The Ecobee3 comes with a remote temperature and occupancy sensor that can be placed in any room. Additional sensors can be added to help the system figure out exactly when it should heat or cool your home.  That means you can set Ecobee3 to heat your home to different temperatures depending on whether or not your bedrooms are occupied or not.The Ecobee3 is HomeKit enabled.
The Ecobee3 is available from Amazon.com for $249 and comes with a total of three sensors as part of a special package.
Logitech Harmony Elite
The Logitech Harmony Elite universal remote does a lot more than manage your home theater. The $349 remote comes with the Harmony Hub, a device that allows the remote and the Harmony smartphone app to control Smart Home devices such as blinds and lights. Blend it all together and with a single tap you can set the mood for a party or for enjoying a romantic movie.
The Harmony Elite universal remote control features a touchscreen display that morphs to uncover all of your other remote controls' buttons and options.
The Logitech Harmony Elite remote control can seriously cut down on the clutter since it can replace up to eight remote controls, including most TVs, cable boxes and streaming media players like the Apple TV. You can still control devices hidden behind cabinet doors or stuffed in closets with this remote thanks to an included signal repeater.
The Harmony Elite is available for $349.99 at Amazon.com.
Sonos Speakers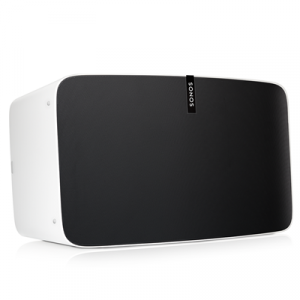 Sound systems used to be complex and take up a lot of space. That's no longer the case thanks to Sonos and its array of smart speakers. Don't confuse Sonos speakers with simple Bluetooth speakers, these wireless speakers have brains and an app that lets users stream different tunes to each room. You can even piece together a surround system to turn your flat screen into a home theater in just a few minutes with the Sonos Soundbar, Sonos Subwoofer  and a couple of Play 1 speakers.
Sonos just released the Play 5, an incredible speaker that sounds a lot bigger than it looks. It's worth every penny of its $499 price tag if you want to fill your home with music. The Sonos app has an intelligent feature that tunes the Play 5 for whichever room you place it in.  If you need to amp up your music even more you can gang a pair of the Play 5 speakers together. The Play 5 is available at Amazon.com for $499.
Nest Cam Security Camera
Wiring up security cameras used to be a complex task, but that's no longer the case. The Nest Cam simply plugs into any AC outlet and starts saving footage to Nest's servers after a simple setup process. Adding on multiple cameras is painless and recorded footage is easy to view and save using the Nest smartphone app or on any computer's web browser.
The $199 Nest Cam can be configured to alert you when motion is detected. The camera can also act as a two-way communication device if you need to communicate with someone in your home that can't get to a phone.
Philips Hue Lights
Philips Hue lights are a great way to save energy and add splashes of color to your home, so long as you're able to stomach paying $199 or so for a starter kit. Individual additional bulbs are $59 each.  The lights can be programmed to change to any color in the rainbow right from your smartphone or tablet. You can set up schedules for light scenes and program the lights to make it look like someone's home when you're on vacation.
Read: Hue Lights Review
While there are a number of smart lights that can perform similar functions, the Philips Hue system is our top pick for Smart Homes since it's HomeKit enabled and there such a wide variety of formats, ranging from standard A19 bulbs to under-counter light strips. Philips also offers portable Hue lamps to add accent lighting. There are slightly more affordable Philips lights that dim, but don't change color.
You can see a full range of Philips Hue components at this Amazon.com page or find basic kits and lamps at Best Buy and Home Depot.
Serena Remote Controlled Shades by Lutron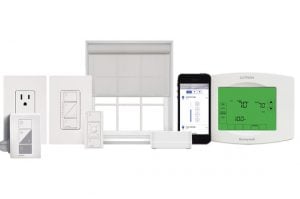 Remote controlled shades might not be the first thing you think about when you think of a smart home, but we've found them to be an important piece of the smart home puzzle.
With Serena shades, you can open and shades with a remote control, with a smartphone app or using Siri on your iPhone or Apple Watch.
The shades can be programmed to open and close to wake you and conserve energy. Lutron shades are available at Home Dept and Sernashades.com. Serena shades cost a few hundred dollars each, depending on the design and size. If you invest in Lutron shades you might also want to take a look at their Smart Home Caseta lighting products.
Lutron Caseta Wireless Lights
The Lutron Caseta Wireless light system is an amazing addition to your smart home that allows you to control any light bulb in your house.
Unlike Hue, where you need to replace all the lights you want to connect, Caseta Wireless installs in your wall or plugs in to your outlet to control lamps. This means that you can control lights with your iPhone, iPad, Android, Siri or with a normal switch.
Read: Lutron Caseta Wireless Review
The inclusion of a real switch that anyone in the house can use is one of the reasons we love the Lutron Caseta Wireless system. Instead of replacing five lights in a kitchen, you can replace a switch. Once that is in you can say,  "Hey Siri turn the kitchen lights off.", and it just happens.
You can also buy small adapters that plug into a wall outlet and allow you to plug two lamps into each adapter without any actual installation needed.
You can buy Lutron Caseta kits at Apple, Amazon and other retailers.
FitBit Aria Scale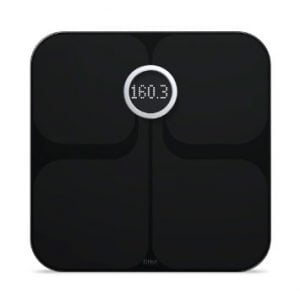 A scale might not be the first thing you think of smart home products, but just about every home has at least one scale that's sorely outdated.
The FitBit Aria measures users' weight, body fat percentage and body mass index over time. It can automatically detect who's on the scale and adds the information to users' FitBit profiles. This adds another dimension to the health data that users' FitBit health trackers and iPhones log.
The FitBit Aria costs [easyazon_link identifier="B0077L8YOO" locale="US" tag="gbm-ea-20″]$110 at Amazon.com[/easyazon_link].

As an Amazon Associate I earn from qualifying purchases.