The Best Wireless Headphones
As technology inexorably marches on, our devices become thinner, lighter, with fewer buttons, and fewer cords – even charging your smartphone can be done without a single cable. Why should your headphones be any different? With this list of the best wireless headphones, they don't have to be.
One of the most frustrating things about listening to music – or audio of any kind for that matter – on our phones is the headphones. It may sound ridiculous, but it's true. If it's not the terrible audio quality we've been convinced is good enough, it's the build quality, or the way the cord on a pair of earbuds will defy physics and spontaneously leap into the path of any obstruction that comes near, painfully jerking them out of your ears.
…maybe I'm just thinking about dinner last week.
In all seriousness, a good set of wireless headphones goes a long way to improving your experience with mobile audio, even if you don't plan to leave the house. There's no cord to get caught on anything, or introduce microphonics (some earbuds especially have issues where cable movement introduces distracting sound), or get tangled up on your pocket. You're free to move around and listen to something while your phone or tablet charges, and if you need to pause or take a call, there's less fumbling around trying to find the controls.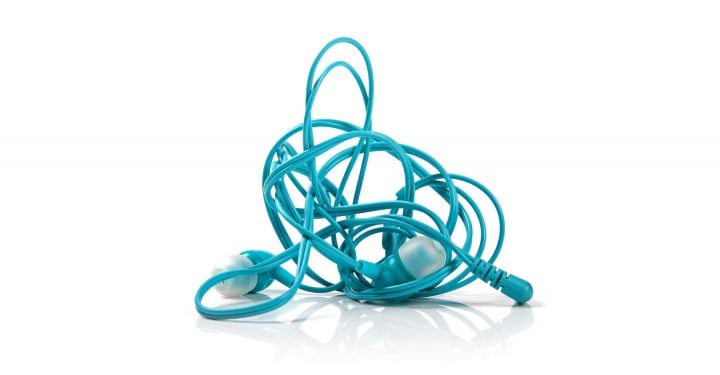 There are five things to keep in mind when you're trying to pick out a good set of wireless headphones, in no particular order:
Build Quality – you're probably going to want to take these headphones out of the house at some point. Whether you're always going to wear them, or you'd rather shove them in your backpack or bag, they're going to need to stand up to abuse. Some headphones are also cursed with fragile plastic parts that can easily break, so be sure to look for a sturdy set.
Comfort  – this might seem a bit obvious, but it's super important to make sure that the headphones you buy are comfortable – a pair might seem comfortable at first blush, but remember: you're probably going to be wearing these, at times, for up to several hours at a time. That means that if anything seems a little bit annoying at first, it can grow to become super frustrating over time. It also means that you should attempt to try a pair of headphones on before you plunk down the cash, and if you can't, buy them from a store that offers fairly liberal return policies.
Audio quality – depending on what sort of experience you're looking for, you can find staggeringly different audio qualities in different headphones. Some brands, like Beats, are known for their bass response; others score points for neutral profiles, accurate response, and more. Additionally, and with rare exception, your sound will be compressed as it's sent over the Bluetooth connections pairing your headphones to your audio source. Depending on what you're listening to, it may not matter that much – spoken word audio, for example, will present differently to intricate musical composition. Your audio source will matter a lot, too – Android supports apt-X Bluetooth audio profiles, for example, while iOS does not.
Features – Do the headphones offer a feature that's important to you? Things like NFC for quick pairing, will they work with a cord when the battery is dead, can you use them while charging, do they support USB audio, etc.
Noise cancellation – Technically a feature, but important enough to break out into its own section. If you're a frequent flyer or otherwise a big commuter on public transport, it can be frustrating trying to listen to your favorite song or podcast on the plane or bus. Noise cancellation (NC) can go a long way to ameliorating that situation, but the experience can vary wildly between offerings. NC also tends to decrease the audio quality of music playing at the same time (especially bass), but not always.
With that out of the way, let's move on to some of our top picks for the best wireless headphones; all of the ones on our list support Bluetooth connectivity (either 2.1 or 4.0), and some support additional protocols such as NFC and noise cancelling.
Sennheiser MM 550-x
These foldable headphones are a couple of years old at this point, but all it means is that you get stellar performance for a reasonable price. Coming in around $250, the MM 550-x were Sennheiser's flagship travel headphones before the introduction of the wireless Momentums (further down on our list). You can expect Bluetooth 2.1 compatibility, and they support apt-X for superior quality and latency when paired with supported devices.
The sound quality is pretty good, especially for a set of 'phones with noise cancelling, and they also offer SRS virtual audio processing – which can make your audio sound great or awful, depending on the situation. One feature that seems to make the MM 550-x unique is their removable battery – while the battery life is excellent, you can actually buy another one to pop in when your original dies, or set it up so that you're charging one while using the other. If both batteries are down, you can always plug them in and keep on truckin'.
Sennheiser Momentum 2.0 Wireless 
The Momentums are Sennheiser's current mainstream line of headphones – they offer the brand as earbuds, as regular corded headphones, and now, as their flagship wireless headphones (review). Just looking at the design, it's a huge, huge, and necessary change over the MM 550-x. One looks extremely gadget-y, while the other is a pretty attractive pair of cans – especially the ivory-colored model.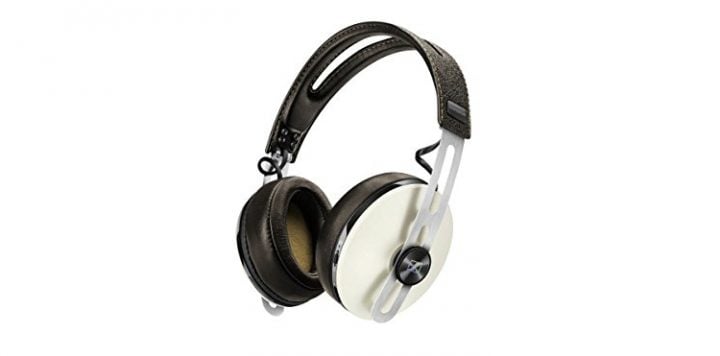 The first iteration of the Momentum 2.0 Wireless headphones suffered from an interference problem that really destroyed their performance when using them in wireless mode (which is, of course, the point of buying wireless headphones). Sennheiser issued a recall and pulled the product from store shelves; the new version seems to have solved the problem – just make sure you get an updated model.
These headphones offer all the top-of-the-line features: Bluetooth 4.0, apt-X, NFC for quick pairing, the ability to use them corded or over USB,  always-on noise cancellation, 22-hour rated battery life, and more. The downside? They carry a top-of-the-line price, too: $500. We've seen them go as low as $300 on sale, and at that price point, they're a sure buy – at regular price, you should probably go with the MM 550-x.
Plantronics Backbeat PRO+
Plantronics is known for creating some of the best aviation and office headset products, and in the past few years, has begun to seriously dabble in consumer audio (they also make excellent and affordable gaming headsets). The Backbeat PRO/PRO+ (review) are over-the-ear headphones – they fully cover your 'lobes (those with bigger heads and / or ears might find it a tight fit, however). 24-hour battery life, up to 330 feet (100m) of Bluetooth wireless range, depending on obstacles, noise cancelling that you can turn on and off (it's regrettably always on with the Momentums), and the ability to pair audio from two different devices at the same time. It seems like the only difference between the PRO and the PRO+ is that the latter includes a Bluetooth 4.0 USB dongle for your computer, and they sell new for $300. Right now, you can find sellers on Amazon selling the older PRO model for just $150, which is an absolute steal.
Plantronics Backbeat SENSE SE 
We liked the Backbeat SENSE in our review, and like the Backbeat PRO/PRO+, a neat trick of these headphones is their auto-pause feature. If you're listening to something, and need to slide them down to hear someone ask a question, or buy something at a store, the music automatically pauses, then resumes when you place them back on your ears. Pretty slick, right? Additionally, the SENSE headphones are a much cooler design; their on-ear (they sit on top of your ears, instead of going around) memory foam construction makes for a simpler look and a comfortable fit, no matter your ears' size. Plantronics threw in splash resistance for the SE version, so if you get caught in a light shower wearing these, you shouldn't have to worry. They do lose the noise cancelling features from the BackBeat PRO/PRO+, as well as drop to 18 hours of battery life. You can get the Plantronics BackBeat SENSE SE online for around $200.
Phiaton BT 330 NC
Phiaton is the US arm of a Korean company that makes headphones and headsets inclusion with other companies' products – they make around 15 million pairs each month. Introduced at CES this year, the Phiaton BT 330 NC is a go at the higher-end wireless headphone market. Scoring well in reviews for their comfort, the BT 330 NC offers many of the pricier features you'll find bigger brands offer – Bluetooth 4.0, multipoint connections (two devices at the same time), and the ability to use these with a cord even when the batteries go dark. Phiaton promises up to a whopping 30 hours of battery life with the noise cancelling features disabled, and up to 18 hours with them on – certainly no slouch there. Speaking of the NC, it doesn't seem to do quite as good of a job as solutions offered by other manufacturers, but it'll more than work in a pinch. Phiaton seems to be trying to carve out a niche for itself by offering high-end features at lower prices; consequently, the Phiaton BT 330 NC headphones are only $179.
Beats Studio Wireless Headphones
Beats have something of a mixed reputation, depending on who you ask. Audiophiles like to accuse people who buy Beats of being more concerned with fashion than music, all the while carrying around a large set of headphones connected to a $300 portable amp – let's just say, there's a market for everyone. Besides, the Beats Studio Wireless headphones go a long way toward assuaging any concerns over audio quality. Purists may not enjoy the result – the EQ is pretty clearly tweaked here – but they still sound great, and are one of the few headphones (especially wireless ones!) that offer really substantial bass.  They also manage to do all of this while looking pretty good, whether on your ears or around your neck. A bonus? This is the only option on the list if you want to swap out batteries on the go – the Beats Studio Wireless use bog-standard AAA batteries, which means you can order a pack of these AmazonBasics rechargeables and be good to go for a long time – or just pop into a gas station when the need arises.
Where the Beats Studio Wireless do fall down a bit is the active noise cancellation. It works for the most part, but it just isn't very good. For most people NC tends to be an afterthought – we don't all fly on a plane every week – but if it's something you need, you may wish to look elsewhere. At the Apple retail price of $399, these would be a more difficult recommendation, but since you can snag a pair on Amazon (from Amazon themselves, so you don't need to worry about third-party forgeries) for just $249, they would make a great Christmas present for you or a loved one.
Optoma NuForce BE6
Although they may be better known for their projectors, the folks at Optoma have quietly been making a name for themselves with a selection of well-reviewed in-ear modules (IEMs or earphones). The NuForce BE6 is one of these products, and the only option on our list if you're wanting something along the lines of earphones instead of headphones (it can be difficult for manufacturers to provide a worthwhile wireless experience without a big ol' battery somewhere). These come in black and grey or gold and white, and only weigh a super light .56oz (16g).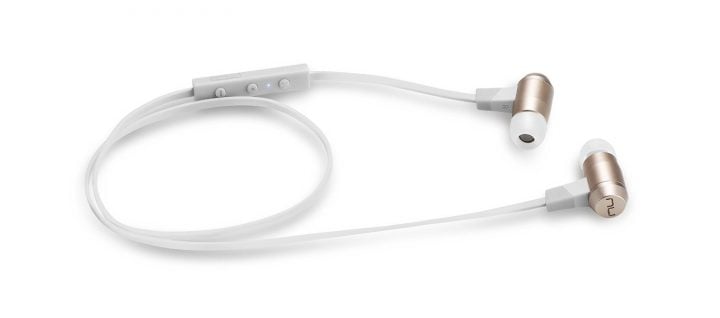 These Bluetooth (they don't say which version, so I expect it isn't 4.0) headphones support both apt-X and AAC for enhanced streaming audio, and can trigger Siri or Google Now, depending on your device. The aluminum bodies stand up well to abuse, and a magnetic clasp on the back of each earphone keeps them from falling off  when you take them out of your ears temporarily. Perhaps the single downside to these headphones is battery life – which is to be expected, considering their form factor and wireless connectivity. You can expect a maximum of six hours, which is not quite enough to make it through a single day, but the small battery also means a quicker charge time. They're also pretty large for earphones, so smaller framed individuals may have some difficulty. You can snag these for just $129 on Amazon.