The Best Xbox One Games You Can Buy in Spring 2015
Microsoft spent the better part of last year getting it's Xbox One console business in order, resulting in more sales in the United States than Sony's PS4. That was something the console hadn't managed to pull off since shortly after launch. To get there Microsoft executives were ruthless in their pursuit, trimming departments that didn't make sense, bundling Xbox One games that it expected to be hits and introducing a cheaper Xbox One that doesn't include the Kinect 2 sensor. It worked, Microsoft ended 2014 in a great place.
All of that's in the past though. Microsoft can still deliver those things, but it'll get no more than a passing thought. To truly keep the momentum alive Microsoft and its partners will need to deliver Xbox One games that can impress. They'll need to have first-party exclusives on store shelves that can lure those still holding out on upgrading. These Xbox One games will need good graphics and great game play mechanics.
What's arriving this fall still remains a bit murky, but we already have a good idea of the best Xbox One games you'll be able to buy this spring.
ScreamRide
Sometimes, it's hard for people who describe themselves as hardcore gamers to understand that there are some people that don't have a lot of time to sink into a role-playing game like Dragon Age: Inquisition and get no enjoyment out of shooting things on their screen. It's for those gamers that ScreamRide is coming.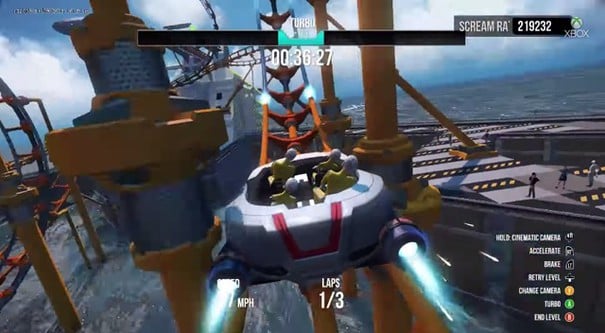 ScreamRide is a theme park simulation game for your console and controller. Players will be able to create their own custom roller coasters, but developer Frontier Developments is hoping that players will also enjoy finishing coasts that they've already started and then using them to destroy their theme park too. Like Roller Coaster Tycoon, players will be able to add scenery and give their coasters a custom feel. Players will be able to ride the coasters they create in ScreamRide too, something that'll thrill casual Xbox One gamers with a big screen.
ScreamRide will arrive on March 3rd in North America.
Ori and the Blind Forest
Everyone remembers the first video game they ever played. Chances are that if you started gaming in the 1990s than your first game was a platformer like Sonic or Super Mario. Video games keep getting cheaper to develop, and now there's an entire generation of players creating their own games loosely based on platformer games. The latest to catch the attention of everyone is Ori and the Blind Forest.
From videos released by developer Moon Studios, we know that players of Ori and the Blind Forest will need to gather special powers and resources as they try to make it to the end of levels. What makes Ori interesting is the story and highly detailed art that's been shown off. It's entirely possible that Ori and the Blind Forest will be the best looking platformer we've ever seen. What's more, it's exclusive to Microsoft's consoles and software.
Ori and the Blind Forest launches on the Xbox One and Windows March 11th. It'll also come to the Xbox 360, but we have no idea when that'll happen.
Battlefield Hardline
First-person shooters don't get bigger profiles than Visceral Game's Battlefield Hardline. Launching on March 17th, the game drops the now too-often-experienced war setting of past games for what Visceral is describing as The War on Crime.
In multiplayer mode, Battlefield Hardline players are divided into criminals and cops. Criminals are responsible for robbing banks and stealing games in the title's different game types. Cops will stop them by any means necessary. The game's story will follow along the same lines, but Visceral is promising something like a serialized drama like Law and Order than a typical campaign.
Battlefield Hardline will cost $60 when it arrives on store shelves on March 17th.
Mortal Kombat X
If there was ever a game that defined a genre, it was Mortal Kombat. It's pretty easy to describe the Mortal Kombat experience, even if it isn't easy to win a match. Choose your character and learn his finishing moves and individual characteristics. Now take that character and beat anyone who stands in your way.
Mortal Kombat X will introduced different character profiles for players to learn. Even with the same character, switching profiles will unlock new moves and Fatalities. The other key development here is the environment. Forget better looking fighting areas, levels are now weaved into the game play. Mortal Kombat X players will be able to use their environment to their advantage in any match. Mortal Kombat X is coming to the Xbox One and Xbox 360 on April 14th.
The Wither 3: Wild Hunt
Finally, there's CD Projekt Red's The Witcher 3: Wild Hunt, which arrives on May 19th. Players of the Witcher 3: Wild Hunt will explore and conquer an area many times largest than past games. The developer is hoping that a new weather system, night and day mechanics and a more realistic foes and friends will help the game feel alive.
Regardless of what your favorite genre's are, there'll be plenty of Xbox One games to play into the summer. Microsoft's Xbox One is on store shelves now for as little as $349. That version will allow users to experience all of these titles.