The Blockheads is a 2D Minecraft-esque Game for iOS
The iPhone and iPad will soon have another, more accessible 2D Minecraft-like game called The Blockheads.
According to TouchArcade, The Blockheads is the new game from developer David Frampton who created Chopper and Chopper 2 for iOS. Frampton openly admits that he used Minecraft as inspiration for his new game, but he has a slightly different model for the game. The Blockheads will be a free game and will arrive with some bonuses like in-game currency and faster in-game processes which will be available as in-app purchases.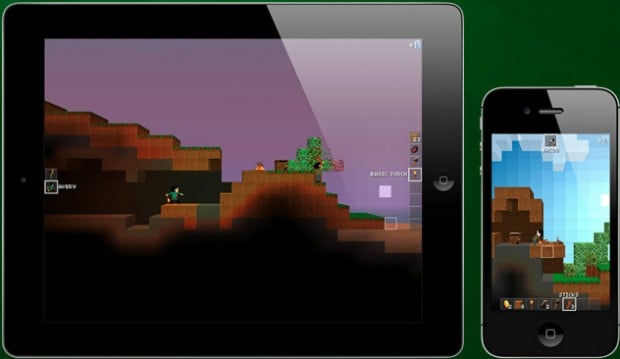 There are other 2D Minecraft-like games such as Terraria on the PC, but The Blockheads has a different approach. Frampton is designing his games from the ground-up for iOS instead of building the game for PC or Mac and porting it over. That means easier controls, and no virtual sticks or buttons.
The Blockheads will also have a simpler crafting system than most games of its type. Frampton describes it like this:
Instead of needing to know recipes and being able to craft everything in one location, there are many different kinds of workbenches, each with a handful of items they can craft. The crafting interface lists what is required and describes what the crafted item can do. This creates a technology tree of sorts, easing the player into the game, and slowly making more advanced items available.
In Minecraft and Terarria, players have to discover how to make new items themselves, with little in-game help. It makes the game frustrating for new players, which is especially bad for a freemium iOS game. The Blockheads though uses a tech tree which should translate to more approachable gameplay as it will likely reign in the potentially daunting number of items that users can create to just a few at a time.
It sounds like a promising game, and one that's a bit more accessible than Minecraft. There's no estimated release for The Blockheads yet, but Frampton will put updates out on the
Majic Jungle Software website
.

As an Amazon Associate I earn from qualifying purchases.