The Cloud Wars Heat Up with Box OneCloud
There's this great song from the musical A Funny Thing Happened on the Way to the Forum called "Everybody Ought to Have a Maid."
The lyrics go something like this:
Everybody ought to have a maid,
Everybody ought to have a working girl,
Everybody ought to have a lurking girl
To putter around the house.
Everybody ought to have a maid,
Everybody ought to have a menial
Consistently congenial
And quieter than a mouse.
That's just part of the first verse, but you get the idea. It seems like these days whenever I read about this new Cloud service or that new Cloud service that song pops into my head with a lyric change to "Everybody Ought to Have a Cloud."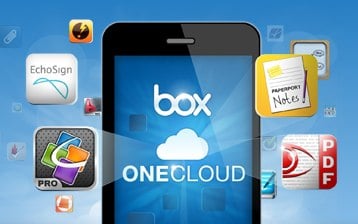 And it sure seems like everybody wants to have their own Cloud, or rather have you in the one they are trying to create.
I won't get into the different kind of Cloud services available these days, but we all know that Microsoft, Google, Apple, and just about everybody else wants you in their respective Cloud. To take a cue from another musical, Mama Rose could be belting out "Everything's coming up roses and data farms", the way things are moving. There are certainly competing standalone services like SugarSync and Dropbox.
Most of these services offer some free Cloud storage and hope you will buy more. Box is one of those services that has recently gained some momentum and is now rolling out what it calls Box OneCloud.
I guess if you are gonna go big, go big in the "one ring to rule them all" sort of naming.
Box is aiming this at the Enterprise, and I guess at consumers who create on iOS. OneCloud is launching with a series of Apps for iOS that are ready to work with Box's Cloud, (Android to come later, surprise, surprise), allowing you to easily open and access your data.
At the moment there are 30 apps being highlighted, four of which allow you to round trip your data. (Open it, edit it, save it back to Box).
That round tripping is the key. QuickOffice, one of the Apps ready to go at launch, will enable you to open a document, edit, and then (here's that key) save it without having to leave QuickOffice. Using QuickOffice you can do the same thing with Dropbox, just so you know.
The four Apps Box is touting at the moment include QuickOffice, PDF Expert, PaperPort Notes, and and Adobe EchoSign. (By the way, if you get excited by Paperport as an Ink Note taking App, don't. I downloaded it today and it is the worst Inking experience I've had on an iPad.)
You can view, access, and download these Apps (through the App Store) from the App. The Box App is free and for personal users you 5GB of storage for free.
The folks at Box are talking this up as a way for folks to have their data in one place and not stored in the various silos that come with App storage on iOS. Each App usually stores things in its own data store.
This is all a good thing. Eventually though we'll all be in the respective Clouds we choose or are chosen for us.
https://www.youtube.com/watch?feature=player_embedded&v=WesB742Bbc4

As an Amazon Associate I earn from qualifying purchases.