The DUO adds pen input to any PC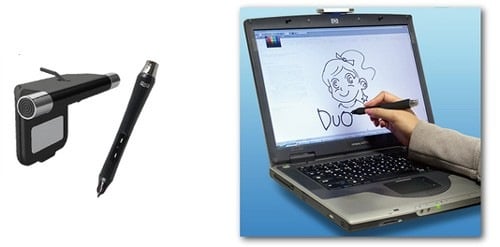 If you can't wait for non-convertible touchscreen laptops to hit the mass market, there's good news: The DUO is available to easily add pen input to any PC screen up to 17″. Truc reported on this product back in March, and it's now available for purchase from KCI Communications for $119.95 with free shipping in the Continental U.S. Nice price for a plug and play solution, but does it work?
I don't know firsthand, but from the instructional video on their site, which shows off the tablet functionality in Windows Vista, I'd say it looks like a winner. It even has pressure sensitivity, one of my critical must-haves. Worth hitting the site to take a look (and so is the promo video, as long as you don't take it too seriously; it's slightly frenetic). Feature list after the jump.
Type, write or draw directly on documents or your desktop
Highlight key information using a variety of lines, shapes and colors
Draw or write with varied line texture and brush strokes using the pressure sensitive tip
Capture personal hand writing or automatically convert it to ASCII characters for clear, easy reading
Write on the screen and witness the advanced word recognition capabilities and smoothness of the pen
Use the virtual keyboard for easy touch screen typing
Capture and save all or part of your notes, markings and pictures in a .jpeg file leaving the original document unmarked
Use the ballpoint pen tip to write directly on paper and have the image appear on DUO's NoteTaker software
Email meeting or lecture notes to customers, students and co-workers
Use on most monitors, laptops 17" and smaller*
USB plug 'n play for easy set up
Ink annotation compatibility in Microsoft Office ® programs
Automatically synchronizes with Windows Vista ® and Windows 7 ® tablet software, which allows for handwritten character recognition, pen flicks, snipping tool, sticky notes, and more!
Supports multiple languages: Korean, Chinese, Japanese, English, French, German, Italy, Spanish

As an Amazon Associate I earn from qualifying purchases.