The End of Tablets is Near as Stores Like Kohl's Begin Selling Tablets
Remember Netbooks? When they first appeared you couldn't get one. Then they soared to popularity and you could essentially pick one up at the grocery store or your local pharmacy. That happens with a lot of gadgets. It's a well worn trend line. Budget gadget makers get into the game. Prices drop and you can pick up cheap models just about anywhere. Only problem is that by the time you start seeing gadgets like this in stores such as CVS, Kohl's, etc… it usually means the last big burst before the life cycle has run its course.
Is that happening with Tablets? Will Tablets beat the trend? I'm not so sure. But this morning scrolling through the weekly Kohl's ad on my iPad, I see that Kohl's is selling a $99 Ice Cream Sandwich Tablet made by Zeki. The Nite Owl and Early Bird price was $99. It looks like the regular price is $159. I'm not so sure I'd run down to my local Kohl's to pick one of these up. That's up to you. But when you do a search for a product and you have to look through several reviews before finding a link to a product page, I'd be a little skeptical. I'm not knocking Kohl's or any other retail outlet that wants to get in on the game here. Nor am I knocking someone who wants to pick up a Tablet on the cheap. I'm just saying this is usually the trend line.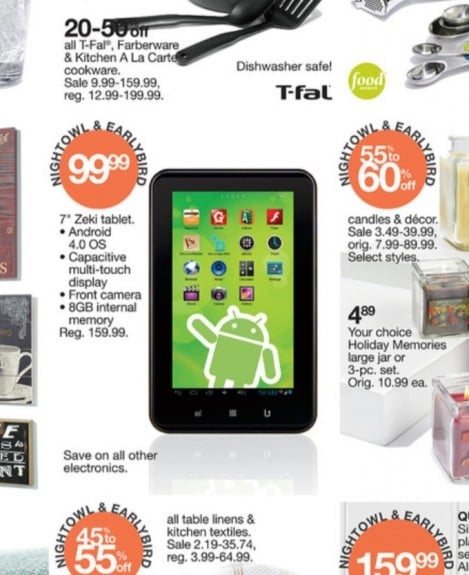 Sears is apparently selling the Zeki Tablet as well.

As an Amazon Associate I earn from qualifying purchases.