The EVO Tablet Arm from LCDArms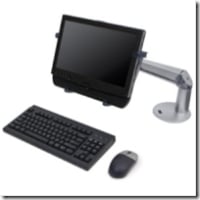 One of the vendors I desperately tried to get to see at CES was LCDArms. Unfortunately, time got away from us and we were not able to make it by. However, Joe Tosolt, LCD Arms Marketing Manager, showed up at the Tablet PC meetup, so I was able to get a closeup look at their EVO Tablet Arm.
I was very surprised at how light and elegant the EVO Tablet Arm was. Made of aluminum, the mounting arm floats above your desk, giving you the freedom to move your tablet pc / umpc anywhere you want for optimal ergonomic needs. This is the perfect accessory UMPC or slate owners that don't have a docking solution, but need something mounted for desktop use.
There was a lot of interest in LCD Arms producing a vehicle mount, something that caught Joe by surprise. However, he said that he would take it back as a definite market opportunity. Looking forward to hearing how that goes, Joe.
LCDArms sells the Tablet Arm for $299. Check it out.

As an Amazon Associate I earn from qualifying purchases.