Just had a great meeting with Dialogue, who make the Flybook Tablet PC. We got a look at their just released Flybook V5i. It features 8.9″ touch screen, 1.2 ghz, Core Duo ( Core 2 Duo coming soon ),sim slot for 3g and HSDPA connectivity, web camera, and is available in red, gold, black, and possibily pink. The location of the mouse control buttons are very innovative. Will be available shortly after the CES show. US retail pricing around $2200 – $2500.
In addition, we got a look at their VM laptop with a very innovative display.
Have to keep this post short because we are enroute to the Tablet PC meet-up, but here are some pictures – more details and video coming soon. In short, this is a very, very sweet device.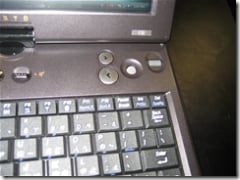 As an Amazon Associate I earn from qualifying purchases.