The Fusion Garage Grid4 – Can the Makers of the JooJoo Entice You With A Smartphone?
This morning, Fusion Garage CEO Chandra Rathakrishnan not only introduced a new tablet, but also a new smartphone. The Grid4 (companion to the Grid10 tablet), will sell unlocked for $399 and be available in the 4th quarter of this year. Like the tablet, this phone runs on the not-Android GridOS and comes with the tagline "There Is Just Nothing Like It." Really?
The specs on the Grid4 are probably less remarkable than Fusion Garage will admit. Measuring 4.8 x 2.5 x 0.38 inches, the phone has a 4.0-inch display with a 800 x 480 resolution, dual-core Qualcomm MSM8255 chip, 16GB of storage and 512MB of RAM (just like the Grid10), microSD card slot, Wi-Fi b/g/n, Bluetooth 2.1+EDR, A2DP, front and rear cameras (0.3 and 5MP) with flash. It will work with GSM networks and is capable of 3G only (HSDPA). It takes micro SIM cards.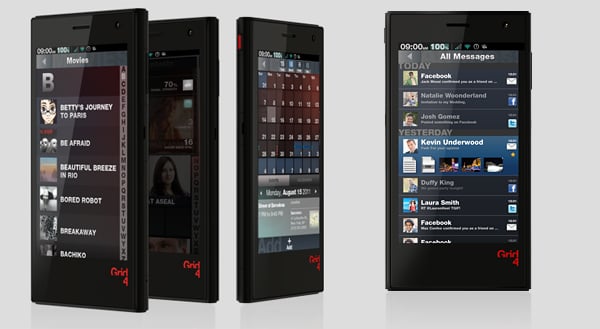 Rathakrishnan demonstrated how Grid10 owners can start watching media on the tablet, then stop and pick up the same media on the Grid4. And… that's pretty much it. Other than boasting about the GridOS, there wasn't much to say about the Grid4 except expected availability. Apparently carriers haven't yet signed on the dotted line in terms of selling the phone, so we'll have to wait for further details on that front.
Since the Grid4 is being marketed as an affordable unlocked smartphone, I wouldn't be surprised to see it turn up on a prepaid carrier like Virgin Mobile or MetroPCS (if it turns up).
The real question is this: are customers going to take a chance on the Grid4? yes, the GridOS is nice and it's "different" than what's out there now, but are people clamoring for something different? And it can't be that different since it, like the Grid10, runs Android apps. Dropping $399 on a phone from a company that's never put out a phone and had some serious issues putting out a tablet not too long ago might not happen so readily. Maybe if the Grid10 does well. But that's a big If.