The Future of Consuming Content Isn't Who Can Come Up With the Best Paywall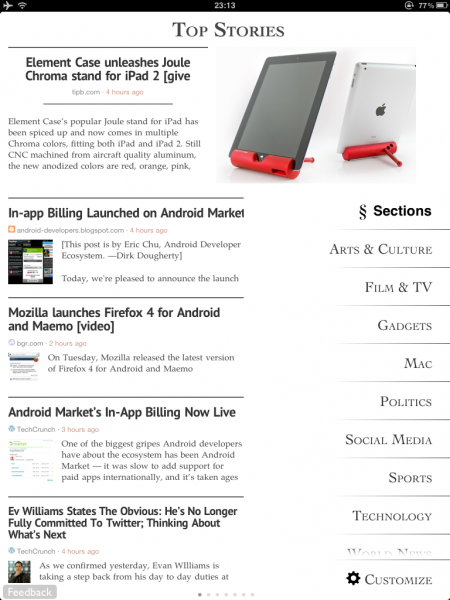 Paywall discussions and big media trying to figure out how to turn their aging business models into a Tablet revenue stream are big and hot topics these days. Viewing and analyzing these efforts often focus on the fact that the folks doing all the agonizing over this don't get the new ways of the Internet and how folks are grabbing news. By and large I think that's true.
Quite a bit of that focus has been on the iPad and its publishing platform as various old school publications have tried to grapple with Apple's system and their protecting as much of the past as they can while they take steps onto newer ground. Two Apps on the iPad point towards a future that is quickly leaving those in all those boardrooms behind.
Flipboard was the first of these Apps to hit the scene. Flipboard had a rough launch but gained some legs and some traction. You can choose to view your or other's Twitter feeds or lists, Facebook feeds, and a host of partner sites on a variety of topics from technology to fashion. In essence you can create your own news publication tailored to your liking and view it in a touch friendly magazine like format.
Zite is a relative newcomer to this front and while it has similarities it is different. You get a pre-selected range of broad topics to choose from or you can enter your own. Articles appear based on those selections. The biggest difference here is that you can like or dislike an article and future offerings will supposedly learn from your preferences depending on what you like or not. You'll then be served up future articles based on what you're interested in.
Both Apps offer a lot of the same functionality. They are pretty. They allow you to share something you are interested in via Twitter or Facebook or email. You can send an article to Instapaper if you use that service. Both allow you to view the articles within their own browser or go to the web. I've used Flipboard the most and like it quite a bit, but Zite is growing on me. The performance of both is enhanced quite a bit by the performance improvements of the iPad 2, although I don't think either App has been optimized for it yet.
Quite honestly, I find I increasingly use these two Apps for news reading and gathering. Flipboard has an impressive list of partners including the BBC, the Economist, ABC, CBS, Fox and a host of the major blogs and other sources. No, you don't find the New York Times there in a full feed offering, but you can add it and go to the website if you find an excerpt or a headline you like. Although I imagine you'll be subject to the new paywall restrictions. Zite is really new to the game so I'm anxious to see how it develops in the future.
Of course these kind of experiences depend so much on the sources you choose to gather info from. Blogs, tweets, etc… are one thing but major publications and news services do have to find ways to make money from their content. But something tells me the winners of this game are the ones who are thinking ahead and not backwards.