Unannounced Galaxy Note Pro Accessory is Samsung's Secret Weapon Against Ultrabooks
At a private event at the Consumer Electronics Show, a Samsung rep had revealed to Gotta Be Mobile that the Galaxy-maker is currently working on an unannounced accessory that would come to market later for the Galaxy Note Pro and the Galaxy Tab Pro series. According to a loose-lipped company representative, the Galaxy Note Pro would be getting a keyboard accessory that could potentially turn Samsung's 12.2-inch tablet into its own Ultrabook competitor, but one that runs on Google's Android operating system rather than Microsoft's Windows.
We've already reported how Windows could be threatened as Microsoft's biggest stalwarts are now focusing their attention on Android with tablets, convertibles, and even all-in-one desktops coming out of HP, Dell, and Lenovo. Now, Samsung's Galaxy Note Pro with a keyboard case could represent a bigger threat to Microsoft.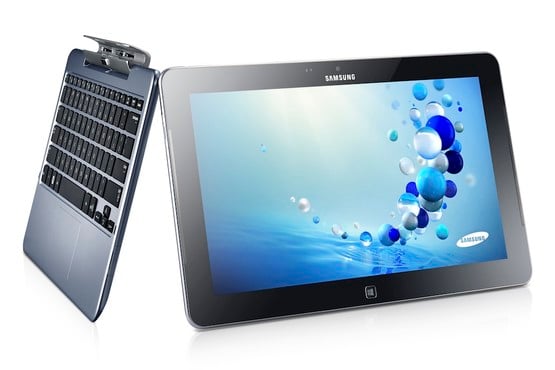 The concept isn"t new however. Asus has had its Tranformer series for several years that brings a detachable keyboard to a 10-inch Android tablet. ZAGG and Logitech also makes a number of detachable keyboards for the iPad and a few select Android tablets as well.
But despite these efforts, Samsung's Galaxy Note Pro is perhaps the biggest threat to the Windows Ultrabook as it possesses a 12.2-inch display that is the closest in size to Windows' most popular 13.3-inch laptops as well as a high resolution 2560 X 1600-pixel resolution that far outclasses many mainstream Windows systems that are still capped at 1080p monitors.
Samsung says that its branded first-party keyboard comes from "feedback from users and press from across the country," suggesting that there has been a demand for a keyboard case for its Android tablet.
READ: Windows is Under Siege
Samsung's rep on hand did not give out additional details on which models of the Galaxy Tab Pro would be getting this first-party branded keyboard accessory nor was the rep insightful on if these keyboards would come with a built-in trackpad like on a Windows Ultrabook keyboard. Having a trackpad would help mitigate the need from having to reach to the touchscreen to navigate the Android OS and would definitely add to a better user experience. The ZAGG keyboards for Apple's iPad, for example, lacks the trackpad or touchpad mainly because a mouse and pointer isn't really supported by Apple's iOS platform. The input device is supported, however, on Android and when we previewed the Galaxy Note Pro 12.2, Samsung had attached a separate Bluetooth mouse accessory at the demo station suggesting that this could be a feature for its keyboard accessory.
Samsung's new Magazine UX is also a huge threat to both Android and Windows. On the Windows side, the rectangular grids of widgets give users quick access to information at a glance, similar to Microsoft's Metro UI on Windows 8 and Windows 8.1, and Samsung is doing a much better job at hiding Android and making the tablet feel more like a Samsung experience than a Google one.
Coupled with a new multitasking engine that allows for four apps to be opened simultaneously side-by-side as well as additional apps to be opened in pop-up windows layered on top, the Galaxy Note Pro will challenge Microsoft's 'Windows' strategy of using windows to multitask.
The Galaxy Note Pro represents Samsung's strongest, most powerful Android tablet to date, and one with the potential to slowly unseat Microsoft at the "PC" market.
Despite this promising news, when we tried to confirm with Samsung's official PR department, we were told that nothing like this was announced and that there is no such information for a keyboard accessory of this kind on Samsung's press site, which is true. Perhaps one rep at CES was loose-lipped and gave out information a bit early, or this rep was being purely speculative. We're hoping its the former.