The Garibaldi Project: Academic Research on Microsoft Surface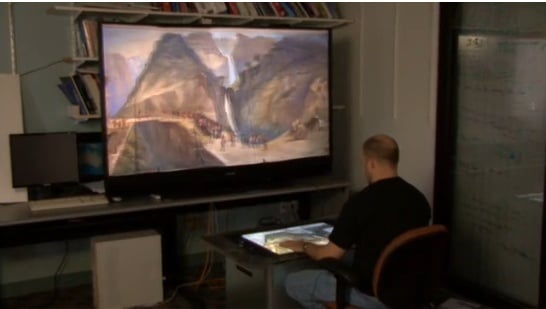 Brown University is working on a project that is a perfect fit for a Microsoft Surface: digitizing the Garibaldi moving panorama. A moving panorama is basically a massive canvas painting that is scrolled in front of an audience to tell a story. The Garibaldi is more than a football field in length. Far too big for scholars to handle practically, but virtually, it handles beautifully on a Microsoft Surface.
The most obvious advantage is the ability to browse through the panorama with a swipe across the screen vs. delicately turning a five-foot wide scroll. In addition, the project has paired the Surface with a 72″ display, providing a view closer in size to the actual panorama. The digital version also offers menus to access additional information in a snap, the ability to magnify areas via object interaction, information hotspots akin to document comments, and the ability to markup the image with an IR-light pen (whereas marking up the actual panorama would result in a major freakout). Such a wonderful, worthwhile use of surface computing. Video below.
Via the Microsoft Surface Blog
The Garibaldi Project from Ian Spector on Vimeo.

This article may contain affiliate links. Click here for more details.