The Griffin A-Frame iPad Stand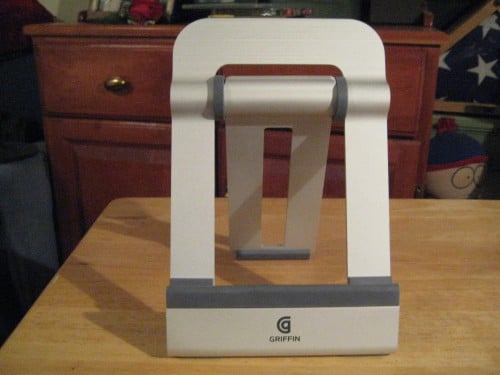 The Griffin A-Frame iPad Stand looked like an interesting desktop solution so I ordered one to check out. Apparently a lot of folks are doing the same as Griffin lists them as out of stock at the moment, although Amazon lists them as in stock and cheaper (currently at $36.99)
As I said this stand is a desktop solution. It is built out of heavy aluminum and has rubber surfaces where it meets your iPad or the surface you're setting it on. It will hold the iPad in either portrait or landscape modes in its upright position. The holder at the bottom actually serves as a decent wrist rest if you wish to lay the iPad down and type on it in portrait mode.
Griffin says that it will work with a number of its cases and some others and that makes sense because the iPad doesn't really slide in to the rubber notch as it might first appear, whether its in a case or not. I tried it with the Apple iPad case and it does work, but that isn't an ideal solution as you have the flap on that case to deal with. But that might be a question of preference. All that said, regardless of orientation or whether or not you have a case on your iPad or not, the stand is indeed very sturdy and doesn't seem like it is an easy candidate for tipping over. The weight of the stand is 1.2 lbs and it feels very sturdily built.
The bottom of the stand looks big but that allows for the case to rest in such a fashion that your USB charging/syncing cable can also be attached. So that's a win if you need to do this.
At a price between $36.99 and $49.99 it is an expensive but well built stand. But there are other options out there. Like this $3.00 photo frame.

This article may contain affiliate links. Click here for more details.