The HP Envy 100 D410 All-in-One Printer/Scanner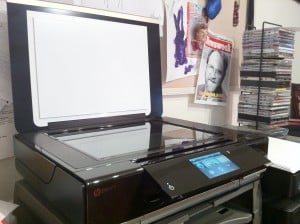 Yeah, I'm reviewing a printer here. Go figure. We don't usually cover printers at GBM, but then again, printers seem to have almost become the forgotten peripheral now that we're all in the wonderful, wacky, world of mobile. So, why am I reviewing a printer? Read on to find out.
One of the great scandals of computer technology, in my opinion, is the whole printer and ink thing. Companies make printers, sell them like razors, and then make their profit on selling you Ink, Toner, and other consumables. I've been doing this long enough that I've gone through more printers than I can count from the dot matrix days to the heyday of the laser printer, to the inkjet days. I can even remember a thermal printer or two if I think hard enough. The one constant throughout that evolution is that the cost of consumables was always way too high, and artificially so by most accounts. The fact that most printers ship with "starter" consumables is also quite silly.
Well, anyway, the Konica Minolta Color Laserjet that I used to use at the office finally ran out of enough toner. I had purchased one full set to replace the starter set awhile back (which tells you how little I actually print out documents). When I went to look at getting new cartridges the cost was higher for those cartridges than the cost of most good new printers. You'd think somewhere in printer company bean counting land someone would have figured out that if they make the cost of consumables so high that folks are recycling printers instead of buying consumables, that the math doesn't add up.
So, I started looking around. I also have an older all-in-one hanging off my desktop that I used for scanning and while it still scanned, the printer function was shaky at best so I decided to recycle both. Now, of course this happened when I needed both printing and scanning functionality for a project. So, I looked around locally and online and decided to pick up the [amazon_link id="B0043D2O7C" target="_blank" container="" container_class="" ]HP Envy 100 D410 [/amazon_link] All-in-One. (Affiliate link.) Through a coupon and a sale I managed to pick it up for around $150 at Best Buy.
I was not a big fan of all of the bells and whistles that HP announced when it started adding screens and functionality to printers. A printer is supposed to print. I don't need too many fancy bells and whistles to do that. And, although this printer is AirPrint enabled, I saw that as just a bonus and not necessary, since I rarely feel a need to printer from my iPad2. The Envy 100 is a wireless printer that works over your network, that does mean less cable clutter. To be honest, it is the first wireless printer I've used.
So, how does it stack up? Or rather, how does it print and scan? Well enough to do the job. Color quality is excellent. Text for correspondence is crisp and clear. The time to print a document is really not much different than when I had a printer connected via a cable. Scanning works as advertised. The initial setup was a breeze and quite simple. So, for a $150, I was able to do what I needed to do and get it done well.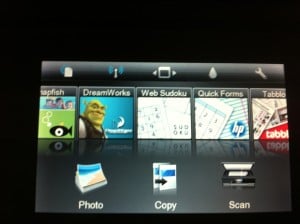 That said, some of the bells and whistles are kind of cool, but certainly not necessary. The printer is compact in size for an all-in-one. That's because the paper tray sits almost underneath the entire device. It's a little tricky to pull it out now and again, but I like the lower profile and consider that an OK compromise. The front panel contains a touch screen for controls and it raises and lowers automatically when you print out a document. An extension to hold a printed page also folds out automatically when a page is about to be spat out. That's cool when anyone sees it once. But I figure its just another mechanical part to break down somewhere along the line. Others on our network are able to use the printer easily enough and that's also a plus.
I do like that the printer will tell you when a software update is available and you touch the screen and the update is installed. While I'm sure some will enjoy the utilities and other software that comes with the printer, that's not for me. Having Shek stare back at me from my printer is a bit disconcerting, somehow.
As for AirPrint, it works as advertised. When I hit the button on the iPad2, the document is printed. I like it when things are that simple and wish all things having to do with printers were that simple.