The Incase Origami Workstation is a Good Keyboard Solution for Most Tablets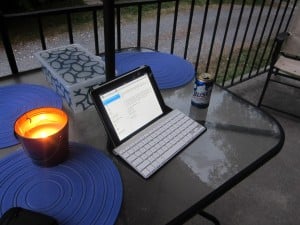 Tablets are meant to be touched there's no question about that. The user experiences is all about touching, pinching, and zooming on the screen. But if you're one of those folks who actually prefer your Tablet to do some writing on, that requires a keyboard of some type. Now, Tablets come with a virtual keyboard (they'd be foolish not to.) But what if you need to really crunch some text and you want to use a keyboard?
Well, there are certainly alternatives there as well. Bluetooth keyboards exist from several manufacturers and most work very well in a mobile environment. You simply pair up, pull up your favorite writing program and off you go. I recently discovered a solution that I like a lot. Yes, I use and iPad 2, and this solution is designed for the iPad line (it works well with the original as well). But, given how most 10 inch Tablets have very similar form factors, I would think this solution could work for just about any of those on the market.
The solution is from popular accessory maker Incase. It's called the Origami Workstation. No, it is not a case for an iPad or other Tablet, rather it is a case for an Apple Wireless keyboard. The Origami Workstation is designed so that the Wireless Keyboard just snaps right in to it. Fold over the flap, and you can tuck the keyboard into your bag and off you go. But that's not all. That's where the name Origami comes in. The two flaps that velcro the case closed can also be folded back when the case is in the open position. This presents a handy little back rest for you to lay your Tablet on. It provides quite a comfortable angle for typing whether or not you are using your Tablet in landscape or portrait mode. The entire set up is even rigid enough that you can support it on your lap and type away, if that's your thing. Again, while designed for the iPad line of Tablets, I think this would work well for most Tablets of similar size and shape (and aren't they all of similar size and shape?)
Of course if you are an Apple hater and don't want an Apple product you're probably out of luck as the Origami Workstation is designed to work with the Apple Wireless Keyboard. But, I'll say this, if you're looking for a rigid portable keyboard solution, that keyboard is tough to beat. And, since Apple now offers this keyboard as standard with its desktop products, you might even have one already handy.
The Incase Origami Workstation can be had for $29.99 just about anywhere. The Apple Wireless Keyboard usually goes for $69.

As an Amazon Associate I earn from qualifying purchases.