The Ink Developers Are Tinkering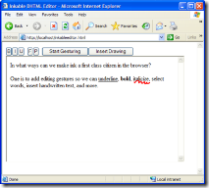 Rob has already reported that Craig Pringle is working up his new Vista app SearchPad to allow you to enter Search data in ink. Loren Heiny is also doing a bit of tinkering with Ink. He's taking a look at adding pictures and InkGestures capability to Google's web word processor, Writely. Keep at guys. We'd all like to see more inking available everywhere.

As an Amazon Associate I earn from qualifying purchases.