The Intel Convertible Classmate Hands On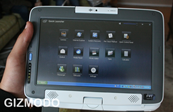 Adrian Covert at Gizmodo got an opportunity to go hands on with a prototype of  Intel Convertible Classmate and has posted up some interesting thoughts. Overall Adrian was impressed with the build quality and how Intel has incorporated hardware and software together to optimize the experience. That said, he points up some interesting facts about the touchscreen:
They found that most kids write with the palm down on the table, and if they didn't adjust for that with the tablet, it would have caused many input problems.

But that also involved a trade off. Because they didn't want to increase the price and have to use a capacitive/multitouch panel to enable palm detection, they had to lower the sensitivity of the resistive touchscreen in addition to using software fixes. As a result, the screen requires a bit of a heavier press to get it to recognize your input, which from what I could tell, doesn't make it the most finger friendly.
That was a bugaboo with some of the early UMPC screens as I recall. Makes me wonder if the age of ""hard touch" screens shouldn't be anything but a less than a fond memory.