The iPad: 11 Months In and Getting Ready for iPad 2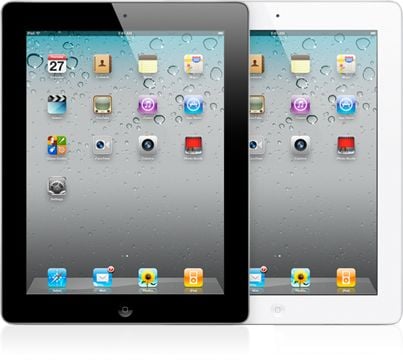 It seems appropriate on some level to talk about my iPad usage after spending the last 11 months with the device now that we are on the cusp of the newer iPad 2 getting into consumer's hands as early as tomorrow. I do plan on ordering an iPad 2 and moving forward with that platform with everything that means. I'll do that ordering at some point tomorrow and will probably have an iPad 2 in my hands next week, depending on how the shipping and supply works out.
Looking forward to iPad 2
I don't feel like I necessarily have to run out and stand in line for this new version and I'm not particularly bothered by the lack of a pre-ordering process as my original iPad is doing quite well. So, why upgrade? I liken it to my iPhone experience. I've been an iPhone user since the 3G version came out and have upgraded each step along the way with that device. Each time I've seen the things I need to do and the things I want to do, as well as the things I enjoy doing, get better, a bit faster, and in the final analysis more enjoyable. In the final analysis those upgrades were by and large evolutionary, not revolutionary and I can't imagine upgrading the iPad to the next version will be any different. The long list of pre-release reviews seem to bear that out.
I will be changing up a few things with this upgrade. I'll be going for a 64GB model instead of sticking with 32GB. One of the reasons for doing that is that the original iPad has become a show and tell device and a research center for me. I carry around several presentations for the theatre where I work to use in fund raising pitches. The iPad makes a big impression on those fund raising calls. I'd love us to have the resources to use the iPad as a leave behind device with a presentation on it, but hey anyone can dream. I also carry around quite a bit more video than I originally planned to do. As an example of that, our next show is Groucho: A Life in Revue. Yes, it's about Groucho Marx. A part of staging a show that has a well known performer at its core is making sure that you have the iconographic moments that everyone in the audience associates with that performer down pat. So, I've been carrying around several of the Marx Brothers movies (all legally owned and ripped) as research for myself as well as in rehearsals.
Our current show (which closes this weekend), Southern Crossroads: The New Orleans Adventure still resides on the iPad in script form through many revisions. All of my research is still there as well. It's not that I'm actively using that at the moment, but after this next show is open, we'll be preparing the script so that we can market it, and so I can actually make sense of all my notes and the revisions.
So, storage size has become a factor for me.
I'll also be purchasing a 3G version this time around. I won't be activating it at first, but given how the carriers are all going loco with tiered and pricing plans, and that my contact on the Sprint MiFi is up, I'm not sure how I'll be handling non-WiFi connectivity in the future. That said, having an iPad 2 with 3G will give me an option I don't currently have with the first version.
In past posts about my iPad usage I focused on several ways that I had integrated the device into my work and play flow. I'll comment on those here again as well as some other new uses I've discovered.
Inking and Note Taking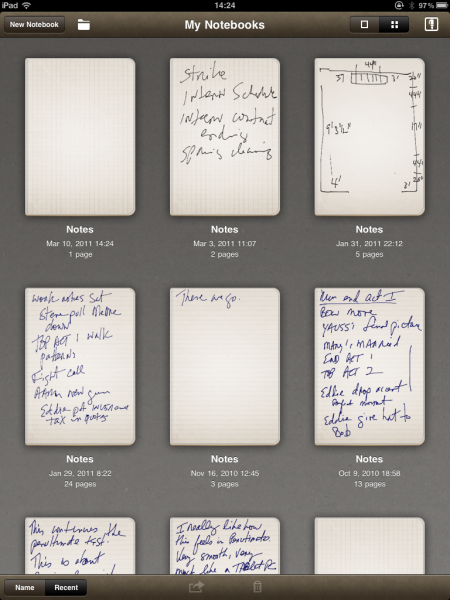 I'm working on a post specifically on this that will go into more detail. Suffice it to say that thanks to good work by a number of App developers, the iPad continues to become a real solution for Ink Note taking, depending on the how's and why's of what your note taking chores are. It's still not a perfect solution, but for what I need to do it is working very, very well. Penultimate is still my note taking App of choice, although NoteShelf is a close second.
Reading and Consuming Content
There is nothing I enjoy more than those rare days where I get a few hours to myself to actually sit down and read or consume content. The iPad is the device I go to when those rare moments surface. It makes the "me" time feel that much more personal. I've experimented with a number of Apps for reading content from magazines to feed readers to you name it. Instapaper is still a go to App for me for content I save to read later. Flipboard is still my first choice for lazily strolling through Twitter feeds and lists. Most of the magazine Apps I've tried all fail in one way or another. Most importantly in the content they provide, but often in terms of the user experience as well. Sooner or later someone will figure out a new way that works but it hasn't happened yet in my view. I've said it before and I'll say it again, I'll gladly pay for good content, but I won't pay for content that is meant to just be a billboard to paste ads on. Those who view the iPad (and other Tablets) as that kind of delivery mechanism may win the day, but they will eventually lose the war.
Creating Content
I referred to those presentations I use for fund raising purposes earlier in this post. I find the process of creating them on the iPad to be more enjoyable than doing so on a regular computer or laptop. I never thought I would, but I do.
While I don't use the iPad for writing much, I do use it for gathering research and putting that into a form that works for whatever project I'm working with. Some of that research is shared with others, some not.
Day to day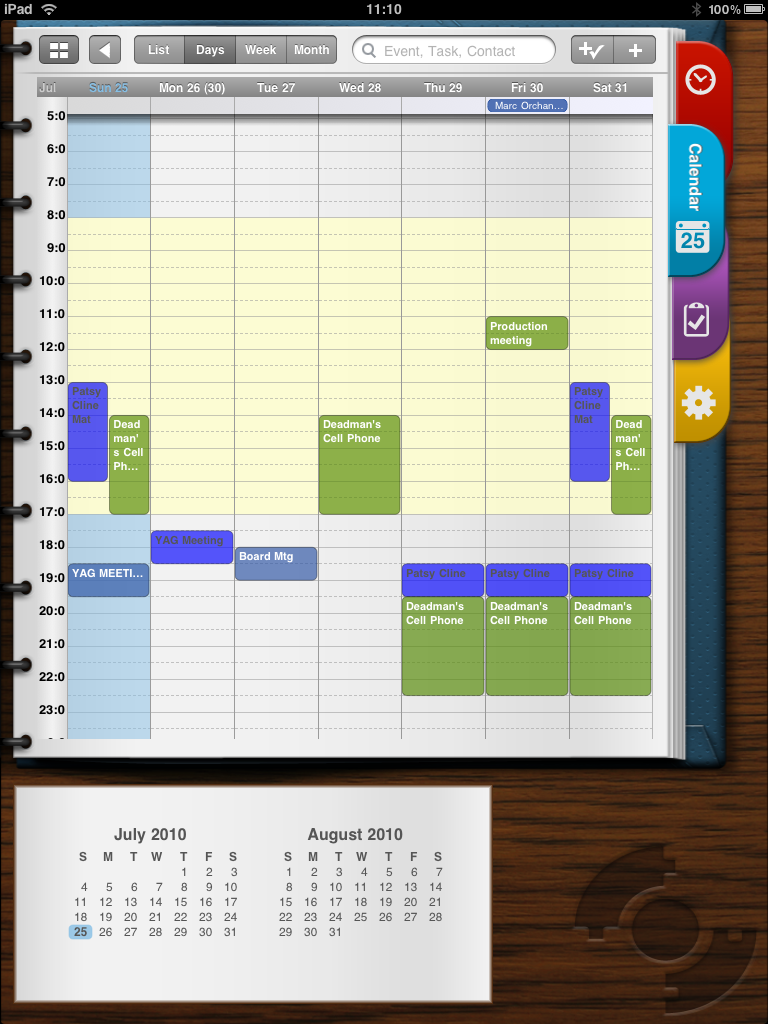 Pocket Informant HD is still a great way for me to organize my day, weeks, months, and life. It works very well on the iPad. I've stopped using the iPad for much email work, but when I do, it still works just fine. Others talk about better options on other platforms, but I have to say as necessary as email is, I find that I'm using it less and less generally speaking.
Script reading
I do a lot of script reading. When I can get one in a PDF format, I do and then I put it on the iPad via iBooks. In fact, that's the only thing I use iBooks for is script reading. There are obviously a number of good PDF readers out there, but iBooks does the job well enough. For other eBook reading I rely on the Kindle App.
Dropbox
Perhaps the most essential tool in my iPad arsenal is Dropbox. It makes moving files on and off the device a breeze. Developers that take advantage of the Dropbox APIs are smart developers as far as I'm concerned.
Sharing Media
This is something relatively new and getting newer in our household. We picked up an Apple TV2 over the holidays but because we found out about that time that we'd be moving in February I didn't bother to install it until after we moved into the new digs. Once we got it set up we've been using it quite a bit, and after yesterday's iOS 4.3 update, I'm thinking we'll be using it even more. We've been viewing lots of Marx Brothers movies with this via the iPad and it just works.
Battery Life
I still keep coming back to battery life as one of the big selling points for me on the iPad. Last week we had three consecutive nights of movie watching using the iPad, plus I toted it with me all day on each of those days. I didn't do a tremendous amount of work with the device on those days, but it was an average day of iPad usage. Bottom line, I went three days and three nights without charging up the device. From what I'm reading the battery life on the iPad 2 is comparable and that's a good thing, if not the most important thing as far as I'm concerned. I can't remember when I've felt like I must charge up this iPad.
Summing it up
The bottom line for me is that I still really enjoy using this device. I'm really looking forward to using the iPad 2 as I think it will only enhance what I already do and if that's the case I'll call it a plus. At some point later this year I'm sure I'll pick up an Android Tablet and most likely an HP PalmPad as well. I'm looking forward to that very much. That said, both are going to have to go a long way to changing my view of the iPad as my primary Tablet experience. A key will be to see if developers of Inking Apps make moves towards those platforms in ways that make them comparable to the iPad experience.
In the meantime I'm not just content to enjoy what the iPad offers as a device and a platform, I find it enjoyable to use in both work and play. Say what you will about Tablets and what they can or can not offer, but to me, if you can't enjoy these very personal devices, then there's no point in going there. That's not to say that I don't enjoy checking out new gadgets and devices I do. But the key for any device working its way into my daily usage is that enjoyment equals ease of use. I don't mind spending time setting up a device or an App or a service. Nor do I mind going through a learning curve. But one past that I've got feel like things are effortless. I guess as I'm getting older that's becoming a bigger priority for me. I'd rather think about the task at hand than spend time thinking about the tool I'm using to work through the task.
Other Posts in This Series