The iPad, My Mom, and Reactions from the Hospital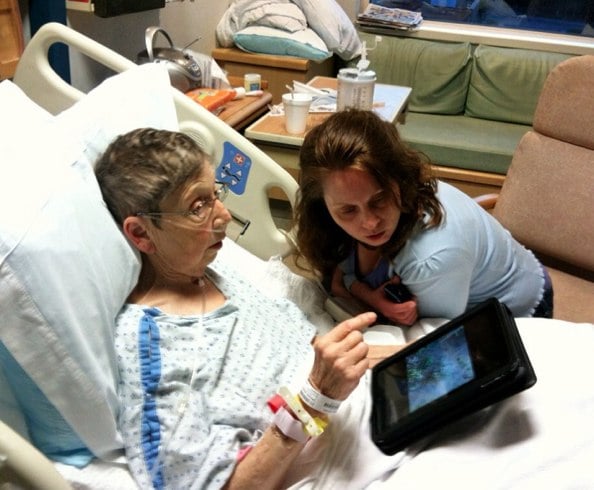 Given my Mom's illness, I and my family have been prepared for some time to drop what we are doing and rush to my mother's side. Yesterday we got what, at the time, seemed like it was that call. It may still prove to be the case but today Mom is once again confounding medical science (and insurance companies) and seems to be rallying, if not bouncing back. I'm certainly grateful for all the warm comments, prayers, and warm wishes folks have shared with me and that I have shared with my Mom in turn. We're not out of the woods yet, but we're at least seeing some daylight ahead.
This stage of her journey has been not unlike many journeys into adventures in health care. Moments of extreme activity alternate with seemingly interminable waiting for test results and consultations. Last night my middle sister and I stayed through most of the night with my Mother, spelling each other as we watched her get some much needed rest. Each of us took this time to catch a few winks and alternatively catch up on emails to let some extended family know what was going on with Mom.
I've been using the new iPad to do most of this and I have to say that although I don't think anyone ever thought of late night ER vigils as a usage scenario for an iPad, this turns out to be just such situation here. There is certainly nothing like an emergency or crisis situation to discover what works and what doesn't in you gear bag.
For the limited tasks I've been using the IPad for during the last two days I'm mostly very impressed. Does that mean it is "magical and revolutionary?" It is really too soon to tell on that front but it is certainly a great mobile device to have on hand in this situation. Here are some likes, dislikes and questions and thoughts that I have discovered.
Likes
Battery life. No scientific testing here, but suffice it to say that on Saturday I had been using the iPad for a couple of hours on battery before the call came from my sister. I didn't plug in again until 3:30am and after doing some web brewing, answering emails, and eBook reading, battery life was still above 50%. WiFi was turned on as was the default screen brightness setting. Performing similar tasks in similar circumstances on my iPhone would have depleted that battery. I know this because we've been here  before. Of course the iPhone has another radio to eat juice. Today I let relatives check out the iPad and they pushed it hard cruising the Internet and playing games. I've still got over 40% left after the day as I type this. This could indeed be an all day device.

Speed. Everything is snappy and fast.

Bluetooth Keyboard Connectivity. I was very pleased to see that the Igo/ThinkOutside Stowaway Bluetooth Keyboard paired up and works great with the iPad. I thought this old favorite was destined for a place of honor in The Closet of Unused Gadgets, but it looks like it has new life. If you have an old Bluetooth keyboard lying around you might want to give it a try. (The Stowaway has sadly been discontinued.)
Reading. Whether it is a web page, a book, or whatever, I love reading on this device.
Video. I haven't spent much time looking at video, but I did spend a few minutes checking out the NetFlix app, and some other video. I like what I see. But see below.
Dislikes
Yes, this is a fingerprint magnet.  Actually I think the iPad goes out of its way to collect stray fingerprints from any adjacent surface. Sure they wipe off easily but it really doesn't make a good impression when you show the device to someone for the first time. Lots of comments made about this today an they were all negative.
You Need a Case. The iPad is solidly built but it does feel fragile nonetheless. When I rushed out of my office yesterday I put it back in its box instead of tossing it in my gear bag.  A case is a must unless you are going to make this a museum piece instead of carrying it around. It strikes  me as odd, and always will, that so much money and time is spent on designing something that, as in the iPad, is truly something to look at, only to see most of that covered up with a case.

You Need a Dock or Stand. To do any extended work (like typing this post-yes I'm typing this on the iPad virtual keyboard), or extended viewing, you need to prop it up somehow unless you've got one of those contortionist's laps and leg combo that we see in the demos. Maybe that works for you but it doesn't for me. There are some case/stand combos and I picked one up from InCase that I like a lot.

Native and Universal iPad Apps vs Existing iPhone/iPod Touch Apps. Yes apps that existed before work on the IPad but they by and large look lousy. Facebook looks terrible. The pixel doubling may be functional but in my view using that as an early marketing hook was a stretch that we all fell for and helped Apple propagandize.
Questions
New and different. So many have called this a big iPod Touch that it has become almost a cliche. It might be that similar but this feels so different to me that it is like entering new territory. I still haven't wrapped my brain around this yet and probably won't for awhile. Apple's advantage over most who came before with Tablets, and with many that will come after, is that you can put your hands on this device before buying. I think that is going to a real key.

eBook Wars. Some called it a Kindle Killer from day one. That may be the case but, if you ask me, Amazon killed the Kindle with its own native iPad Kindle app. Well have to see on this one but I think it might be game over.

Is Google killing off Google Reader? This isn't an iPad problem but Google certainly didn't pay as much attention to Reader as they did Mail. Or if they did they goofed. It's a mess.

Keyboard. Too early to tell, but in the early going I'm struggling.
Oh, and Inking? Forget about it. More on that later.
As you can guess my mind isn't really into covering this yet. But I thought I would share these early thoughts. And this one as well. I had taken some pictures of my Mom's flowers and shrubbery the last time I was in town. I had compiled them into an album to show her on my Macbook. I really hadn't thought about showing them to her on the iPad. But I synced them over this morning and did so. She loved flicking through them. Later I walked my sisters to their cars tonight, leaving my wife to sit with Mom. When I came back to the room, Mom had the iPad and was flicking her way through the other photo albums with my wife egging her on with narrative about the pictures.
Yesterday we all suspected she would not see today. Today she's sitting up in a hospital bed playing with an iPad with a big smile on her face. I'm not so sure if this is a "magical and revolutionary" device or not, but I have to tell you that moment sure was a magical one.
Other Posts in This Series

As an Amazon Associate I earn from qualifying purchases.