The Jabra EASYCALL Bluetooth Headset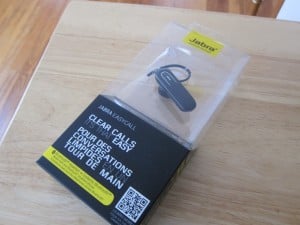 I know there are some that would sooner be caught dead than wearing a Bluetooth headset. I'm not one of those. I depend on them quite a bit given that I do a lot of business on the phone when I'm driving to and fro, and also so I can keep my hands free while I'm talking. There are several states where you need to have a hands free solution in order to avoid a ticket while driving. And yes, there are multiple solutions out there, but I prefer a headset over other solutions.
For quite some time I've been using Jawbone headsets and have been reasonably pleased, or at least pleased enough to keep using them. They work well, have good battery life, and I and the person I'm talking to can hear what we're saying to each other. But, after a using a product line for a number of years, it's always a good idea to shop around and see what else is out there.
I'm testing out the Jabra's newest Bluetooth headset, called simply, the EASYCALL. I have to say so far I'm impressed both with the call quality and with the features of the device, as well as the simplicity of operation.  Call quality using Digital Signal Processing (DSP) is very clear. Those helping me with my experiments on the other end of the line say my calls sound clearer than on the Jawbone ERA. The headset has something that I think is a grand idea form the old days, and that is an on/off switch. Some headsets I've used don't come with one, and I presume that is to save on size and space, but I find this handy. The EasyCall is rated to have up to 6 hours of talk time and 8 days of stand by. I can't verify the standby (I haven't had it that long) but I will say I'm getting great battery life out of the device. I can't say if it is six hours or not, but put it this way, I only charged up the device to test that function out since I've had it. It takes about 2 hours to get a full charge.
All it takes is a touch of the button on the side of the headset to answer or terminate a call. You can pair the EASYCALL with up to 2 devices simultaneously, which for some I'm sure would be a great feature. I have no real need for that. Depending on the Bluetooth profiles that your phone uses there are other features available as well.
All in all I'd say for the basics of what I use a Bluetooth Headset for, the EASYCALL is a worthy contender. The call quality is excellent and it is easy to operate on the go. Jabar's PR says the EASYCALL is designed for those who may not have used a Bluetooth Headset before. If you ask me, Bluetooth Headsets are one of those accessories that should just work straight out of the box without worrying about configuring options and reading instructions. Simple is best here.