The Lenovo Miix 510 Goes Where the Surface Pro 4 Doesn't
PC maker Lenovo used this year's IFA 2016 trade show to deliver a clear message to anyone who is considering purchasing a Windows 2-in-1 with a removable keyboard like the Surface Pro 4. If it's money they're trying to save, the Lenovo Miix 510 is the best Windows 2-in-1 with a detachable keyboard to purchase.
Lenovo announced the Miix 510 Windows 2-in-1 this morning at IFA, an international technology trade show where all the world's biggest gadget makers reveal their latest products. Lenovo also announced new notebooks and tablets. Like the Miix 500 before it, the Lenovo Miix 510 is an attempt to appeal to users that want the productivity that a notebook provides, with the ease of use of a tablet. Convertibles with detachable keyboards have taken off since Microsoft announced its first Surface Pro.
Launching this October for $599, the Lenovo Miix 510 looks a lot like the Surface. It's dominated by a 12.2-inch display that supports touch input and stylus input with a pen. Running across the rear shell of the Lenovo Miix 510 is a adjustable kickstand that reuses the elegant watchband design from Lenovo's line of Yoga 900s notebooks.
Read: Surface Pro 4 Review 
What'll make the Miix 510 as attractive – if not more attractive – to buyers than the Surface Pro 4 is what Lenovo is doing differently. Microsoft's 2-in-1 doesn't offer LTE data connectivity so that users can browse the internet without a Wi-Fi connection or a phone tethered to their device. The Miix 510 does. The Miix 510 boasts a dedicated USB Type-C port. These ports allow PCs to connect to multiple devices with a single adapter. It's perfect for pairing a monitor, keyboard, controller and printer with just a single cable.
Intel Integrated 520 graphics, options running up to an Intel Core i7 processor, 8GB of RAM and 1TB of storage make it more versatile than any standalone tablet could hope to be. Rather than charge users extras for all the accessories they need, Lenovo has gone the more consumer-friendly route and included the tablet's pen accessory and companion keyboard at no additional charge. That means users are spending $599 for the same experience that an $899 Surface and $129 cover accessory would get them otherwise. That's savings that can't be ignored. The pen and keyboard will pair well with Windows 10's Tablet Mode and new Windows Ink features.
Those that do want to save some cash but get the same experience will have to ignore some of the things Lenovo trimmed to reach that lower price. The Lenovo Miix 510 gets 7 hours instead of the 9 hours the Surface Pro 4 gets. The machine isn't able to quite meet the sharp picture quality that Microsoft's does either. It's 12.2-inch FHD+ display has a resolution of 1920 x 1200 pixels. There's no Windows Hello camera or fingerprint reader to allow users to login without a password or PIN code. Because there's USB Type-C built-in, the Miix 510 doesn't include a standard-size HDMI port or Mini DisplayPort.
The 5-megapixel rear-facing camera is a bit of a downgrade from the 8 megapixel rear-facing camera that Surface Pro 4 users get too, but it's hard to count that as a loss when so few users will want to capture memories with a 12-inch tablet in one hand.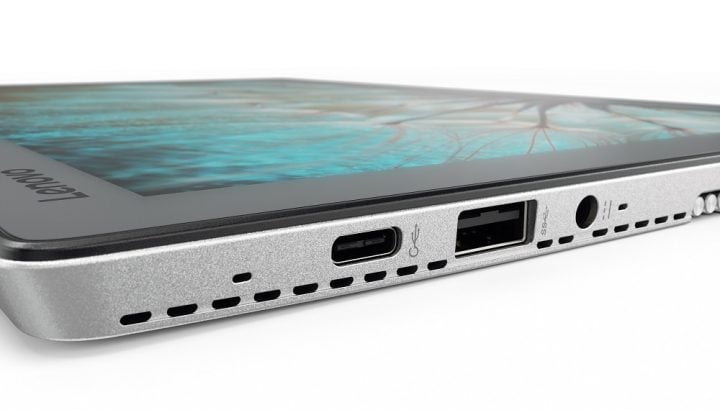 It's safe to assume that anyone looking to save on a Windows 2-in-1 won't consider any of these compromises much of an issue. The Miiz 510 definitely has the potential to change the detachable 2-in-1 landscape until next spring, at least. Reportedly, Microsoft won't offer an updated version of the Surface Pro 5 until sometime next year, well after the Lenovo Miix 510 has had the chance to undercut the Surface Pro with Intel Core m3 processor's pricing.

As an Amazon Associate I earn from qualifying purchases.