The Lenovo/HP Tablet PC Shootout: Which Would I Choose?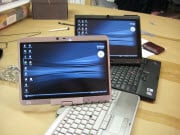 I'm glad no one is putting a gun to my head and forcing me to choose between these two Tablet PCs. I have been so lucky to have had the opportunity to evaluate the Lenovo ThinkPad X200 Tablet PC and the HP 2730p Elitebook Tablet PC side by side these last several weeks. I've shared my thoughts on both devices in writing (check our reviews here and here), on podcasts, and on video (here and here). Many ask which of these two devices I think is the better Tablet PC choice and which I would choose. Honestly, that's a tough call. They are both excellent Tablet PCs, and for how I use a Tablet PC they both would match my requirements with no real issues. But there are distinct differences. Both Tablet PCs are winners and will set the bar until we see the next round of Tablet PCs from these and other companies. But my usage scenario may be completely different than yours.
Consider this post as a sort of summary, though not necessarily a conclusion of the Lenovo/HP Tablet PC Shootout. I'll point out where I think similarities are a toss up and where I think the differences might be distinct enough to influence a decision. But remember, it is all about how you would use these devices more than it is about the devices themselves.
Performance
Both Tablet PCs are equipped with the same processor, the Intel Core2Duo LV SL9400 running at 1.86GHz. They both have 6MB of L2 cache and a 1066 MHz FSB. The Lenovo X200 is equipped with 2GB of memory and the HP 2730p with 3GB of memory. Both have spinning hard drives running at 5400pm. With the exception of a slight nod to the HP 2730p, which I attribute to that extras GB of memory, these two devices perform almost identically in every situation I have used them in. I would rate the performance issue a toss up. I will say though, that having that extra 1GB of memory in the HP has changed my thinking a bit when it comes to equipping a Tablet PC. I used to feel comfortable with 2GB of RAM. I think I'll be opting for 3GB in the future. Also keep in mind that there are other processor options in the SU and SL series.
Form Factor and Design
You have before you two different and distinct designs that will attract different users for different reasons. The Lenovo ThinkPad X200 Tablet PC is what I would classify as a very practical and sturdy design. It is obviously a familiar one to many ThinkPad users, and that familarity comes from the fact that it is a winning design. The HP 2730p Elitebook Tablet PC is slimmer and is truly a unique Tablet PC design. As I stated in my review of the HP 2730p, I find the design not only attractive and functional, but its unique quality makes me feel like I have something special in my hands. HP also increased the durability aspects of the device and that is a plus. The 2730p certainly feels more durable than its predecessor, the 2710p. Both are convertible Tablet PCs. Fold the HP2730p into slate mode and you feel like you are working with a Slate Tablet PC. The X200's screen will rotate in both directions, the 2730p in one only. They both feel good in my hands in slate mode, but obviously the smaller size of the HP 2730p is a noticeable difference. From a form factor and design standpoint, I would call it this way: If you are going to be banging your Tablet PC around I think they would both suffice, but I would choose the X200. If you're looking for the pretty and shiny, I'd choose the 2730p. If size is an important factor for you then the HP 2730p is the obvious choice. If using the device in slate mode is something you plan on doing a lot, as opposed to occasional Inking, both will fill the bill, but the 2730p offers the nicer slate experience.
Here are some other points on form factor and design:
Buttons and Controls: The Lenovo ThinkPad X200 has buttons in spades and they are laid out as to offer access to features in both notebook and slate mode. The HP 2730p has fewer buttons. The X200 has volume control buttons. The 2730p has a capacitive touch slider and mute control. Neither are available in slate mode. Both Tablet PCs have WiFi on/off buttons on the side of the device. Overall, the X200 buttons are easier to use than the 2730p buttons due to the design. I find the 2730p's on/off button difficult to use on occasion. If you prefer or need buttons the X200 is your choice here. The HP 2730p has a firewire port. Lenovo decided not to include one on the X200 after having one included on the X61 and is taking some flack for that decision.
Navigation: HP listened to customers and added a jog dial for scrolling and accessing some features. Lenovo jettisoned its Nav Dial which allowed for easy scrolling in slate mode. I've stated previously that this isn 't an issue for me, but it is for some. The 2730p offers you both a track pad and a track stick. You can use both or turn one or the other off. The X200 has only a track stick. I give this one to HP.
Ports and Slots: The X200 has 3 USB ports, the 2730p only 2. Both come with Express Card and SD card slots-Lenovo has options for 3-in-1 or 5-in-1 card readers. They both have the ususal LAN/VGA/audio/modem ports available. This is a toss up with a minus to Lenovo for getting rid of the firewire port.
Keyboards
If you are going to be doing a lot of typing the nod here goes to the X200. The ThinkPad keyboards are just excellent. There is nothing wrong with the 2730p keyboard, but to make the form factor smaller some sacrifices have been made in terms of key size and placement that I think would require some adjustment to achieve maximum typing efficiency. Compromises always abound with mobile devices. Give this one to Lenovo.
Inking and Tablet PC Features
I've already said that in my opinion the better slate Inking experience is the HP 2730p. That doesn't mean the X200 is a poor one. It is an excellent Inking experience as well. The 2730p just feels more like a notepad in my hands or my lap due to its size. Both Tablet PCs handle Inking and Flicks well. I prefer the pen of the X200 due to its feel in my hands. The X200 will rotate the screen in all four directions (primary landscape, primary portrait, secondary landscape, secondary portrait) the 2730p only in two directions. That's a minus in my book, because I've discovered that I usually like secondary portrait mode in slate mode. I know some others do as well. Aside from the screen rotation issue this is a toss up in my opinion. (UPDATE: As pointed out by a commentor to this post, the HP 2730p will rotate in all four directions, if it is plugged in via AC. I seldom have it plugged in when in Slate mode, which is why I find this to be a minus.)
Screen
Both units I'm evaluating are clear, bright, and more than suitable. Lenovo offers you three different screen options, and I can't comment on the SuperBright or the Touch screens as I've not had them in my hands. The fact that Lenovo offers these options (especially a Touch option) is a decided plus for the X200. There is a slight parallax on the X200 which I do not detect on the 2730p. Both have the same widescreen display and resolution (WXGA 1280×800). Between the two units I have been evaluating this is a toss up. I will offer a nod to Lenovo here for having options, including Touch.
Connectivity
Both offer the same range of WiFi options (a/b/g/draft-N) and in my testing I have seen no issues with either. HP offers BlueTooth has standard. Lenovo offers it as an option. Both have embedded connectivity options. HP offers GOBI connectivity which will be a plus for international travelers. Both offer options for Verizon and AT&T. If you are traveling a lot overseas, HP offers a wider range of options to choose from. This one goes to HP.
Multi-Media
Both companies have beefed up their mutli-media options, but in my view Lenovo is the clear winner here if you want to use the device to play music or watch video without headphones. Its speakers are louder and clearer. HP offers a mono speaker only. Both have dual array microphones that in my testing perform equally well so that is a toss up. Both offer webcams as options. I give this one to Lenovo if audio and video playback are a key part of your usage scenario.
Security
Both companies offer their own security solutions. I have not tested either thoroughly beyond the finger print readers which both work as advertised. No rating here.
Docks
Both OEMs offer excellent docking options. I have only been able to go hands on with the Lenovo UltraBay dock and I like it quite a bit. New to this version is an option that lets you charge an additional battery while the Tablet is in the dock. Lenovo's dock also offers a DisplayPort option. Both docks offer optical readers. The standout feature in my mind about the HP UltraSlim Expansion Base is its small and thin size. It is obviously a more mobile solution than the Lenovo solution. As I have not had both in my hands to review I won't rate these.
Battery Life and Batteries
Both companies make claims of battery life that in my usage I have not been able to reach. The way I use these devices in a regular day I have gotten just under and just over 5 hours on the HP and the Lenovo respectively . By turning off features and dimming the screens below how I normally use them, I've seen battery life creep over 6 hours on the Lenovo and just under 6 hours on the HP. Now that said, I'm seeing that on a 6 cell battery from HP and an 8 cell battery on the X200, so take that information as you see it. The HP battery is inserted within the desgin of the Tablet PC and the Lenovo 8 cell battery does protrude out the back. This has never bothered me personally, but it does add weight and girth to the machine and may be a factor for others. The HP Ultra-Slim Battery (6-cell) is a winner of a design choice in my opinion as it adds extra battery life without adding much heft to the machine. For all practial purposes in my usage scenario this is a toss up for me, although I would give a slight edge to HP for that Ultra-Slim Battery design.
Price
While this will vary, at the moment HP has the best price per feature offerings. For $1899 you can get the SL9400, 3GB of memory, Webcam, Bluetooth, and a DVD multi-drive. To get that same processor and memory on the X200 that will cost you $2218. Again these prices will vary and change and Lenovo is always offering specials.
Other Considerations and Features
The 2730p comes with a small keyboard light which I like more than I thought I would. It isn't a decision maker for me, but I do enjoy it.
The 2730p's Business Card Reader is a feature that can be jettisoned as far as I'm concerned. It works with the webcam and is more tedious than it is helpful.
The 2730p comes with Quicklook 2,   a software solution that will let you access your PIM data without having to completely boot up your machine provided you are in hibernation mode or your device is turned off. It does not work in sleep or suspend mode.
If you are going to choose a WWAN option the antenna solution on the X200 is more elegant, although it is always visible on top of the screen. I have great difficulty opening the antenna on the 2730p.
The button that accesses the security features on the 2730p is poorly placed causing me to open those features up unnecessarily almost every time I pick up the device.
The X200 offers a GPS option that works in conjunction with the WWAN option.
I love that I can remove the pen from its garage on the Lenovo X200 and that will wake the Tablet PC up from sleep mode.
Speaking of sleep mode, unless I'm missing something here, I have to hit the on/off button on the HP to get it to return from sleep mode after opening the lid. The X200 returns from sleep after just opening the lid, or removing the pen from the dock.
While all devices eventually show wear and tear, grease and grim, the palm rest on the HP 2730p is already beginning to show some extra shine from my usage in what I consider a relatively short time period.
The Lenovo X200 with its range of buttons and options for accessing common tasks gives the user flexibility in how they interact with the device. Menus are configurable and having a choice in how to access them is a good thing. There is some configurability with HP 2730p but it is not as extensive. This is a decided plus for the X200.
Conclusion
To be perfectly honest, I am hard pressed to make a decison between these two devices. As I have said before there is no "best choice" across the board as they are both excellent Tablet PCs. My experiences with these two devices actually has me re-evaluating my needs in light of these experiences. I am very attracted to the smaller form factor of the HP. I also know how much time I spend at a keyboard pounding out blog posts and work for the theatre, so the compromises on the HP keyboard weigh heavily. The ThinkPad keyboard is an old friend of mine and the widescreen form factor has given it a little more room over the previous X61 version, which I enjoy very much. Price is also going to play a big part. Just like everyone else we are starting to pinch pennies in my household given the economic woes of late. My decision will come down to how I can reconcile those factors over the next few weeks.
That said, you cannot go wrong with either Tablet PC. They are both excellent devices. Both Lenovo and HP show they know how to make Tablet PCs and I am pleased that they continue to make advances even though these two Tablet PCs are more like refreshes than new introductions. I expect them to continue to offer excellent choices in the future.
I hope this series has been of value to our readers and would encourage you to check out the other posts in the Lenovo/HP Shootout.
Check out these InkShows and posts in the Lenovo/HP Tablet PC Shootout Series


As an Amazon Associate I earn from qualifying purchases.