The Life of a Mobile Nomad and Hotel Connectivity
My wife and I are now two weeks into the life of being mobile nomads as we've returned from the Florida and DC legs of our journeys and are back in Chicago. We're not back in our home yet as work continues on the water damage in our building. So, we're ensconced in a hotel for at least a couple of months. I say at least because the work keeps getting delayed. And you can't finish until you start. The suite and the surroundings of the hotel we are staying in are comfortable enough but there's been a big hitch in our plans. That hitch is all about Internet connectivity.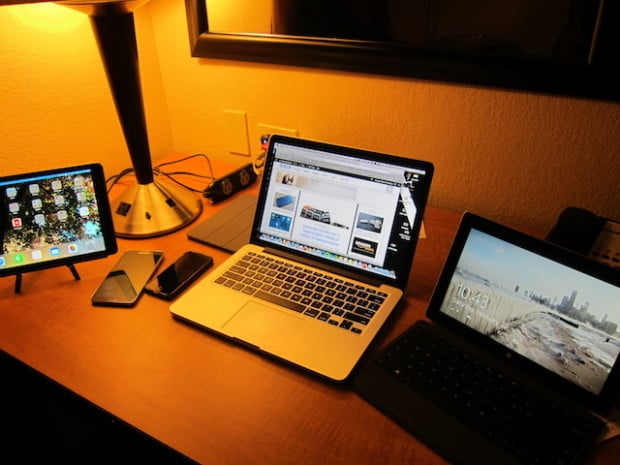 We're staying at a Hampton Inn & Suites, which is a Hilton Hotel property. Prior to deciding on these accommodations, which are paid for by our insurance policy, I looked into the options that our insurance company would agree to pay for. Given the work I do one of the high priority items on the checklist was Internet connectivity. Now, any traveler regardless of their experience knows that hotel broadband is a hit or miss proposition. The tally sheet usually lines up on the miss side of that equation. You can find anything from ridiculously slow speeds to daily rates that are usurious. But I was greatly surprised when this particular hotel offered free WiFi and there was no limit on the number of devices that could be connected. I was also pleased to see LAN ports in the room we were considering, as that would allow me to set up a portable router and create our own network. All well and good, I thought. Well, that changed.
First I'll deal with the LAN port issues. Some mobile travelers are used to carrying mobile routers with them to set up their own network on the road. If there is more than one person in the room it makes it easy to use multiple devices, and if you need to set up a printer or other wireless peripheral it makes it easier (not completely easy) to set up that kind of rig. Well, while LAN ports were visible in the room when I inspected it, I was stupid and let what I saw with my eyes lead to the assumption that they were actually connected. Wrong.
Turns out Hilton is moving away from LAN connections and this particular Hampton Inn & Suites no longer has LAN service available. It's all WiFi. That's a trend many hotels are following. The obvious reason for the move is to prevent exactly the setup I envisioned and described above. We all know the success of Internet connectivity depends on how many people are trying to use the pipes at any given time, and understandably a room that uses a router to connect multiple devices can put a crimp on bandwidth for others. There is also less maintenance for the hotel or its IT contractor to worry about without a LAN set up. So, for using a printer or other peripheral it's all about bringing your cables along in this particular setup.
But, given that the WiFi offered (this Hampton Inn & Suites uses AT&T WiFi) without a limitation on devices I thought we'd be able to operate effectively in the room given that I am usually testing things on multiple devices and my wife has several of her own that she rotates using. All seemed well and good the first two days.
Friday morning when I went to connect I noticed that the hotel WiFi sign on screen had changed. Previously there were two options: Complimentary WiFi and HHonors. HHonors is a loyalty rewards program. We had been using the Complimentary WiFi and everything we had attempted on multiple devices was working with surprising speed and efficiency. But now we were presented with five options. These five options included the previously mentioned Complimentary WiFi, HHonors, and Purchase Premium Internet Access, Coupon Code/promotion code, and Access the Internet on an Additional Device.
When I clicked on the Learn More option for each, I discovered that the Complimentary Internet Access was now listed as "ideal for retrieving emails and web browsing." Premium Access was listed as "ideal for streaming video and uploading/downloading of files." I bet you can see where this is going.
The idea is to charge hotel customers who use the most bandwidth for broader pipes. That makes sense certainly and the price here for one day of premium access is $4.95. (That's actually on the low end of prices I've seen in some hotels.) Given the number of devices we rotate through on a daily basis we'll be paying that x 2 each day. Because that $4.95 only gives you up to three devices.
Last night my wife was watching House of Cards on her iPad mini using only the complimentary WiFi and noticed that the playback on that free tier stuttered and stopped frequently, unlike what she had seen the previous two nights before the switchover occurred. Each time the stream stopped she was returned to a log in screen that obviously was prompting her to sign up for the paid service.
Read: Living the Life of a Mobile Nomad
We've managed to get things squared away with the insurance company and the hotel regarding billing issues so life should return to normal in a day or two. Or as normal as things are in this sort of situation. But that's our story.
There are several other guests in this hotel who are temporarily displaced as well. Some are families with children, some are just couples. Actually I'm surprised at the number of folks who are in a displaced situation into this one location. This morning at breakfast I counted 7 iPads of various sizes in the dining area. Most of these folks have been here longer than we have. Everyone who uses the Internet got hit with the same change in policy/costs/connectivity issues we did yesterday morning. You can imagine the headaches the hotel general manager had trying to keep everyone happy, especially since he was unaware that this was happening. I overheard one couple upset because they could not communicate with their children via FaceTime on the slower service and didn't want to pay for the premium service. Families are also bringing their children to the "Business Center" computers for them to play games on instead of using devices in their rooms.
This has made for some interesting wait times as folks queue to use the three computers in that center. It turns out I was the one who informed the general manager of the changes I was seeing. Initially he didn't believe it had occurred but found out when he tired to log on via his iPhone. Can you say bad corporate communications?
As I said, most are used to hotels charging exorbitant rates for WiFi access. And most are accustomed to those that advertise "free" WiFi or "free" Internet as having slow, cumbersome service. But here was a rare island of "free" connectivity that actually worked quite well. At least for a couple of days.
Now, there are ways to work around these sorts of limitations as many know. If you have a smartphone or Tablet that you can use as a mobile hotspot you can do most of your connectivity through that hotspot. In fact, if you're in an area with good LTE service you can often get better speeds via LTE than you can over WiFi. Just be careful with your data caps though if you do a lot of video streaming.
As you can see from the test Speedtest results below, what's advertised does not necessarily equate to the best bandwidth.
And here is what LTE speeds are at this location. Remember LTE speeds can depend on a variety of circumstances.
You should also be aware that smartphones that hook into a WiFi connection count as a device in these situations. If you log into the hotel WiFi with your smartphone you've added one device to your tally. I have WiFi turned off on my phone(s) so as not to have them constantly pinging the network here. Also be aware that if you have WiFi enabled devices like a printer, you'd be well served to bring a USB cable along in these situations. While devices such as printers can hook in if they offer WiFi Direct as an option, it can be a constant maintenance issue to make sure that connection is still active. One device I won't be using during the time we're here is a Withings Scale. It connects via WiFi and of course it doesn't have a browser so you can't log it into the network.
But that is apparently life on the road these days.

As an Amazon Associate I earn from qualifying purchases.