The MiFi Card: Making Connectivity Simple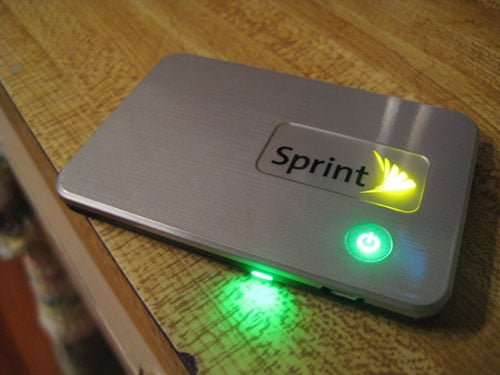 I wish everything worked this easily. I finally got my hands on a Novatel MiFi 2200 card via Sprint and what a treat for a mobile geek who uses multiple devices. The MiFi card turns you into a walking hotspot. It accesses the Sprint 3G network and then puts out a WiFi signal that up to five devices can access simultaneously.You essentially become a walking hotspot.
When I say it is easy, it is. Once you set up the card (which is certainly not difficult to do) it is a matter of pushing the power button and the card is broadcasting its WiFi goodness. Then you simply connect up the device you are using and away you go on the Internets. The MiFi setup needs you to tie it to a computer on setup, but from that point on you can access the signal   it creates from any device. If you need to make changes to the setup you do so from the computer you setup the MiFi card on. You also have the option if you are going to be sharing the device with others to set up a temporary hotspot with a temporary SSID and network key.
I picked this up for two reasons. First, now that my wife is a Netbook addict, when we do travel, it gives both of us a way to be online simultaneously. Second, this gives me a roving WiFi signal to use with the iPhone when I can't pull it an AT&T signal strong or reliable enough to connect when I need to. That happens in a couple of locations that I frequent including our rehearsal location for the theatre. I've had enough of trying to return an email via the iPhone in that location, only to have the send fail because the AT&T connection drops. Sprint's coverage is much more reliable and stronger than AT&T in our area.
Of course you pay for that usage. I've basically swapped using a Sierra Wireless USB modem for the MiFi card and I'll be paying the same $59.99 a month for access I paid for the Sierra Wireless card for the MiFi card. So, my monthly outlay is the same, but I've increased my flexibility using mobile devices for the same monthly amount.   The rub is you can't go hog wild crazy with this on either Sprint or Verizon's networks as their is a 5GB cap and the rates are very high if you exceed that cap. The same was true with the earlier USB solution. Gone are the days of unlimited connectivity. You're also limited to about 4 hours of battery life and less if you're using multiple devices on the network simultaneously. The device can be charged via an AC adapter and also via USB via your computer. But unfortunately if you're using the USB charging   method, the MiFI won't function as an access point while it is charging.
Testing this out last night was some of the most fun I've had testing out a new gadget in quite some time. As one example, I was able to tie my Eye-Fi card to the router that is the MiFi card, snap some pictures with my point and shoot camera and send them up to Flickr instantaneously. The picture that accompanies this post was taken that way.
But the thing that impresses me the most is the ease of use.