The Minecraft Story Mode Episode 4 Release Trailer Arrives
With the Minecraft Story Mode release day for the game's next episode just days away, video game developer Telltale has a new Minecraft Story Mode trailer to build excitement for the episode's mid-December release.
Telltale revealed the trailer for the fourth episode of Minecraft Story Mode today on video website YouTube. Announced earlier this year, Minecraft Story Mode is very different from the game that many already know and love. It's not a survival horror game with building elements, but a linear  narrative that takes place within the Minecraft universe. It's for gamers that like Minecraft but want something that feels different from the main game. It's a perfect title for families who've just purchased a new console this holiday season.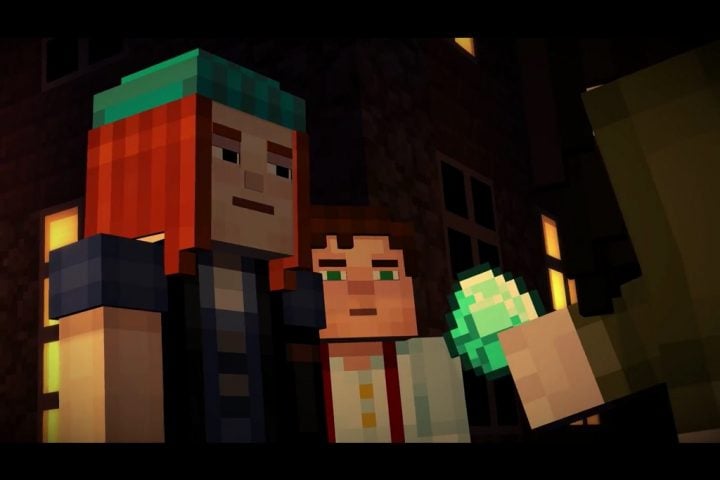 The Episode 4 Minecraft Story Mode release day is December 22nd, according to a press release from Telltale, just in time for the holiday shopping season to conclude. Minecraft Story Mode is available on almost anything that has a screen, including consoles like the Xbox One and PS4. There are versions for the PS3, Xbox 360, iPhone, iPad, Android and even one for users with access to a device made by Amazon. Part 5 of Minecraft Story Mode won't launch until next year, the developer says.
In this new trailer we see large parts of the world within Minecraft being destroyed. A voice over in the trailer says that "the world needs us" a reference to the team of friends pieced together in earlier episodes to stop evil forces within Minecraft. In the next scene, our heroes are shown to the Far Lands. It's described as a "monument to chaos itself" in the trailer. With the Order of the Stone out of the picture, Jesse and his or her team of friends are charged with saving the world themselves. The episode's tag line invites players to "Take Down the Storm," which makes since given that the name of Episode 4 is Wither Storm Finale. Episode 1, titled Order of the Stone, launched in October to positive reviews.
Today's press release doesn't reveal much more than this new Minecraft Story Mode trailer. We already knew that the series wouldn't conclude until early in 2016 with Episode 5. Getting Minecraft Story Mode Episode 4 on release day should be just as easy as purchasing past versions. Boxed copies of Minecraft Story Mode come with a season pass that unlocks all five episodes of the game as they launch. This is similar to a Season Pass in other games.
In the Xbox Store, Minecraft Story Mode Episodes 2-5 are $19.99 together. The first episode of the series costs $4.99. The entire series is available for $24.99 altogether. Minecraft Story Mode is available to owners of devices running Windows 10 too, beginning at $4.99 and $19.99 for the other four episodes.
This new Minecraft Story Mode release trailer couldn't come at a better time for the popular video game. The game's developer, Mojang, recently other another big developments in the franchise of toys and video games.
Today is also the Minecraft Wii U Edition release day in many places. Mojang announced earlier this month that it would finally bring the popular game to the Wii U before the holiday season ends. This version of the game includes tons of add-on content at no extra charge. It costs $29.99 directly from Nintendo's digital store.
Read: Minecraft Wii U Edition Release Date Revealed
Updates to other versions of the game yesterday add lots of new holiday themed items and skins for players. Called the Minecraft Pocket Edition Holiday Skin Pack 2015, the update adds lots of different. Included in the pack are all the items needed to make any Minecraft world a bit more festive. The pack sells for a $1.99. Pocket Edition is strictly for mobile phones and tablets. This Skin Pack is also available in the version that Microsoft sells through the Windows Store.

As an Amazon Associate I earn from qualifying purchases.