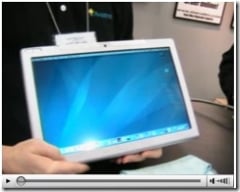 Just about everything I've seen on the ModBook Tablet has been in the form of pictures or text. This video from Notebook.com is the first interview I've seen where the tablet is actually demoed by Axitron Chief Engineer and President Andreas Haas. Unfortunately, there are not a lot of close up shoots, but it is good see the thing actually working.
My first thoughts when I saw it? "Man, that thing is big!" It wouldn't surprise me to see them develop a 12″ version, though, which is the size I would want.
According to Haas, the ModBook has a durable screen and a Wacom digitizer, and support for Vista Tablet bits will be forth coming. I can just picture myself running Vista via Parallels on that thing!
I have a request in to Other World Computing for an eval unit, and our chances are looking pretty good. Keep your fingers crossed.

As an Amazon Associate I earn from qualifying purchases.