The Most Reliable Windows PC is a Mac
Interestingly enough, a recently published report says that the most reliable Windows laptop is actually an Apple-made Macbook Pro. Since the switch to Intel processors from the older Power PC chips, Apple has allowed its Mac hardware to dual-boot into Windows using the Boot Camp. And through the use of Boot Camp, Soluto has ranked the mid-2012 13-inch MacBook Pro as the most reliable Windows 7 laptop.
Apple Makes the Cut
Why Apple's hardware is deemed so reliable when running Windows? Soluto cites as a possible reason the clean install. Rather than the pre-loaded version of Windows on many Microsoft OEM hardware, like those running from Dell, HP, Lenovo, Toshiba, Sony and others, the Windows version that users install on their MacBook Pro is a clean install that's designed as Microsoft sees Windows. There isn't any extra software that comes pre-loaded and no bloatware or trialware to deal with that clogs a system and make it more prone to crashes.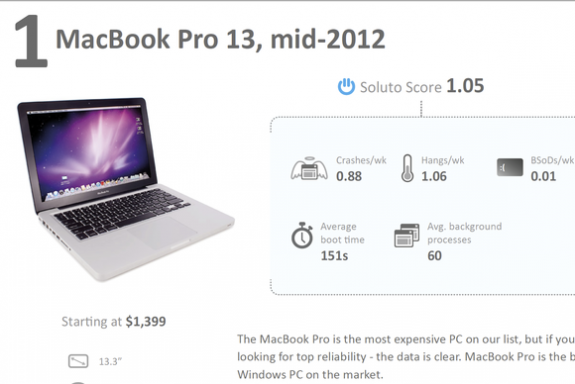 According to PC World, in its analysis, Soluto looked at crashes, hangs, and blue screens of death.
Trouble-Free PCs
And following closely behind the MacBook Pro is the Acer Aspire E1-571, which is a far less expensive system and is almost as trouble-free for end years. The Acer model edges ahead of the Dell XPS 13, an Ultrabook that has a more premium design and an SSD drive. The reason the Dell XPS 13 made the cut? Soluto says that 32 percent of XPS 13 users removed the version of Windows that ships with the XPS 13 and do a clean install of Windows.
Important Lessons to Consider for Tablets
And while a buggy crash-prone PC is aggravating enough for users, Microsoft and its hardware partners really need to carefully consider the Soluto results carefully as we head into the post-PC tablet space with Windows 8. As Windows RT and Windows 8 were created to provide Microsoft a touch-based answer to Apple's market leading iPad tablet. As such, users will expect Microsoft's tablet solutions to be crash-free and deliver fast, instant-on performance that are hallmarks of many consumer-grade tablets today.

As an Amazon Associate I earn from qualifying purchases.