The New iPad Gets iPhoto, Joining iMovie and GarageBand
Apple introduced a new iPhoto at their announcement event today. iPhoto joins GarageBand and iMovie, two iLife apps previously ported to the iPad. That means all three of Apple's creativity apps made their way to the iPad.
iPhoto will supplement the previously horrible photo organization and editing system on the iPad with complex photo editing tools. They said, "It gives you great new ways to browse through those photos."
Features supported include multi-touch editing, pro effects and new photo book options.
You can now share your photos with multiple online sites. For example you can post to Facebook, Flickr, Twitter, print the photo, email or send it to another device via Beam. You can also export them to your Photos camera roll and the new Journal app.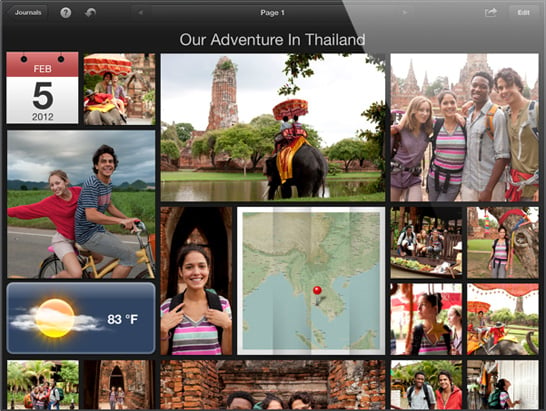 iPhoto will work with pictures up to 19MP, meaning high end point and shoot cameras or DSLRs.
iPhoto has some advanced photo manipulation tools. The auto-enhance feature works like it does on the Mac version of iPhoto. You click the button and it attempts to correct exposure, color and temperature. You can crop photos in present or custom sizes. Use brushes to edit specific areas of your photos.
Using the multi-touch editing tool you can touch to correct things like exposure and saturation. Just tap an area and you can fix that area with one of the brushes.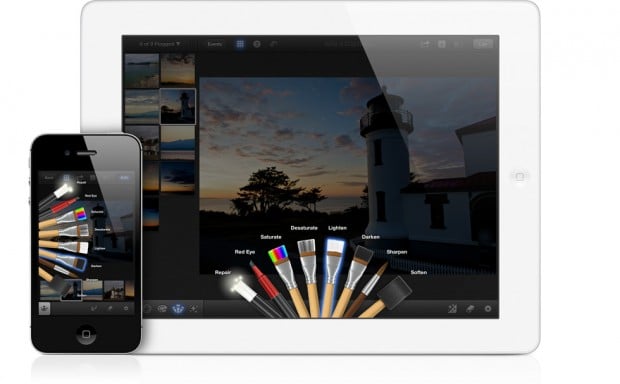 Not to be outdone by the the Instagram's of the world, they also added filters. These let you add pre-configured edits to your images making them look like vintage images, black and white, or other unique looks.
All of this editing will be non-destructive meaning your original image won't be changed. It will edit a copy and then let you export it to the Photos app once you're done. You can also post to the sites mentioned above.
If you want to share your pictures in a creative way, they have photo books just like iPhoto on your Mac. Apple will print your photos and send them in a bound glossy book.
Observers on hand said the app speeds throughout the edits with a fast frame rate while editing.
The new app will drop today for $4.99 the same price as the other iLife apps for iPad.

As an Amazon Associate I earn from qualifying purchases.