The New iPad Has 10 Hour Battery Life, 9 Hours on 4G
The new Apple iPad announced today has the same battery performance as the iPad 2 in WiFi mode and one hour less on 4G. Most users will find 10 hour battery life completely acceptable, while 9 hours will suffice for most mobile iPad users on Verizon or AT&Ts 4G LTE networks.
We've seen that 4G sucks battery life from other Android smartphones and tablets.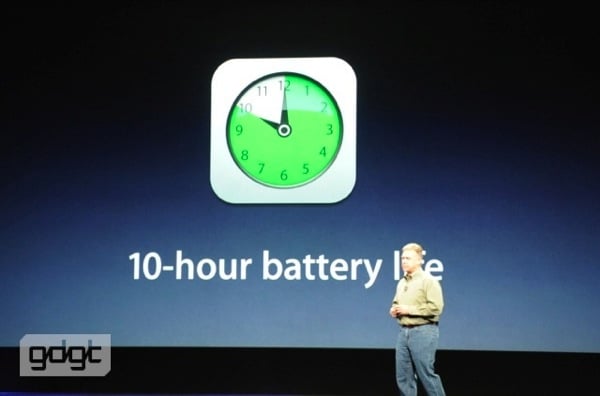 We heard rumors that the battery life would increase and that was why the new iPad would be slightly thicker. It makes sense that the battery wouldn't last longer since it has to power a higher resolution display. Losing only 1 hour of battery life on 4G isn't bad. If you run it with the new Mobile Hotspot feature, you may see less.
It is our experience that Apple hits their battery life estimates so long as you don't run them on full brightness and you're not constantly streaming video or playing games. They claim 10 hours with the first and second gen iPad, and in my experience I get at least that, so expect it to last 10+ hours on 3G or Wi-Fi and possibly more than 9 hours on 4G.

This article may contain affiliate links. Click here for more details.