The New iPad May Come With 1 GB RAM
The good news for those who are looking to snatch the new iPad as Apple's new iOS slate is said to come with 1 GB of RAM, double the amount from the iPad 2. While the iPad 2 does a fine job multitasking its way through the confines of the iOS software, the increase in RAM is a big step for Apple as it is slowing defining its tablet as a portable computing machine rather than a content consumption accessory.
In fact, that is no where more apparent than at the keynote unveiling the new slate where Apple CEO Tim Cook highlighted the iWork suite that is upgraded to give users productive Apple-made tools, like Pages for word processing and page layout, Numbers for spreadsheets, and Keynote for creating slides and presentations on the go. Apple also upgraded its iLife suite, which includes a new version of Garage Band and iMovie and the recent addition of iPhoto.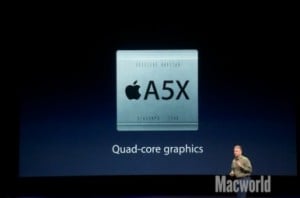 The upgrade in RAM may be needed to handle the requirements of iPhoto. For most users, iPhoto will run fine on 512 MB of RAM, currently available on the iPad 2, but for those who shoot on the go or have a large portfolio of photos on their phones, the added RAM will help the tablet handle the increased requirements for the app to perform sufficiently by creative professionals on the go. For example, on the more limited RAM of my 64 GB iPhone 4S, attempting to load my entire photo library into the app prompted iPhoto to crash after loading about half my photo collection.
Apple has so far declined to offer any comments as to how much RAM is in fact present on the company's newest tablet, which will be available to consumers this Friday, but an early unboxing and benchmarking by Tinhte.vn reveals that the slate will have 1 GB of RAM and that the new iPad scored 756 points on Geekbench tests, slightly up from the iPad 2's 749 pints and vastly improved from the single-core A4 chipset on the iPad 1 with a mark of 454. The new iPad will have the same dual-core A5 processor from the iPad 2 but will have quad-core graphics. The new chipset is dubbed the A5X by Apple.
In the past, Apple had often declined to specify the RAM and other hardware specs on its tablet, stating that the company does not compete on specs and offers users an unparalleled experience where software and hardware are designed to work together efficiently.
Via: Ars Technica

As an Amazon Associate I earn from qualifying purchases.