The New SIM Card War And Why I Am Siding with Apple Over Nokia
We had reported that there are now two prominent competing standards for a smaller SIM format being proposed to the European Telecommunications Standards Institute (ETSI) for approval, one from Apple and another from a joint alliance backed by Nokia, Motorola, and Research in Motion. On the surface, the new war for a format for a smaller SIM card–dubbed nanoSIM–is akin to a formats war that herald back to previous battles, like those fought by DVD and Betamax or Blu-Ray and HD-DVD. However, each competing nanoSIM standard has its advantages and disadvantages, and it's still unclear which format ETSI will ultimately vote on.
On one hand, Apple, which has championed the smaller microSIM standard used on its iPads and iPhones from the larger miniSIM standard, is proposing a similar miniaturization of the SIM format. If you recall, when Apple moved from the miniSIM on older iPhones to the microSIM standard on newer iPhones and iPads, users were able to cut or trim older miniSIM and make it fit on the microSIM tray. Moving onto the even smaller nanoSIM proposal, Apple is essentially proposing a format that would strip away any of the excess plastic surrounding the microSIM, suggesting that users can further trim their microSIM or miniSIM to fit in a nanoSIM tray. For Apple's proposal to work, like its microSIM, a tray would have to be employed to hold the nanoSIM card in place.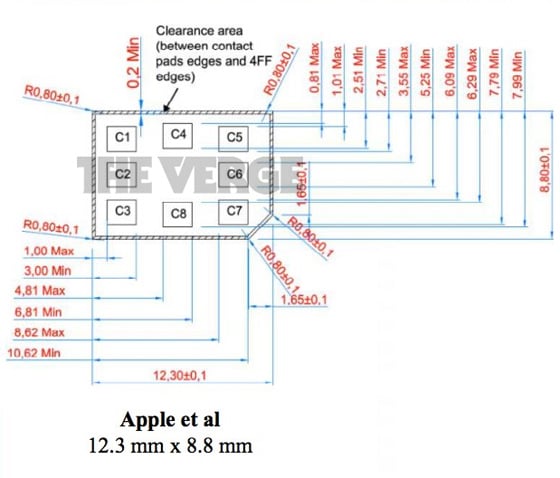 Additionally, Apple's format proposal would have the contacts–the gold foil–on the nanoSIM be in the exact same place as the microSIM and miniSIM used today. Though ETSI requires that the new smaller SIM format have 8 contacts, the organization did not specify where those contacts would be placed.
Nokia's proposal, which is backed by Research in Motion and Motorola, would eliminate Apple's use of a tray with nanoSIM card. Rather, the nanoSIM would be fitted like a microSD card and could be ejected or held in place on its own. Nokia's proposal would be simpler, calling for less components visibly, but would probably not be backward-compatible with older SIM formats as Apple's proposal promises to do. Furthermore, eroding compatibility with older SIM models, with the Nokia proposal, the nanoSIM contacts would be aligned differently than on current mini- and microSIMs.
The controversy with Apple's nanoSIM proposal may be its size. According to the specs issued by ETSI for nanoSIM formats, "The design of the fourth UICC form factor shall prevent the 4FF from becoming jammed in a Mini-UICC reader. An example is that if the 4FF is turned 90 degrees and it fits perfectly into the Mini-UICC reader (4FF length = Mini-UICC width)." With Apple's proposal, the nanoSIM is 12 mm in length whereas the microSIM is 12 mm in width.
That means that a user can jam a microSIM into a nanoSIM slot and get the microSIM stuck.
ETSI will be meeting later this week to vote, and given the promise of backward compatibility and the potential of using a nanoSIM to microSIM or miniSIM adapter for older generation phones, I hope that Apple wins this format war.
Via: The Verge

As an Amazon Associate I earn from qualifying purchases.