The NEW TabletKiosk "i7200" series Ultra-Mobile PC is Official!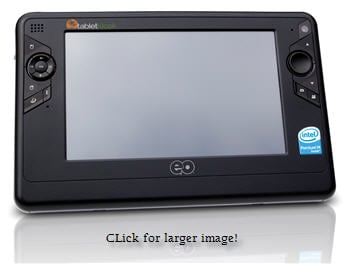 Well, after a lot of rumours floating around, we finally received notice tonight that TabletKiosk is lifting NDA and officially announcing a new line of Ultra-Mobile PC's labelled the i7209, and the i7210. The primary difference between the two units is in the processor choice, memory and hard drive.
Basic specs:
eo ™ i7210 Intel® Pentium® M 1.0 GHz ULV / 1 GB DDR2 RAM / 60 GB HDD

(initial pricing = $1399)> >

eo ™ i7209 Intel® Celeron® M 900 MHz ULV / 512 MB DDR2 RAM / 30 GB HDD

(initial pricing = $1099)> >>

I am pretty excited about this one. I have held off buying any of the current Ultra-Mobile PC offerings as I waited for TabletKiosk to make this happen. Knowing the folks at TabletKiosk, I have great confidence in the fact that they have done more than the normal amount of prep for this release, and I am eagerly awaiting the time when I can put this unit through it's paces. As soon as we get a unit here at GottaBeMobile.com, we will be sure and put up an InkShow.

Here are the fast facts on the model line itself from the press release:

eo™ i7200 series Fast Facts:

1.8" IDE HDD

Intel 915GMS with embedded 3D engine with Full Direct X9 Compliance

Dual display support

1.3 Mega pixel CMOS camera with video capture capability

4-in-1 Card Reader (supports SD/SDIO/MMC/MS)

802.11b/g Wireless Networking

Bluetooth v1.2 (v1.1 compatible) built-in USB 2.0 compliant module

HD 7.1 channel audio

2x USB 2.0 / Headphones Out / Microphone In

Rechargeable Lithium-Ion Battery Pack

7" WVGA touch screen display (80 gram)

Dimensions: 8.88" W x 5.67" H x .98" D

Weighs 1.83 lbs. (with battery pack)

Ships with Microsoft Tablet Education and Experience Pack pre-installed

Integrated Computer Stand

Screen rotation supports portrait and landscape mode

Fingerprint resistive casing

Looks like a great list of specs. Of course the real test is when these things get into the hands of users and they enter into real world testing. I have confidence in the team at TabletKiosk though, and applaud their move into the next offerring at such a high level of equipment. We will get images, etc. as soon as possible, so stay tuned!

Here is some more of the blurb from the official press release….:

"The eo >™ i7200 series >comes bundled with the eo >™ i72DC Docking Cradle >which adds features to offer the flexibility and usability of a desktop PC. Sporting four additional USB 2.0 Ports, a 10/100 Mbps Ethernet Networking Port, S-Video Out and VGA Out with Dual monitor support, the eo >™ i7200 series >can be used in conjunction with the most popular computing accessories, including monitor, mouse and optical drive. "With the launch of the eo >™ i7200 series, >we are pleased to introduce many of the new features and technological advancements that are bringing greater visibility to the UMPC platform," said Martin Smekal, President of TabletKiosk. "When presented alongside our previously released eo >™ v7110 >, we now offer our customers a broader range of options to meet their specific mobile computing needs"

And on additional accessories:

"To meet the unique mobile computing needs of today's businesses, TabletKiosk offers and is currently developing a broad range of "Smart Business" accessories for the eo >™ i7200 >series. >These include a portfolio case, ruggedized bump case, outdoor LCD screen and magnetic stripe reader to provide ultimate flexibility in the way that eo >™ >is used, handled and carried. Many of these accessories were developed originally as custom solutions for our enterprise partners who utilize the UMPC platform to help run their everyday businesses in a whole new way. Now, these accessories are available for the benefit of all of TabletKiosk's customers."> >

We will confirm pricing, but shipping is scheduled to start at the end of August, and the unit will be avilable for order from the TabletKiosk web site. It is our understanding the the initial offer will be a black and silver banded model, but some other colors may be available at a later date. Although the rumors have been that this is actually the Founder unit (which it sorta is), Founder is in reality an OEM in China for Elite Computer Systems (ECS), who actually manufactures the unit.

Our congrats to TabletKiosk, we hope this is a successful unit for them and the Ultra-Mobile PC community!

>
As an Amazon Associate I earn from qualifying purchases.