The OnTheRun with Tablet PCs #35 Podcast Is Live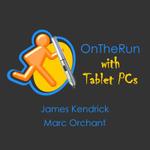 These days about the only thing less certain than the release date of the next "semi-annual" OnTheRun with Tablet PCs podcast is the release date of Vista drivers. I'm just kidding guys, I know you are both extremely busy on lots of things, and I just couldn't resist following up on your "semi-annual" comments in the show. Neither can I resist listening to episode #35 of James Kendrick and Marc Orchant's latest OnTheRun with Tablet PCs podcast. Among other issues they tackle a number of Tablet PC improvments in Vista, and discuss Marc's evaluation of the Lenovo Thinkpad X60 that he's trying out. Give it a listen. Somehow I have a feeling we'll hear more podcasts from the dynamic duo before we'll see Vista drivers.

As an Amazon Associate I earn from qualifying purchases.